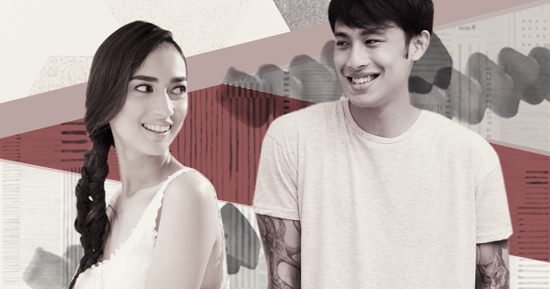 The first time I saw you, I stopped in my tracks. You were one of the faces I rarely see on campus and on that first day of school, we were assigned to be in a class together. Chemistry. How original.
Since then, I saw you every day and that made me happy. You see, I'm one of those girls who would rather adore a crush from afar rather than flirt with them. So that's what I did. I admired you from a distance. For the first few weeks, my crush on you wasn't that intense—not yet. Until I got a glimpse of your personality. Then, I was captivated. You're confident, intelligent, assertive, and fun all at the same time. You inspired me. I knew this crush wasn't superficial anymore because I fell for the whole you, not just your looks.
So I continued adoring you from afar, now more than before. Every time you would speak in class, I was mesmerized by your beautiful voice, more so when you sang for a talent competition once. Every time you would look my way, I would blush, sometimes catching your eye but only for a brief moment. And every time you get close to me, my heart would feel like drums and the butterflies in my stomach would dance to the beat. If only you knew how you made me feel.
But you never did, because I never told you. I didn't speak to you. I only merely smiled at you once (best day of my life because you smiled back) and sent a friend request over Facebook. But I never acted upon my feelings.
ADVERTISEMENT - CONTINUE READING BELOW
Do I regret it? Maybe.
And now, last day of school, I wouldn't get to see you every day anymore. So I smiled at you one last time, memorized the sound of your voice I've always loved, and said goodbye silently.
Goodbye.
I'm sorry.
I love you.
Goodbye.
Or maybe just... See you around.

Yes, I'll see you around. Not just in school, but maybe in my wildest dreams as well. And maybe in another lifetime. Maybe in another lifetime, we're together. We're happy. Maybe in that lifetime, you would look for my face in the crowd and yours would light up when you see me. You would sit next to me and be near me. You would hold my hand at the bus while we share headphones listening to music. You would cuddle with me through rainstorms. You would sing to me with your beautiful voice. You would love me and I would love you.
I would sometimes look at this other lifetime, where my heart is yours and yours is mine. Very often. In the sunset, we run, laughing with our hands together, our lips following after. And I think, "Let me stay here. Let me live in this."
But life and love goes on. So do you. So do I.
But maybe... just maybe in another lifetime, we would be in our own forever.
Roalyn Barbado is 17 years old. Got your own story to tell? Drop us an email at candymagazine @gmail.com! We'd love to hear what you have to say. If you're lucky, you just might get published in this space, too! Please indicate if you want to remain anonymous.