Maybe I'm just too in love to let it go, but now I swear, I will. I swear, after this letter, I will never fall any drop of tears for you.
I'll woke up every morning making my reason that this is the day I'm getting stronger than yesterday. And yes, I am, you'll see.
After the nth time of breakup and heartbreak, it's probably the best time to wake up and move on. After simply saying "Yes, we're done" in my months of preparation, then yes I swear, I'll start fixing my confidence first. It's broken now, too broken but not for forever because this day is the start. I'm letting you go. I'll let go.
6 years may be quite a while but since it's done for you, it might very well be a waste of time. But for me, 6 years is now a learning by experience. It's just sad that it taught me painfully but I learned a lot, anyway.
I'll give up now. It's hard when my mind is set to be with you. I never imagined what's life without you, you're always in the equation. I know I'm not happy but since it's because of you , then it's fine. It became normal for me. It wasn't unusual for me to feel secure one time and worried a few moments after. I'm always afraid every time we're on the outs, there's always another girl. Your friends and vices have become your priorities and I chose to look past that. I know how much we used to love each other before, and I wanted to believe those days were not yet over. The person I loved and still loved is still there somehow. I've always believed in you that's why it's torture for me to end our relationship. I'll always be used to the fact that I'm yours.
ADVERTISEMENT - CONTINUE READING BELOW
READ: To the One I Let Go
But If I don't do it now, I'll never learn to love myself again. I probably will never know the difference of being hurt and being in love, the difference of in pain and joy. If I don't do it now , I'll probably forget my worth.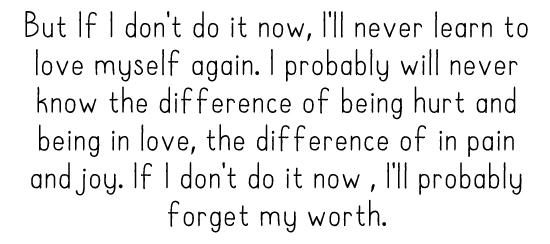 I'm sorry. I love you so much, You know how much , but I have to let you go. I have to do it for me. I owe it to myself.
Sent in by Nina Patricia Yumiaco. Got your own story to tell? Drop us an email at candymagazine @gmail.com! We'd love to hear what you have to say. If you're lucky, you just might get published in this space, too! Please indicate if you want to remain anonymous. We're also looking for artwork and illustrations to use with the stories, so please send some in if you want to be featured!