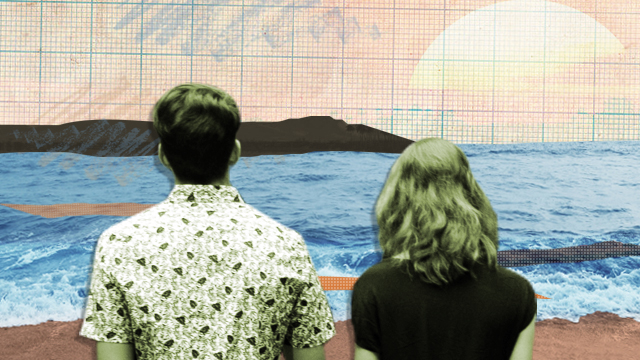 We were sitting on the shore side by side. Your shoulder slightly brushing against mine. It was a cold January morning, the wind blowing strands of hair into my face. I looked at you and was taken aback when I caught you doing the same, silently watching me. A peaceful smile on your face.
"What?" I whispered.
You smiled and faced the ocean that was now suspiciously quiet. The absence of the high and strong waves that were there when we arrived became noticeable.
"This might be the last time in a while that I'll be seeing this. The coconut trees. The sky. The ocean itself. Of course, there would be oceans there but it wouldn't be the same. It wouldn't feel right in here," you said, touching your chest and looking my way once again.
I can see your dark eyes starting to shine, feeling teary but preventing it. You were definitely trying to avoid making this moment more emotional than it already is. I shivered. It was exactly how I felt.
ADVERTISEMENT - CONTINUE READING BELOW
I playfully pushed and offered you a tiny smile. "Don't be silly! You can always come back here. You can always come home." To me. Come home to me, I wanted to add. But it was inappropriate, it was supposed to be or so I thought but it just can't. It was too late.
"Of course. But you know that it might be impossible for a while. Maybe in ten years or so. I will come visit. I would surely have so much in tow." You laughed and winked at me.
It felt like a shot to my heart, a painful reminder that you were getting married to a woman who was from the other side of the world and not to me. You will be living more than a thousand miles away from home, away from me. It was a very sad, no, a terribly heartbreaking thought. We've been friends for more than a decade and I had so many chances to tell you that I've been in love with you for the past seven years but never had the guts to speak up. I was a coward. I was scared to learn that you weren't feeling the same way, that I'd lose the friendship we have or worse, lose you. So yes, if that makes me a coward, so be it. I was a coward who cared too much. I cared too much by keeping my mouth shut 'cause I didn't want to lose you, and today, I cared too much enough to let you go.
ADVERTISEMENT - CONTINUE READING BELOW
I can't take it anymore so I let the tears fall.
Trying to hide the tears, I tucked my chin on my arms over my bended knees.
"I hope she makes you happy. I hope she'll love you a hundred times more than how much you love her. She better not break your heart. I'll come slay her the moment she does. Even if I have to call the dragons I'm religiously hiding," I whispered quietly.
You pulled me close and hugged me tightly to your side, laughing.
"Thank you. I may not have shown it enough but I am definitely aware of how much you love me. The ocean will always remind me of the sunkissed skin on your nose, the smell of salt in your messy hair, and the sand that always finds a way to stick between your toes. You will always be with me, wherever I am. You and our memories."
ADVERTISEMENT - CONTINUE READING BELOW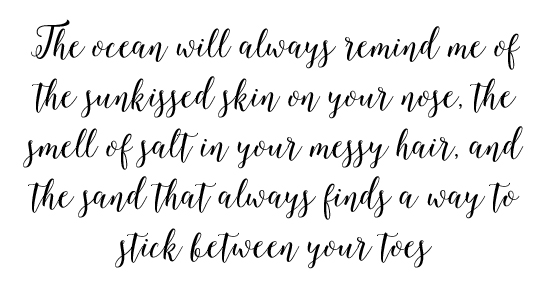 I nodded and silently continued sobbing. It was definitely a goodbye, a pat in the back from the universe saying, at least you tried. A thousand maybes and what ifs slowly crept into my mind as I tried to tell myself to just leave this painful day behind. Maybe in another universe or another life, I'd be brave enough to take the chances and have that happy ever after as your wife.
ADVERTISEMENT - CONTINUE READING BELOW
Sent in by Sarah Jean C. Sarte. Got your own story to tell? Drop us an email at candymagazine @gmail.com! We'd love to hear what you have to say. If you're lucky, you just might get published in this space, too! Please indicate if you want to remain anonymous. We're also looking for artwork and illustrations to use with the stories, so please send some in if you want to be featured!