There's a quote attributed to American model Bess Myerson, "To fall in love is awfully simple, but to fall out of love is simply awful." And isn't that true?
When we are faced with heartbreak, with rejection, or when your loved one leaves you for someone else, we believe that the world has ended. We shut ourselves down and start monologues about how men are mean and women are evil.
But these actions don't actually help us in the long run, do they? So what can be done when faced with heartbreak?
READ: Respectfully Yours, A Memory You've Left Behind
First, EMBRACE THE PAIN.
When you are heartbroken, it hurts to revisit the memories or feel your emotions resurface time and time again. So we end up trying to go around the pain, rather than through it.
We need to feel the pain, to embrace the pain to move on.
ADVERTISEMENT - CONTINUE READING BELOW
Feel the cracks in your heart. Tell yourself that the pain is tearing you apart for good reason, because you loved them with all your heart.
Rumi, my most favorite Sufi poet has an amazing poem about heartbreak.
He says:
"In the slaughterhouse of love, they kill only the best, none of the weak or deformed. Don't run away from this dying. Whoever's not killed for love is dead meat."
So, embrace the pain. Welcome it like a guest. Like a friend. You will eventually become stronger. Trust me.
READ: Somewhere In Between
Also, STAND UP FOR YOURSELF.
The easiest thing to do when we are feeling heartbroken is to share it with friends or close family members. Yes, the support system is really important and I value that a lot, but in the end, it all boils down to you. I believe that support systems are like painkillers, drugs—temporary relief. But for you to truly move on, you need to stand up for yourself.
We judge ourselves so much that we have no self-love. If you were true in your love for the other person, smile and tell yourself that you did the best you could.
Be your own best friend. You deserve love and happiness more than anyone else.
READ: All of Me, Half of You
The most important step to moving on: WISH THE BEST FOR THEM.
Now, this is really tricky. What if that person cheated you or what if it was a completely toxic relationship?
These questions have a single answer: It does not matter.
You loved them. You still do. You can't hide the love that you have for a person. Yes, you can try covering it up, but, somewhere, deep down, it's still lurking. You fell in love with them for the people they are—their beauty, intelligence, charm, vivaciousness, the way they care, the way they loved you. Remember that. Remember the happy times. Connect the happy moments to the person you loved. Let go of your hatred.
ADVERTISEMENT - CONTINUE READING BELOW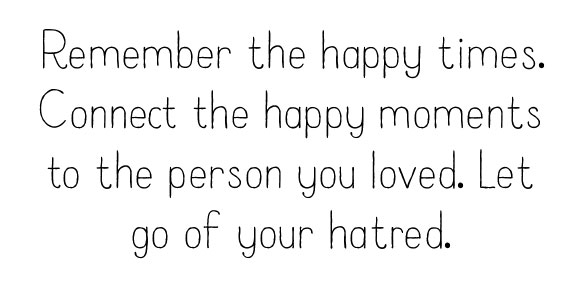 Hatred is like a bag of cotton. It is light to carry till the moment you immerse it in the rivers of your sorrow. Then it will start weighing you down. If you loved someone truly, you should be able to forgive them. The most intense form of love is forgiveness. Forgive them. Maybe, if you were faced with the situation they were in, you would have done the same thing, too. Trust that they did their best and forgive them.
ADVERTISEMENT - CONTINUE READING BELOW
Forgiving someone doesn't make you small. Infact, it is a testament to your love if you do that. Wish that they find their true love someplace else. Wish the best for them. Always.
READ: Someday, I Can Un-Love You
Finally, TRUST THE UNIVERSE.
Do not hold yourself back from loving deeply. Learn to trust the universe. True love will always find you when you are ready.
So go out there, and be the person that you always were. Love and heartbreak will only make you stronger than ever. The world is beautiful and there are millions of beautiful people around you. You will find the one—your soulmate.
Love never fails. Remember that. Love can move mountains. It will never ever fail.
Sent in by Vishnu Vardan. Got your own story to tell? Drop us an email at candymagazine @gmail.com! We'd love to hear what you have to say. If you're lucky, you just might get published in this space, too! Please indicate if you want to remain anonymous. We're also looking for artwork and illustrations to use with the stories, so please send some in if you want to be featured!
ADVERTISEMENT - CONTINUE READING BELOW