Maybe some things are just meant to stay in the past.
I can still clearly remember the day when I first saw you. To be honest, I thought you were just a random stranger but somehow, I felt something different. I'd always catch myself unconsciously staring at you. At first, I thought it was just nothing. But then, I was wrong.
Eventually, we became friends. We grew closer and closer. We'd joke around and laugh like there was no tomorrow. We'd tell each other secrets and share stories. We were so comfortable with each other like there was no day that we didn't talk. It became routine for the both of us.
Until one Sunday, you confessed that you had feelings for me. It was such an unexplainable pleasure. Joy rushed through my system. So ever since that day you told me your heart beat for me, your words and actions showed how much you were serious about me. You were always concerned. You would continuously ask how I was feeling and made sure I was okay. You would always build me up with your sweet words.
But it was just so sad that you didn't know I was feeling the same way. I couldn't find myself confessing that the feeling was mutual at that time. I guess it's because we were so young back then. I was terrified. I knew you and I had dreams. We were young and naive.
Things got rocky for us then. There were times that you were sweet to me and times that you were cold. I didn't understand, but what scared me the most was that you started to drift away. And then one day, you just gave up on me. I was confused and disappointed. A pang of pain hit me as all the memories ran through my mind. I couldn't even cry because of too much sadness. I literally felt my heart breaking slowly.
ADVERTISEMENT - CONTINUE READING BELOW
Now, you act like as if we are strangers. Like we were never close. Like we were never even friends. Like we never used to talk every night. Now, I'm watching you love another girl from afar. Loving her the way you loved me. Being concerned about her like you were with me.
And, I hate that I'm pitying myself. Drowning myself with all of the love songs that remind me of you. Killing myself by reminiscing the moments we shared, pictures and messages we had that I never had the courage to delete.
But right now, I just have to learn how to move on. It might be a hard process but I'm pretty sure that I'll be okay in the end. That I'll finally be able to accept the past and move forward.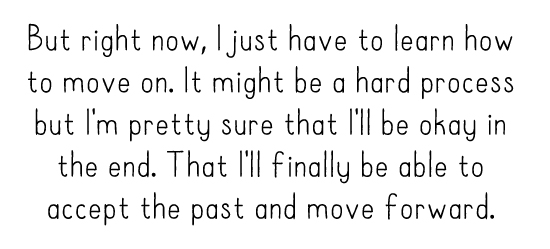 Sent in by Trixie Munoz. Got your own story to tell? Drop us an email at candymagazine @gmail.com! We'd love to hear what you have to say. If you're lucky, you just might get published in this space, too! Please indicate if you want to remain anonymous. We're also looking for artwork and illustrations to use with the stories, so please send some in if you want to be featured!