If I were brave enough, stupid enough, I could've broken your heart. If I were the one who broke your heart, maybe I wouldn't have cried the moment I got home that day. Then the memory of you wouldn't be as painful as it has been.
If I were the one who hurt you, your friends probably wouldn't have laughed at me when we'd crossed paths. And the embarrassment I felt for holding on when you clearly wanted to leave wouldn't have stuck with me for months.
If I were the one who made you cry, some people—strangers—wouldn't have looked at me with such great pity when they'd see me walking alone as if the only thing I did with my life was to sulk in sadness.
If I were the one who left first then I would have felt victorious and felt proud for not being hurt. If I were the one to hurt you first, I would have hurt you real bad. Deep in your heart, with your soul feeling broken apart.
But that was not the case. You were the one who was able to leave first. You were the one who broke my heart. The one who inflicted pain to the one who struggled for her smile to be regained.
And maybe, it's better that I was the one who got hurt because if I were the one who broke your heart, I wouldn't be able to live peacefully with a spiteful memory.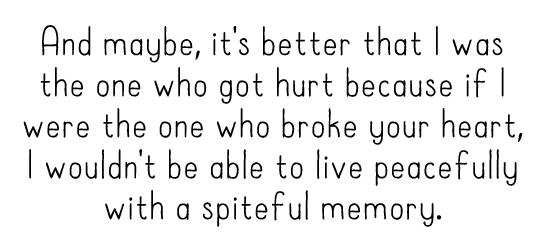 ADVERTISEMENT - CONTINUE READING BELOW
READ MORE:
Thank You For Breaking My Heart
The Definitive Guide to Moving On (From Heartbreak)
To the One I Thought Was Destined For Me
Sent in anonymously. Got your own story to tell? Drop us an email at candymagazine @gmail.com! We'd love to hear what you have to say. If you're lucky, you just might get published in this space, too! Please indicate if you want to remain anonymous. We're also looking for artwork and illustrations to use with the stories, so please send some in if you want to be featured!