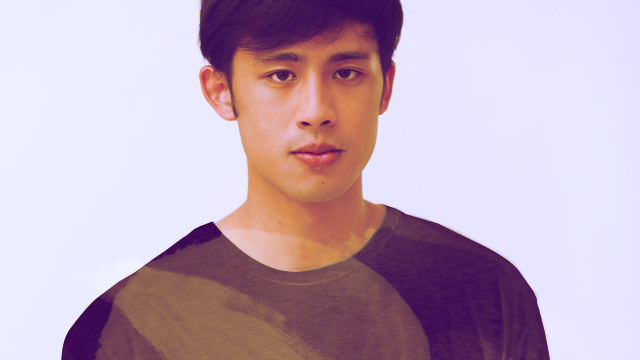 People say that when the heart breaks, it's the hardest thing to repair. No high-end tools, no medicine, and not even amnesia can mend a broken heart. Because when it breaks, you are left shattered and lost. You just have to accept that the person who promised you forever, is the same person who left you nowhere; and the person who wipes your tears is the same one who caused it; the person who hugs and tells you that everything will be okay is now gone and will never return. You're left to move on, because that's the only thing you could do.
I've had my fair share of heartbreaks and breakups. It was painful. Really, really painful. He turned into someone he said he'd never be. The things we used to do, the songs we used to listen to, and the sweet messages we used to say, all mean nothing now— everything turned to "used to." I was left with nothing but broken promises, broken memories, and a broken heart. I tried to win him back, make him realize my absence but to no avail.
I recall the times I cried and stayed late at night thinking what went wrong, how did we end up like this, and if second chances are still possible. I was so depressed then, I couldn't think clearly, I couldn't focus with my work because my thoughts were with him. Out of nowhere, I checked his Facebook account, wanting to know what's keeping him busy. I was so surprised when I saw a picture of a girl—the same girl who ruined our relationship—with a caption saying I love you to him. I was devastated. But who am I to tell him I am hurting when he no longer cares about what I feel? Who am I to tell him I am freaking mad and jealous when he broke up with me a few days ago? Who am I to tell him that it actually killed me when I'm just a toy he played with?
ADVERTISEMENT - CONTINUE READING BELOW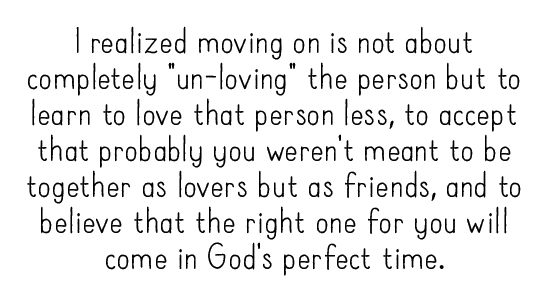 I told myself, I've had enough. I wouldn't let him destroy me again. Then one day, I woke up feeling better than yesterday. I no longer wish to be with him every single minute because I am currently enjoying my life of an unaccompanied journey, I no longer hope for him to come back in my life because my life is pretty awesome without him and I no longer cry and stay up late at night thinking about him because I have already accepted the fact that he doesn't love me anymore, or he never really did.
READ: It Used To Be Us
I realized moving on is not about completely "un-loving" the person but to learn to love that person less, to accept that probably you weren't meant to be together as lovers but as friends, and to believe that the right one for you will come in God's perfect time. The pain I felt yesterday served as my motivation today. Yes, I may be single, but I am happy... very, truly and genuinely happy.
Sent in by Czarmagne R. Eruela. Got your own story to tell? Drop us an email at candymagazine @gmail.com! We'd love to hear what you have to say. If you're lucky, you just might get published in this space, too! Please indicate if you want to remain anonymous. We're also looking for artwork and illustrations to use with the stories, so please send some in if you want to be featured!