I was a hopeless romantic.
Ever since I was a kid, I've always dreamed of meeting my very own knight in shining armor and have a chance to live out my very own fairy tale. Even as I traded my frilly dresses for more lady-like skirts I've secretly held that little dream of mine close to my heart, somewhere it can be safe. Somewhere it can patiently wait until the day it finally becomes a reality. Okay, I wasn't just a hopeless romantic. I was also a dreamer.
I conjured up in my head the day I'd finally meet The One a thousand times—each a different scenario from the other, and that just made me want to meet him more. I sat in class daydreaming about what he might look like, and even though I looked silly staring at a wall for so long, it was okay. I was so in love with the idea of falling in love the way they do in my fairy tale books that when reality struck, I was at a loss.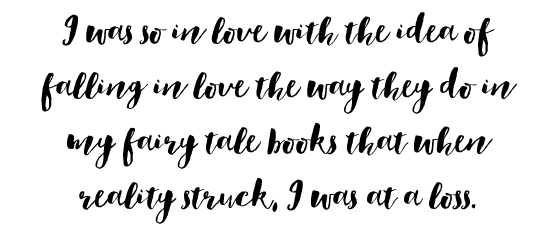 ADVERTISEMENT - CONTINUE READING BELOW
In came the feelings that went with growing up: That first taste of heartbreak and false hope. When all I ever wanted was true love but instead all I got in the end was my heart on the floor, shattered in pieces as each guy I ever had a relationship with walk out on me. Realization hit me like a ton of bricks. Happy ever afters don't necessarily happen and that all I ever get from relationships is the growing fear that I might just not find someone who could stick around longer to love and accept me completely.
At one point in my life, I turned away from love out of fear that I might just be right.
But then I met you, and things started to change for me. I fell in love with you at first sight, and you made me fall for you more with each day that passed by.
With you I don't have to keep myself in check. I can just be myself because I know you want me to be. When we're together, it always feels like a barrel of laughs. I can tell you my secrets knowing you'll never judge me. You just get me without even trying. And more importantly, you love me, faults and all.
Each day feels just a little bit brighter knowing I have another day to spend with you. Sure we fight, but with you I learned how to forgive out of love and without any reasons necessary. You never gave up on me, no matter what happened. You think I'm crazy to think you'd leave me even when I was the one who hurt you. Whenever you say you love me, my heart flutters because it always rang true.
With you, I learned that love doesn't have any whys, whens, wheres, and hows. Just "because."
With you I found the courage to love with all I have again. No holding out, even though I'm aware that there's still the risk that tomorrow we may not be in love with each other anymore.
Because in loving you I realized that not all knights wear shiny armors, some wear vintage khakis and dirty sneakers. And not all happily ever afters happen like the way they do in the fairy tales, but even so, the love and happiness you feel is still the same - sometimes, even better than what any big screen can ever imagine to make.
I didn't get my fairy tale love story in the end. But I wouldn't have it any other way with you.
Sent in Elaine Bayugo. Got your own story to tell? Drop us an email at candymagazine @gmail.com! We'd love to hear what you have to say. If you're lucky, you just might get published in this space, too! Please indicate if you want to remain anonymous. We're also looking for artwork and illustrations to use with the stories, so please send some in if you want to be featured!