It wasn't falling in love that we're afraid of. It's getting hurt. That's what keeps us from falling in love.
Those times when I can't sleep and you keep me company. While everyone else tries to make me feel worthless, you were there, making me your own world, like I'm the only thing that mattered to you. The jokes that we tell each other, our conversations on Facebook and Twitter—not knowing that behind the screen, we shared the same unfathomable smile. When you see me sitting alone on the benches and you decide to leave your friends just to join me.You were there and that was enough.
READ: I Wasn't Enough For You
Then came the night when you opened your heart to me, pouring out your feelings towards me. Those three little words. Who would've thought that it could create a huge buzz in my mind and my heart? I was supposed to say it back. You were expecting, didn't you? In our "we're not lovers, we're more than friends" kind of relationship, we were both hoping for something magical but that didn't happen.
Things changed. We weren't the same like before. You chased me, I kept on running. I held back my feelings because I was scared. I was scared of myself, that I might not return the love that you're giving me. I was scared because I might hurt you. I wasn't enough and I don't deserve your love.
READ: You Deserve Much Better
You felt how distant we've become and we both realized that this love couldn't continue. We were a hopeless case.
ADVERTISEMENT - CONTINUE READING BELOW
I'm sorry for being selfish. I'm sorry for only thinking of myself. Now, seeing you with another girl makes me miss us. But what right do I have after breaking you? She picked up your broken pieces and I thank her for that. The happiness that she brings to you was unsurpassable. I know how much I lost. I let you run alone and chase me. I'm glad that she runs with you, in whatever dreams you have. I loved you, believe me, I did. You weren't hard to love but I guess cupid didn't hit me hard enough.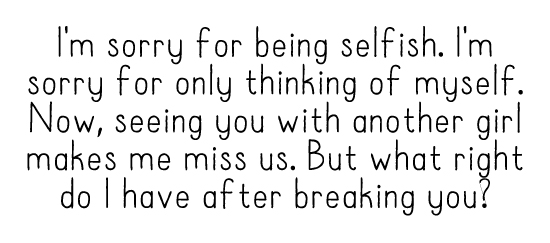 READ: An Open Letter to the Girl Who Thinks She's Not Enough
Sent in anonymously. Got your own story to tell? Drop us an email at candymagazine @gmail.com! We'd love to hear what you have to say. If you're lucky, you just might get published in this space, too! Please indicate if you want to remain anonymous. We're also looking for artwork and illustrations to use with the stories, so please send some in if you want to be featured!