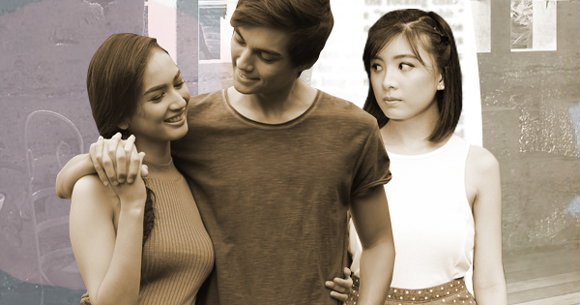 I was your cup of coffee,
Bittersweet and strong.
Kept you up at night, kept you active 'til you got tired.
My caffeine was in you 'til the daylight.
I love being in your system. I love how you start the day with me.
I love that you spend every day with me.
For a moment I was secure that you'd never replace me.
Then your heart pumped so fast, you felt tired so much
One day you said sorry I have to pass.
You told me that I am bad for you so you had to stop.
And then she came,
Your cup of tea.
She keeps you warm, day and night.
She saved your heart and held you tight.
For the first time I saw you calm and so relaxed,
As I look at you now there's one thing that I want to ask,
Please remember that I was once your sweetest drug.
ADVERTISEMENT - CONTINUE READING BELOW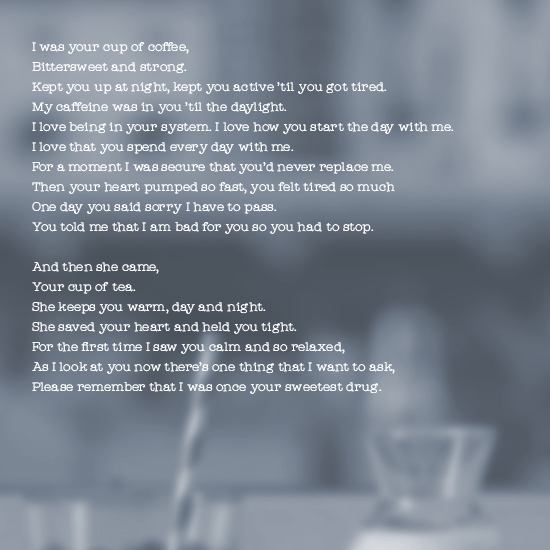 ADVERTISEMENT - CONTINUE READING BELOW
READ MORE:
To the One Who Never Mentioned Why He Was Leaving
But You Won't Let Me
I'm Sorry, A Poem
Sent in by Gela Dilay. Got your own story to tell? Drop us an email at candymagazine @gmail.com! We'd love to hear what you have to say. If you're lucky, you just might get published in this space, too! Please indicate if you want to remain anonymous. We're also looking for artwork and illustrations to use with the stories, so please send some in if you want to be featured!
ADVERTISEMENT - CONTINUE READING BELOW