Love is a magical feeling that can make us the happiest and also the saddest individual. I grew up believing that falling in love was easy. I did not know that it was a trap. And if you fall in this trap, it either kills by ripping off your skin in a slow motion or it will take your breath away every single day by making you the happiest person in the earth. I did not expect that I will be one of those people who will be stupid enough to conquer the world of love.
​I wanted what most teenage girls wanted, the perfect love story. A story like Snow White, Sleeping Beauty, Little Mermaid from when I was a little girl, Romeo and Juliet, The Notebook, and some old romantic novels. Those stories that I grew up with were the reasons why I fell in love with the idea of love. I wanted to meet someone who will be my "forever and always." I dreamed about having a love story that would be worth sharing with my children. A story that will make every person jealous. Let me take you through my journey of love.
ADVERTISEMENT - CONTINUE READING BELOW
​It was a typical sunny Saturday. My room full of silence and sadness. My heart is still mourning because my ex-boyfriend left me. His name is the epitome of pain. He gave me the raging fire kind of love. It tore me apart and left me in ashes. I waited my whole life waiting for a spark and once I found it, I went up in flames. That sums up my feelings for him for the past few days. Who wouldn't feel this way if you were in my shoes? Someone you allowed to know all your flaws and mistakes left you. Somebody who made you feel everything and then left you like nothing happened. My friends were aware about my feelings and they knew how much I wanted to take away the pain in my heart. They always ask how I am feeling and what I want. Me being desperate, I asked one of my friends if he could introduce me to someone who I can have a conversation with every day. And being generous as he can be, he gave my number to one of his pals who's had a crush on me when I was still in a relationship. That moment I felt embarrassed because I ignored that guy when he asked for my number and then I'd notice him now because I need someone to talk to. Sounds so wrong, right? ​
This guy was one of those boys who you'd notice in a crowd full of people. A six-footer-guy with a perfectly-carved jaw line, brown eyes full of mystery that will make you want to know all the stories behind them, and a pair of dimples that will make you say, "Oh boy. The things I will do to make you smile just to see those!" I didn't pay attention to him before because I was focused to my then-boyfriend. But with each day passing by, in the process of knowing him, the ice that froze my heart due to the pain I suffered was slowly starting to melt—another fire was trying to bring back the flames in my heart. I never expected that our friendship would turn into something deeper. He never hid his feelings for me from the very beginning. He made me feel the luckiest girl existing in this universe with everything he would do. We are something that only us can define. We have something that only the two of us know. ​
ADVERTISEMENT - CONTINUE READING BELOW
For me, he is my Knight-in-Shining armor, my Prince Charming in the middle of a war called Heartbreak. For me, he is flawless. His voice is like music to my ears, his laughter brightens up my day, his eyes, always sparkling and full of mystery. Just a single touch of him on my skin gives me goosebumps. I can stare at him forever and not get tired of it. ​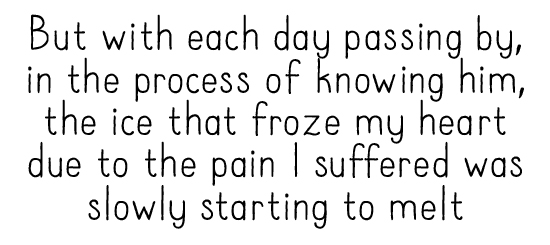 ADVERTISEMENT - CONTINUE READING BELOW
He isn't the first guy I have ever loved. He isn't the first boy to tell me how much he loved me. But I want him to be the first and last man that I will marry. I want him to be the Prince Charming of my own fairy tale. He will be the only man that I will kiss for the rest of my life. He will be loved by me every single day. Even on the bad days, I will stand by his side and hold his hand. We still aren't together but we have something that will never be gone and destroyed.
Sent in by Maricon Cassydee. Got your own story to tell? Drop us an email at candymagazine @gmail.com! We'd love to hear what you have to say. If you're lucky, you just might get published in this space, too! Please indicate if you want to remain anonymous. We're also looking for artwork and illustrations to use with the stories, so please send some in if you want to be featured!
ADVERTISEMENT - CONTINUE READING BELOW