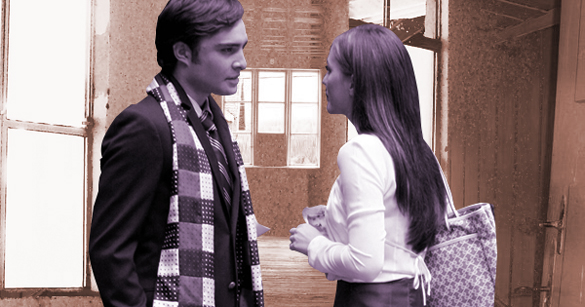 They warned me
Told me lots of negative things about you
I didn't listen
Thought that I could change you
Days passed by
Sharing memories, good and bad
You gave signs
Mostly flirty and pretentious
I didn't like you I swear, I didn't
You had a cute laugh, yes
You were fun and kind as well
But really, you're just not my type
Yet the weird thing is
I felt bothered when you didn't reply
I felt annoyed when you kept saying "hahaha" all the time
What was this that I feel?
Then weeks passed by
It was a month of talking and all
You were getting pretty weird
Conversations turned into dull small talk
Then one Wednesday morning someone told me
"He said you liked him, but he didn't"
Thoughts whirling, boggling in my mind
Nuisance and anger was what I felt
They warned me
Told me lots of negative things about you
And I should've listened
You never changed, and just played me like one of your games
ADVERTISEMENT - CONTINUE READING BELOW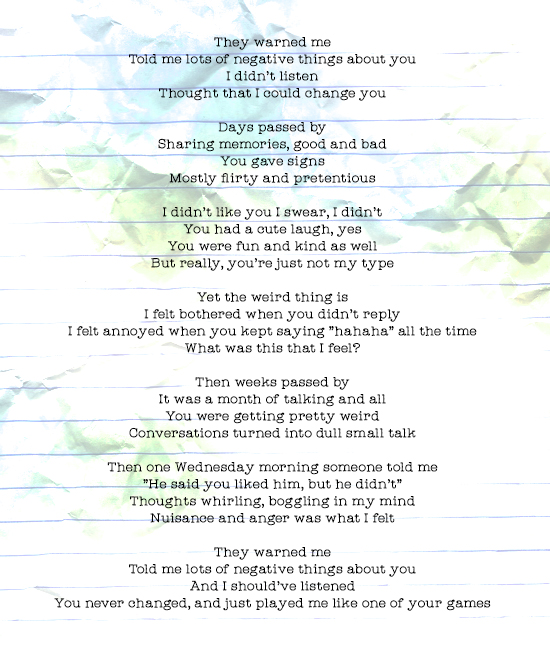 ADVERTISEMENT - CONTINUE READING BELOW
Gem Agudo is 15. Got your own story to tell? Drop us an email at candymagazine @gmail.com! We'd love to hear what you have to say. If you're lucky, you just might get published in this space, too! Please indicate if you want to remain anonymous. We're also looking for artwork and illustrations to use with the stories, so please send some in if you want to be featured!
ADVERTISEMENT - CONTINUE READING BELOW