Features
From Our Readers: I Lost My Friends, But I Found Myself
I wanted to fit in so bad, I changed who I was.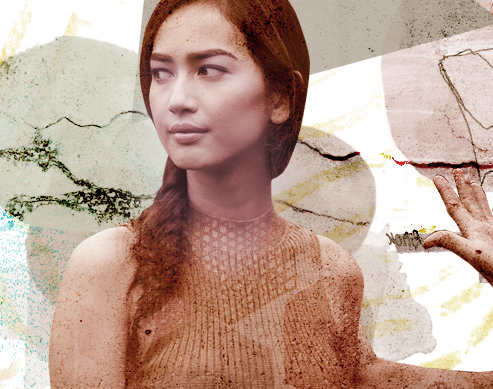 ART Trixie Ison
When I was little, coming home from school, I always had three stars stamped on the back of my hand. At the time, I didn't know what it meant but it looked pretty so I didn't care. When my classmate finally told me one day that I got the stars because I excelled, I started to hate them. I always washed by hand before coming home, fearing that my mom or dad would see it. Being a messy kid and an even messier adult, as it turned out, I always left a smudge of ink on my hand and my dad finally noticed. I was a really fat kid so my dad jumped to the conclusion that I was being bullied, having mistaken the stains for bruises. When he told me he was going to go to my school and confront my adviser about it, I had to tell him the truth. His face contorted in a way that suggested he was confused but didn't want to show it because he didn't want to make me feel stupid. I told him I was ashamed because having three stars meant I excelled and that I was different from everybody else and I didn't want that. I wanted to fit in so bad, I changed who I was. I played "dumb" and pretended I didn't know what "inconspicuous" meant when my friends encountered the word in our English homework.
ADVERTISEMENT - CONTINUE READING BELOW
When I was in high school, I went to the library during lunch because I knew none of classmates would be around and that meant I could read my book in private. I didn't tell anyone I was into reading, didn't tell anyone I was into writing, too. I would scribble random poems at the back of my test papers thinking no one would really notice that blank page. My Science teacher called me in her office one morning and before I knew it, she was reading my poem aloud and encouraged me to write for the school paper. I laughed and when I finally closed the door to her office, I stopped and went back in.
I saw the shocked faces of my "friends" when I walked up on stage in junior year and hosted an event. The following month, I won a contest for impromptu speaking. I stopped pretending. I lost my friends. I found myself.
ADVERTISEMENT - CONTINUE READING BELOW
READ: 3 Ways You Can Deal with Difficult Friends Without Unfriending Them
I wrote for the school paper and haven't stopped writing since. I continued to explore the wonderful world of books and other people's thoughts on random subjects. Now, I'm sharing mine: Stop trying to fit in when, clearly, you were born to stand out. I probably heard or read that somewhere but that's what I've realized growing up.
You might be different from everybody else but someone out there is going to love you in spite of that. And to the one who did, I wish I could put a three-star stamp on your hand for excellence but I can't, so I'll kiss it instead and hope you know that it means "thank you for letting me be me."
Written by Ivy Callelero. Got your own story to tell? Send them to candymagazine @gmail.com and you just might get published in this space!
It's like seeing Seo Dan and Seung-joon all over again!
The internet seems to love his lighthearted humor during these troubling times.
Many of our favorite K-drama actors right now actually started out as idols!
Thailand rethinks its elephant strategy.
Who else wants a basket full of mojos?
We're hoping to see more of these in different LGUs!
Sometimes, no matter how hard you try, some people just won't vibe with you, and that's totally fine.
Have you tried the #ComeAroundMeChallenge?
The cheerleading docu-series is a phenomenon.
A lot of them are dirtier than a toilet seat.
The kind of wholesome content we all love to see.