Ever wonder what it feels like to be depressed? Let me tell you this: It's horrifying. Horrifying because you feel as if someone took your soul, that even getting up is harder than your Math exams. But it's harder when you're in a relationship and your illness affects your partner, too.
It used to be so perfect. You were the best boyfriend I've ever had. I didn't know that chivalry was still alive these days, until I met you.
A lot of people told us, we were perfect together. Everything went smoothly, you working hard but still had time for me and me studying while making time for you, too.
What went wrong, my love?
I'm asking yet I already know the answer: My depression. I used to be always happy, cheerful, and full of positivity. When my episodes arrived, I had a hard time finding my way back. What hurts me the most is that I was also hurting you in the process. I'm sorry, I can't help it.
But then you never left me, you were still there, guiding me through this problem of mine. However, it's difficult to just depend on you. Like what you've been telling me: Love myself more than anything or anyone else. No one else could save me but myself. It all boils down to me.
Now that we're taking a time off, I'd like to thank you for making me realize that love between two persons should still be individual. No more "I can't live without you." Rather, "I choose to be with you." Your life shouldn't depend on another person, it should be you whom you're fighting for. Thank you for staying, when I thought you'd leave the moment my episodes began. Thank you for being strong for the both of us. But it's time for me to do this on my own first. I'll get back to you, I promise.
ADVERTISEMENT - CONTINUE READING BELOW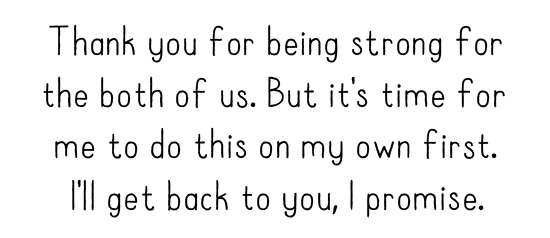 I'm fighting. Though it's hard, I am fighting.
Sent in anonymously. Got your own story to tell? Drop us an email at candymagazine @gmail.com! We'd love to hear what you have to say. If you're lucky, you just might get published in this space, too! Please indicate if you want to remain anonymous. We're also looking for artwork and illustrations to use with the stories, so please send some in if you want to be featured!