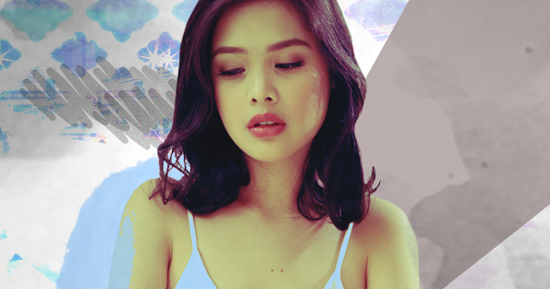 Look at me as if I'm the most beautiful girl. Smell my scent as if it's the most valuable perfume in this world. Hear my name as if it's your favorite tune. Touch my hair and play with it when I'm having a hard time to sleep. Hold my hand when I'm about to lose my path. Call me at midnight when the stars are starting to shine as you recite all the sugar-coated words you wanted to tell me. Ask me how my day was and I'll do the same. Ask me what my favorite drink is and memorize the tone of my voice. Surprise me with your sweet random messages any day. Make me special in your own simple ways. Now, that I'm not only dependent to you. I'm already attached to your presence —truly, madly, and deeply. I'm trapped and I don't know how to get out of it. You're the sweetest page in my book. I'm high, prone, and addicted under your drug. I'm internally connected to you. For a minute, I know a realization hit me: you've got me and I lost myself.
Slowly and miserably, start to change the routine. Leave me in the middle of the night without even informing me that you're already in the middle of your dream. Take advantage of me. Start hitting me up when things aren't going well then ignore my presence the following days or even weeks. Start talking to other girls then call me when you seek for my help. Remember me only when you're worried but make sure to forget my name when you get A+ in your grades. Talk to me when you're frustrated over your new girl and make sure I won't find out about it. Ignore me as if you want to stab me. Send me a message when you need my company but make sure that I'm your last resort. The next few days, the next few weeks when things are going to start better in favor of you, stop talking to me. Don't call me. Don't try to ask for my opinion anymore. Don't demand for my time and don't crave for my attention. Remember that you will only call me when things aren't going your way. Those are the only things you have to follow — those are the best and easiest ways on how to lose. Unfortunately, you lost me already.
ADVERTISEMENT - CONTINUE READING BELOW

The moment you made me feel unwanted, you lost me already. We were a work in progress but then things started to fall apart. When you started to ignore me, I started building walls. That's the only thing I can do to save myself from drowning and I'm glad I did. When you took me for granted, I started focusing on other things. I started to love myself. I began to divert my attention to the things I love. I began to love the things that won't hurt me. You lost me and I lost myself, too, but I have to do something in order to find myself again. I have to own the only thing I've got, which is myself. Now you lost me and I'm sorry to tell you this but you can't have me back. That's why please understand if I'm harsh towards you and you have no idea about it. Understand if I don't treat you the way I used to. You lost me and sometimes things that you lost can never go back. You lost me and I'm glad you did the best and easiest way.
Maybe you're my angel. You didn't save me but you taught me how to save myself when I'm about to lose it.
Sent in anonymously. Got your own story to tell? Drop us an email at candymagazine @gmail.com! We'd love to hear what you have to say. If you're lucky, you just might get published in this space, too! Please indicate if you want to remain anonymous.