They said from the very start that I should stop. Did I listen? No. I just continued. I know there will be struggles along the way but I chose you. I chose to be strong for us. I chose to follow my heart over my mind. I chose to love you and let you love me. I chose to believe in the power of our love. Yes, I chose to believe that we will be able make it. I chose to believe that the people around me would soon see what I chose to believe. Nothing else mattered to me but only you.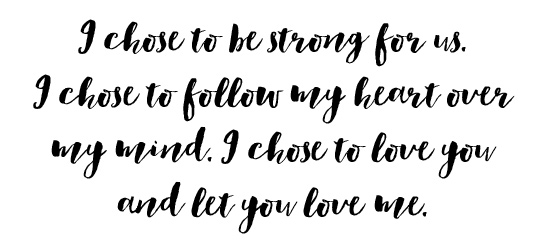 I still remember the first time I met you two decades ago. My memory is also clear of when I last saw you. Now, you coming to back to my life after long years of separation was like giving a shot to second chances. Distance never mattered to me. The months that passed having you in my life even from afar felt like the best days of my life. I had the struggles of keeping what he had as a secret but I continued because I felt so happy. You brought out the best in me. I tried in my little ways to make the people around me believe that what we have would last and can stay forever. We made plans for the future even if there was the feeling of uncertainty. You were a part of my daily life. There were moments I would smile just thinking of you. There was no single moment that I have forgotten you. You made my heart beat so fast during those endless conversations. I woke up happily each day knowing that somebody from afar loves me truly and so dearly. What we had was not perfect but I know in our hearts we wanted it to last.
ADVERTISEMENT - CONTINUE READING BELOW
I never knew I would wake up so soon from this fantasy we created. I never expected you would give up so soon on me, on what we had. They said if you really love the person, you have to set them free. Is setting me free your heart's true desire? The days are passing me by and I still keep on missing you. My love for you is still here in my heart. There was never a day that I forgot you. I'm having a hard time letting you go. Each day I keep on praying that you are doing well. Questions are only for me and not meant to be answered anymore. Do you still think of me as I do? Is there something that you want to tell me? Are the people around me right, right from the very start? Should I have stopped right when we were starting? Did I really fight for nothing?
Next time I meet you, if and when our eyes meet again, we will be strangers. And if I should love again, I hope everything will be right even from the very start.
READ MORE:
The Things Only You Taught Me
To the Guy I Took For Granted
This is Everything I'm Afraid To Say
Sent in anonymously. Got your own story to tell? Drop us an email at candymagazine @gmail.com! We'd love to hear what you have to say. If you're lucky, you just might get published in this space, too! Please indicate if you want to remain anonymous. We're also looking for artwork and illustrations to use with the stories, so please send some in if you want to be featured!