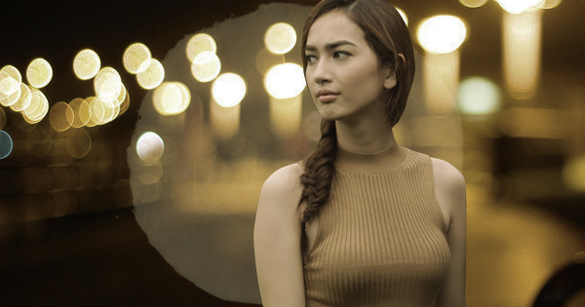 In every failed relationship, there are the Ones Who Got Away and The Ones Who Stayed. Unfortunately for me, I was the latter in ours.
They say The One Who Got Away bears more of the pain than The One Who Stayed. But in our case, it seems like I carried all of it. I remember our movies dates: The day, the time, the place and even the movie we watched. I remember the simple dinner and lunch dates: What we ate and where we've eaten. I even kept the receipts; they are still inside the box I have been dying to burn but can't. Because burning that means burning what we had, forgetting the marks we've left in each others' lives, and moving on. Yes, I am still refusing to let go of you, of us, and all that we had.
READ: To the One I Broke Up With

ADVERTISEMENT - CONTINUE READING BELOW
My friends keep on telling me it is useless for you have moved on and found someone you would share your dreams with. But I am still holding on, gripping on what you've said that you would marry an accountant. I'm working on it anyway. I'm on my second year. It's hard, yes, but the thought that you're waiting at the end makes the hardships worthwhile. I will graduate as an Accountancy student, become a CPA, and by then, I hope you'd consider having me as your wife.
ADVERTISEMENT - CONTINUE READING BELOW
I haven't told anyone about this, but it's the truth. You're the reason why I pushed to be someone I never really was, why I am becoming the person I never thought I will ever be. And now, I realize, why love is the most explicit form of self-destruction. It's because it makes you care about the other's wants, needs, and dreams than of your own.
ADVERTISEMENT - CONTINUE READING BELOW
Ironic isn't it? Me dreaming of a future with you and you dreaming of a future with someone else. And how I wish that were me. How I wish I'd be the one you call beautiful because it has been years since the last time you uttered those words. How I wish I were the one you would send long and sweet messages the moment you open your eyes in the morning and the one you'd call before you sleep at night. How I wish I were the one you tagged with those relationship goals on Facebook, the one you'd make faces with on Instagram, the one you'd introduce to your grandmother as your partner. But these all are just wishful thinking and will always stay that way. You don't want me anymore. You don't want someone like me who calls you endlessly when you won't reply, someone like me who is afraid to hold your hand in public, someone like me who you disapprove of just because I have grew heavier.
ADVERTISEMENT - CONTINUE READING BELOW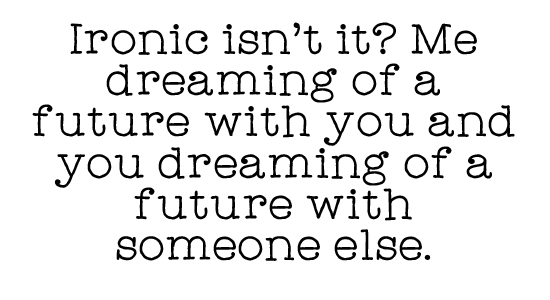 READ: To The One I Thought Was The One, But Was Really Just One
However, I've grown up. I may think of you each day, and I may cry because of you at nights, but I'm slowly refusing to settle for less and wait for a knight in shining armor who left me after saving. I'm sorry I'm not as lovable as I was. I'm sorry I cannot wait and stay behind your shadow anymore.
ADVERTISEMENT - CONTINUE READING BELOW
Sent in anonymously. Got your own story to tell? Drop us an email at candymagazine @gmail.com! We'd love to hear what you have to say. If you're lucky, you just might get published in this space, too! Please indicate if you want to remain anonymous. We're also looking for artwork and illustrations to use with the stories, so please send some in if you want to be featured!