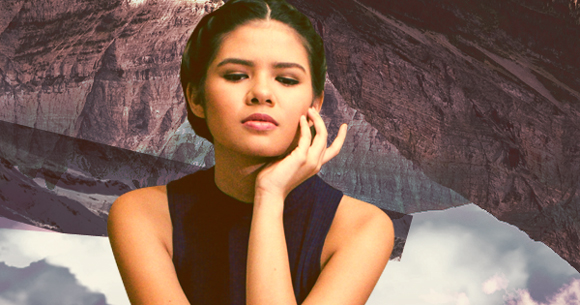 Hey, I know its been a while since you've heard from me. We may have shared some small talk through chat but I could hardly say how much I am missing you right now.
But the thing is, I don't just miss you. I miss us. The us together. The us loving and caring for each other. The us that we thought will never be miles apart. The us that will never be back in each others arms again.
We were okay. At first I thought I was just fooling around until I realized that you loved me too much to make me feel the same way towards you. The first six months were perfect. Well except for the weekly petty quarrels, monthly attempts to breakup, and the cold silent treatments whenever I got pissed off. We enjoyed our own roller coaster ride; our ups and downs made us stronger. You were just too patient and understanding to love me for who I am. Unconsciously, I got fully captivated by your presence. Just as the old song goes, yes, I wouldn't have lasted a day without you.
ADVERTISEMENT - CONTINUE READING BELOW
Until I came to realize, I have let my world revolve around yours. Something I didn't expect to happen. I was too terrified that I strangled you enough to change. We started to grow apart. Our communication line got shorter and we had extremely different priorities. We were headed to different paths. My heart started feeling weird, enough to plan my evacuation. Then, our idea of happiness began to go in reverse.
I started enduring the pain of seeing you. Yes, the mere fact that I knew I was leaving you soon made me feel hurt but I still needed to smile to hide the pain. I did not want to leave you, but that doesn't also mean I wanted to stay any longer.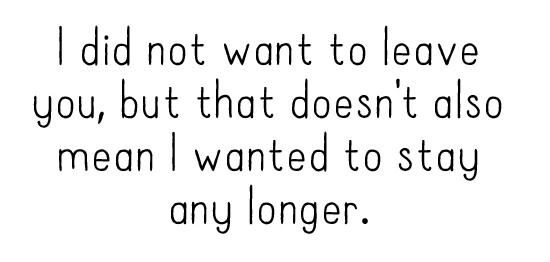 ADVERTISEMENT - CONTINUE READING BELOW
I left you and I am sorry. In case you wanted to know, I loved you more than you think you'll ever know.
Sent in anonymously. Got your own story to tell? Drop us an email at candymagazine @gmail.com! We'd love to hear what you have to say. If you're lucky, you just might get published in this space, too! Please indicate if you want to remain anonymous. We're also looking for artwork and illustrations to use with the stories, so please send some in if you want to be featured!