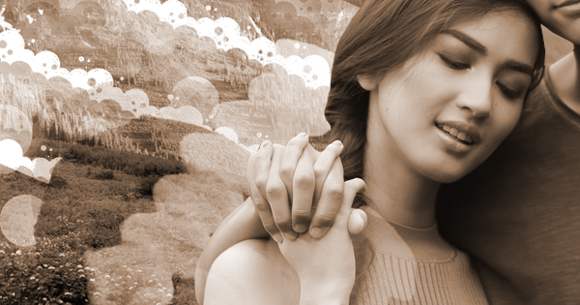 I've been told many times, "Hay nako, hija. Batang-bata ka pa! Don't worry about falling in love!" Family, friends, even people I barely know, they all warned me about this so-called "love." But now it's my turn to warn you, for when you fall in love.
Seeing all those cliché movies, reading all those books, and watching all these people get into relationships, I always wanted to be in one, too. At that time, my biggest fear was ending up alone forever. I mean, if my friends could find boyfriends, why couldn't I? Was I not pretty enough? Not popular enough? Not as interesting? What was I doing wrong? I decided, if love wasn't going to look for me, I was going to look for love.
READ: When You Lose Yourself While Falling In Love With Another Person
I started talking more to all my guy friends, and I tried my best to attend every party. I went to all the soirées, and I only hung out with guys. Slowly, I was becoming more and more desperate, until I became the malandi one in our barkada. My friends started backstabbing me, and they didn't want to hang out with me anymore. But the guys that just wanted someone easy, well, they had me. I was always up for flings and hangouts, and I'd think to myself, "This is what I wanted...right?" Wrong.
ADVERTISEMENT - CONTINUE READING BELOW
I wanted the kind of love that made me feel mushy inside, I didn't want to be an option. I want to be the choice. I realized how stupid I was acting, believing that this guy could be my future, or this guy could make me happy. I woke up from this false dream, and I realized that I don't need anyone to make me happy. Then, I started relying only on myself.
READ: A Letter to the Girl Who's Afraid of Falling in Love Again
I swore off of boys. No dating, no going out of my way to attend any events, no flinging myself at every boy I meet. Who needs a relationship? I had school, family, and other matters that needed more attention. I became an honor student, and I never felt closer to my family. I reconciled with my friends and everything was back to normal. That is, until he came.
ADVERTISEMENT - CONTINUE READING BELOW
He was like an earthquake, powerful and unexpected. I didn't think that this person would finally come along. It all happened so fast. Sometimes, I feel as if it didn't happened the way it should've, the way I expected it to. I mean, I liked him, he liked me. But isn't there supposed to be so much more? I thought falling in love was drastic. I thought it would turn my life around, and that I'd finally have something to live for. After a while though, I realized that all my expectations were completely wrong.
Falling in love doesn't happen quickly. You slowly realize it, until finally, you acknowledge that fact. Sometimes, it comes at the right time, and sometimes, at the worst. It may not happen the way you thought it would, but it will happen. For some people, it can be the thing that changes their life. But, if you're lucky, it won't be drastic; being with that person becomes natural, as if he just makes everything even better. Remember that no boy is worth being called "someone to live for." Life goes on, even if you lack a love life. Although, when that boy comes along, when you run out of things that motivate you to get up everyday, he will help you appreciate every (little) thing. He will open your eyes and make you see the many things to live for. Family, friends, achievements, dreams, aspirations, etc. Falling in love wasn't necessarily the best thing that's ever happened to me, but it made every other experience seem much better. He made everything seem better.
ADVERTISEMENT - CONTINUE READING BELOW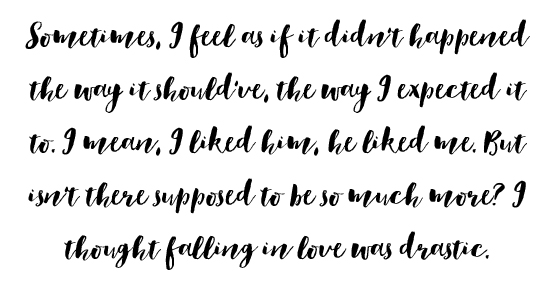 Don't look for something that isn't good enough for you. Don't settle. Let it come to you, and for sure, it'll be worth your time. Don't go searching for something that isn't meant to be; there's a time and place for everything. Let love come to you, and when it does, live in that moment, always.
ADVERTISEMENT - CONTINUE READING BELOW
Sent in by Clarisse Santos. Got your own story to tell? Drop us an email at candymagazine @gmail.com! We'd love to hear what you have to say. If you're lucky, you just might get published in this space, too! Please indicate if you want to remain anonymous. We're also looking for artwork and illustrations to use with the stories, so please send some in if you want to be featured!