We always hear people saying that love is around the corner. Now, tell me, where is that corner? I'm almost 20 and I wonder why my true love hasn't given me signs that he's coming. It's not that I'm rushing (well, maybe I am, a bit) but I see people my age claiming that they finally have found their true loves. This is crazy, I should be focusing on my studies and my future but I can't stop imagining the possibility of not being able to have someone beside me for the rest of my life.
My mantra became, "Talk to people and see if you find zing with someone". I have been talking to people in my entire existence I am starting to believe that there are no zings. I am also greatly aware of broken relationships. I mean, love is a great deal for me so how can it not be a great deal for some. They are actually lucky to have found someone who goes along with their craziness then they let them go.
Maybe I can never find love. I've tried. I talked to people who've been trying longer than I've been. Maybe we got it all mixed up with giddiness and desperation and anxiety. Maybe everything I thought about love wasn't really the truth. Maybe I should just let love find me. Maybe I should stop trying to look for it and wait for it to find me. There will come a time when everything will just fall into place, when everything I hoped for finally becomes reality. That is when love would show me who he really is. I'd accept him for who he is because I'd always know who he is going to be. I'd never bat an eye when he comes running towards me for the tightest hug I'll ever have in my life. I'd fall for his kisses for the first time because it'll feel so familiar. I'll know love when I see him. Love will know me when he sees me.
ADVERTISEMENT - CONTINUE READING BELOW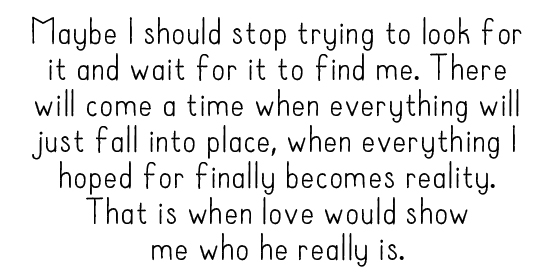 We all should learn a lesson that as cliche as it is, love knows no age or boundaries. Love makes everything possible. I, and even you, shouldn't be afraid of not finding love because love always know its way to us. He has memorized the road by heart. And if he's taking too long to go home to me, I would wait, because I'm sure he just stopped to buy ice cream and pizza. For me.
READ MORE:
Does Love Happen by Fate or By Choice?
The Things Only You Taught Me
To the Guy Who Inspires Me to Write
Sent in anonymously. Got your own story to tell? Drop us an email at candymagazine @gmail.com! We'd love to hear what you have to say. If you're lucky, you just might get published in this space, too! Please indicate if you want to remain anonymous. We're also looking for artwork and illustrations to use with the stories, so please send some in if you want to be featured!