When your heart breaks, it is as if there is no vivid coloring that is present as of the moment. Everything fades to black. A meteorite might hit planet earth yet all you could feel is the pain, the melancholy, the dampness on your cheeks.
And trust me when I say that I know what it feels like.
The heavy showers are my tears, the thunder is the sound of my breaking, the lightning is the representation of the cracks he gave to my heart.
So beautiful, so terrifying. I know there'a reason why I love storms.
It's hard to accept the fact what he can do to your heart: Either he'll never know it, will never claim it again, never notice it, or played with it. And at least, one of the items above, you have experienced it.
You could sing "Forget about me" at the top of your lungs, cry your heart out, feel the melancholy seeping through your bones, but nothing could change the fact the he will never come back.
They say you have to "Stay strong and move on". It's bot easy. It's very hard, especially if you consider the intensity of feelings you have invested in that person. But, it's not impossible.
Loving someone is already a risk. A risk because you don't know what the other person will react, what could change, and you are giving them the power to hurt you.They have the advantage in the situation. You are just the mere optimist that believes they are a good person that will not tamper your fragile heart that you're offering to them. But when they do break your heart, its like the end of the world. It's okay to cry your heart out. What is not okay is pretending to be strong, when you're inside is in emotional turmoil.
ADVERTISEMENT - CONTINUE READING BELOW
Cry, eat chocololates, ice cream, watch funny movies, play video games, read books, realize that he's really not just that into you. Do all of that. He was just one of the many stop signs. He was part of the road that God made for you in order to find the right person. He was just a chance encounter, in order for you to learn a lesson: That the right person wouldn't treat you the way he did, and how you would, in turn, take care of them.
So please, don't lose hope. Everything happens in His time. I know one day, you'll look back at it and smile, because it taught you a lesson, a thing or two about love and life. Even the person who broke your heart, you'll remember him as the person who made you stronger, taught you that you are worthy of being loved by the person who could really see you. They can't break and hurt you if you hadn't truly love, and that's a good thing. Because it means you are selfless and capable of loving people despite their flaws and mistakes, and forgive them even if they don't deserve it.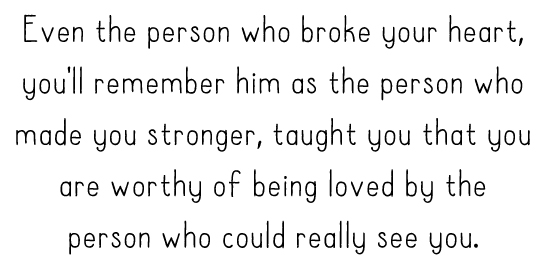 I promise you, it will pass. Let your heart heal, so it can bounce back to the way it used to be, only stronger and better: ready to be held and cherished by the right person.
Sent in anonymously. Got your own story to tell? Drop us an email at candymagazine @gmail.com! We'd love to hear what you have to say. If you're lucky, you just might get published in this space, too! Please indicate if you want to remain anonymous. We're also looking for artwork and illustrations to use with the stories, so please send some in if you want to be featured!