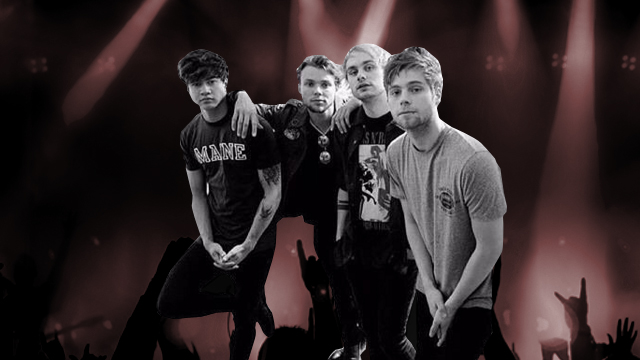 Everyone was talking about it. I heard someone cried about the news. I was so curious so I searched what everyone was fussing about.
There I saw a picture of you holding her hands, leading her to your car. I never thought heartbreak would hurt this much. I've never had a boyfriend before. All I know about love and relationships are just from your songs and young adult books.
It was March 2013 when I first heard about your band. That song of yours about a girl breaking your heart, putting you in the friend zone. I got hooked to it, but I didn't know you well back then. August 2014 came and as I was driving home from school, your song played on the radio. How you wish you had amnesia so you can forget about the stupid little things. I think I fell in love when I heard your voice.
ADVERTISEMENT - CONTINUE READING BELOW
It was love at the first note of your song. When I got home, I immediately followed you on your social media accounts, I followed your bandmates, too. I saved your photo and set it as my lock screen and home screen, giggling like a little girl.
Girls everywhere scream for your attention. They ask for photos whenever they see you in public. Oh, how I wish that was me. I'd meet you one day, I told myself. I saved up so I can buy tickets when you're in town.
I searched online to find out if you have a girlfriend. Turns out you broke up a few months ago. I don't know why that makes me happy but I'm sorry because it did.
I stayed up late waiting for your live shows from another country even if I had an exam the following day. I even unconsciously write your lyrics at the back of my notebook when the subject is boring.
ADVERTISEMENT - CONTINUE READING BELOW
Your followers kept going up each day. More people are knowing about you and they, too are loving your music. A tear fell down my cheek as I smiled to myself because I was so proud of you, even if you didn't know me yet.
You had a follow spree while I was in school. I didn't get sad though because I knew someday you'll follow me. The cute selfies you post are more than enough.
You make cute and goofy videos with your bandmates and I swear I thought I was in love. I had to remind myself that I am a freshman in college and this ridiculousness has to stop.
As the semester rolls in, I had less time to watch your videos and to stay up late for your shows. I wasn't able to watch them all but I still find time.
READ: To the Guy I've Been Loving From a Distance

ADVERTISEMENT - CONTINUE READING BELOW
You started your world tour with your bands and I couldn't be more proud. Just four lads from Sydney now taking on the world.
Rumors spread that you're dating another fan. I just smiled to myself because I know it isn't true. You said it yourself that your priority is your career and you have no time for girls. Fans first, ha, I thought to myself.
But boy I thought wrong.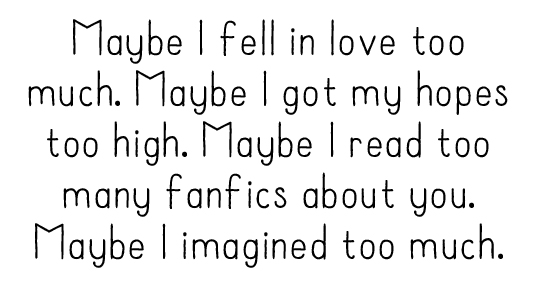 ADVERTISEMENT - CONTINUE READING BELOW
And now as I look at your photo holding her hands, trying to cover her from the flashes of cameras, a tear fell down my cheek and Im not smiling this time. I wish that was me.
I know it's stupid to get jealous over her. You don't even know I exist! I know one day you and your bandmates are going to have your girlfriends, get married, and start a family. But it was so soon. I'm not ready.
Maybe I fell in love too much. Maybe I got my hopes too high. Maybe I read too many fanfics about you. Maybe I imagined too much.
And as you tweet that it should always be about happiness, I slowly understand that you're just human, and I'm just a fan. You'll never know about me, but I'll always know about you.
Thank you for making me fall in love, without you even realizing it. Thank you for making me smile when college feels like dying. Thank you for creating wonderful music for us, your fans. And thank you for breaking my heart before any other guy could.
ADVERTISEMENT - CONTINUE READING BELOW
Sent in by krizamalaluan. Got your own story to tell? Drop us an email at candymagazine @gmail.com! We'd love to hear what you have to say. If you're lucky, you just might get published in this space, too! Please indicate if you want to remain anonymous. We're also looking for artwork and illustrations to use with the stories, so please send some in if you want to be featured!