Does love happen by fate or by choice? With you, it doesn't matter how it happened. However it happened, I'm beyond happy and thankful that it did. But thinking about it deeper, how can I be thankful for something that continuously brings me to tears and makes my heart ache?
You know that I'm a person who's so uncertain about almost everything. But for once in my life, I was so sure of something. I was so sure of you. When you feel a certain emotion for someone, you'd do anything. You'd reach for the stars and moon for them, thinking that they'd do the same for you. That's what I thought back then because you made it seem like but then you proved me wrong and I realized that thoughts are just thoughts and they don't usually happen most of the time.
When everything suddenly goes downhill and the person who means the most to you decides to go and say his goodbyes, what are you supposed to do? All I do was take it all in and said, "It's okay. I understand." But little did he know, he broke my heart even though I tried my hardest to build walls to protect it.
I can't help but blame myself for what happened even if I knew deep down that I wasn't at fault. I tend to ask myself, "where did I go wrong?" All these questions occur to you but you never really have the answers for them. There were so many nights I find myself crying, wishing for my old and happy self once again. And at the back of my head, I always wish that my future daughter never has to feel the way I was feeling.
ADVERTISEMENT - CONTINUE READING BELOW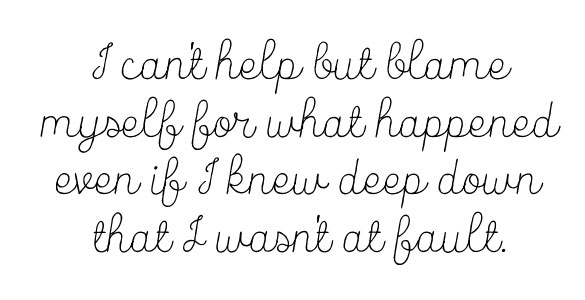 They say that time heals all sorrows and I agree. Time heals all sorrows until one day all the sorrows come back to hurt you again. But as time goes by, you get stronger and you deal with you sorrows better. Ever since you left, I can't love you up close but I can love you from a distance. Most things are more beautiful from a distance anyway.
READ MORE:
To the Boy Who Bullied Me
You Need to Move On From Him
Meeting a Stranger in Bali
Kristel Estillore, 16, is from De La Salle Zobel. Got your own story to tell? Drop us an email at candymagazine @gmail.com! We'd love to hear what you have to say. If you're lucky, you just might get published in this space, too! Please indicate if you want to remain anonymous. We're also looking for artwork and illustrations to use with the stories, so please send some in if you want to be featured!