Do you remember your first? Do you remember those days wherein you thought that you both would end up together? Did you ever think that your first would ever like you back?
Those are the questions that I would ask myself every day. I remember my first crush like it was yesterday, my first crush made me feel special. He made me feel like I was the only girl in the world. He made me realize how important I was to him. We would always talk to each other every day and we would always see each other. We used to talk to each other about everything until we drifted apart.
READ: 13 Local Celebrities We Had a Crush On In 2006
There were many reasons on why we drifted apart and one of those reasons was that he met someone else. He met someone that would always give him everything. He met someone that would always make him the happiest guy in the world. The feelings that he had for her was nothing compared to the feelings he had for me. He was the first guy who broke my heart and he made me feel like I wasn't important as I was to him.
ADVERTISEMENT - CONTINUE READING BELOW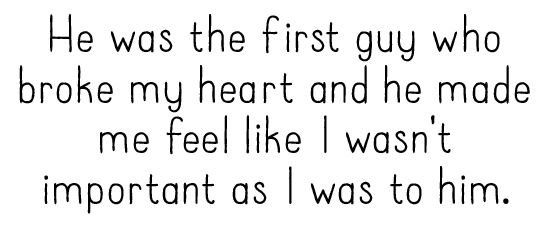 All of the lessons that I've learned from this experience made me stronger and it made me realize that he isn't the guy for me. I also learn about waiting for the right guy and that there will always be someone that is made for me. I really thought that our love story would last but then it didn't.
READ: This is How You Can Tell That a Guy Is Crushing On You
You should always wait for the right guy and you shouldn't assume anything because you'll just get hurt. You'll learn so much if you are going through this right now.
Sent in by Alex Roxas. Got your own story to tell? Drop us an email at candymagazine @gmail.com! We'd love to hear what you have to say. If you're lucky, you just might get published in this space, too! Please indicate if you want to remain anonymous. We're also looking for artwork and illustrations to use with the stories, so please send some in if you want to be featured! Please send original, unpublished work only.