Do you ever wish that you could just know the answer to everything—to every what, to every when, to every why? Feeling confused and bothered keeps me awake at night for I can't figure out its inception. Constant flashbacks of happenings are running through my mind, analyzing each moment very well, pinpointing each detail to its core. But no matter how hard I try, I just can't sort out the reason. Frustration crawls in, followed by deep thoughts caused by "why?" The next thing I know, it's morning and it's time to wear mask, time to conceal the feelings that I've been hiding from you for months.
I know that you can't like me back, you can't, and you shouldn't. But why do you treat me differently? Why do you make fun of me but stop anyone who does? Why do I always find your eyes on me when I sneak a glance at you? Why do you move close whenever I'm around and closer whenever I talk to you? Why are you not moving away when our bodies brush onto each other? Why do you always find ways to talk to me even though it's just for a few moments? Why do you hold my hand a little bit longer than you should? Why do you squeeze my hand whenever you grab it? Why do you flash me that smile of yours that can give life to anyone? Why do your eyes look at me in a different way from others? Why are you like this to me when you have someone in your life? Are these signs? Is it even possible that you like me back as well?
ADVERTISEMENT - CONTINUE READING BELOW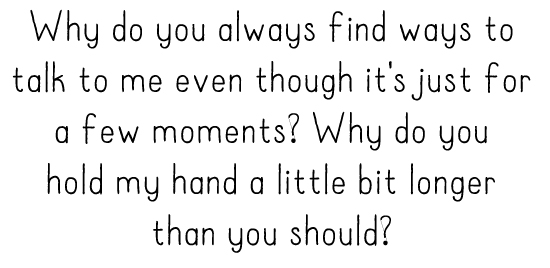 Anyone who knows us can feel that there's something in between us. I, myself can feel it too. But do you? We can't be, I know that we can't. Maybe not for now, but someday. What I have in my heart will be kept until that 'someday', I just hope for that day to come. But for now, I'll make the most out of what we have and keep my hopes down. Everything takes time. It's just that our time isn't now yet.
READ MORE:
To the One I Want to Love
To the One I Love But Needs to Go
Here's the Apology Letter You Owe Me
Sent in anonymously. Got your own story to tell? Drop us an email at candymagazine @gmail.com! We'd love to hear what you have to say. If you're lucky, you just might get published in this space, too! Please indicate if you want to remain anonymous. We're also looking for artwork and illustrations to use with the stories, so please send some in if you want to be featured!