Once there was a girl who came watching the sky day in and out, looking for angels that fly with bows and arrows tipped with hearts in their ends. She was looking for love. Months had passed and yet nothing came her way. Then one day, something caught her eye, a glimmer of white feathers, dancing in the morning air. She saw it! Finally, after years of watching and searching, she saw an angel. She hurriedly ran towards it, giddy smile and hopeful heart at hand. But what she heard from that wondrous creature changed her life and what she'd thought of it forever. The creature said, "There are no cupids, only people choosing people," and her soaring heart fell into pieces.
READ: A Hundred Tiny Daydreams About You
People choose who they love, not some mystical creature with feathered wings as white as cotton, holding bows and arrows that targets lovers to be. You choose who to talk to, ask numbers of, date, and marry. You have your own preference of the perfect man or woman. You decide how pretty, sexy, kind, intelligent or rich the person you want to be with. You choose from people in your surroundings, then, as you pick the lucky one, they'd decide as to whether they'd choose you too.
ADVERTISEMENT - CONTINUE READING BELOW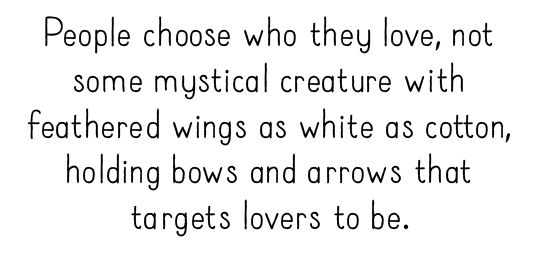 READ: If It's Not Love, What Could It Be?
So you see? Our fates are simply in our hands. We are not star-crossed, pierced hearts, and soul mates. We are intellectual individuals who have chosen and decided whatever comes to our lives, or whoever happens to be in it. We're not meant to wait for love. It doesn't come our way like cupids aiming their arrows. We find love, and let it find us too. We choose love, and let the opposite side choose if they want to love us back. It's an infinite cycle on consensus. So what are you waiting for, staring at the sky like that? Go choose yours!
Sent in by Michaela Jaycel Dolores. Got your own story to tell? Drop us an email at candymagazine @gmail.com! We'd love to hear what you have to say. If you're lucky, you just might get published in this space, too! Please indicate if you want to remain anonymous. We're also looking for artwork and illustrations to use with the stories, so please send some in if you want to be featured!