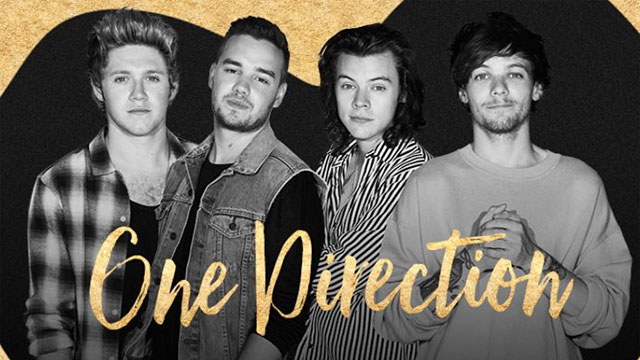 Dear One Direction,
The story of my life wouldn't be the same if it didn't involve little things such as staying up all night listening to your songs. Because for me, each track from your records is truly the best song ever, that is why in one way or another I'm showing my love and support for your group. And as a Directioner, I believe that I've got that one thing and that's what makes me beautiful.
It was during our practice in 2011 when I first heard "What Makes You Beautiful" and "One Thing." Back then, I hesitated to listen to any song from artists that I'm not fond of. But when I heard your first two singles, I thought I should give your group a try. I continued listening to your first two singles, then came "Gotta Be You" and "More Than This" which featured an another side of your group. But when the "Live While We're Young" music video was released, that's when my systematic life changed.
The LWWY MV is something that I can't get enough of. That's when I realized that I already had the 1D infection. I started to listen to the other songs from your albums, I bought numerous fan merchandise, I searched the Internet for each member's life story and your story as a group. I've let the 1D infection took over and it is something I wouldn't regret. Ever.
A few years later, OTRA Manila finally came! I wasn't able to attend because it did not fit my schedule. I was truly, madly, deeply heartbroken. I kept on asking "Where do broken hearts go?" I thought it was the saddest thing that can happen to a Directioner, but I was wrong. The saddest thing was the fact that a member left the group who inspired millions of people all over the world.
The heart of the One Direction fandom shattered into a million pieces when Zayn Malik left. He brought with him a part of One Direction that can never be replaced. But despite the storm, the remaining four— arry Styles, Louis Tomlinson, Niall Horan, and Liam Payne—continued being our sunshine.
ADVERTISEMENT - CONTINUE READING BELOW
One Direction, thank you so much for letting the world hear your music and for letting us fall in love with your souls. Thank you for making us stay up all night just to listen to your songs which inspire us. Thank you for the midnight memories that made us want to take all of you home. Thank you for being the four awesome lads that gave us love which was made in the a.m.
You're now on hiatus, probably doing the things that you weren't able to do then because you were busy making all of us happy. It's actually hard because I'm not fangirling 24/7 just like before but I'm happy because you chose to take a break temporarily rather than leave us permanently. I want you guys to know that, the whole fandom is waiting for you to come back and say, "Hi! We're One Direction!" using your sexy accents that make our hearts skip a beat.
All the Love,
@PatrishPattie
Directioner, now and forever
Sent in by Patricia C. De Guzman. Got your own story to tell? Drop us an email at candymagazine @gmail.com! We'd love to hear what you have to say. If you're lucky, you just might get published in this space, too! Please indicate if you want to remain anonymous. We're also looking for artwork and illustrations to use with the stories, so please send some in if you want to be featured!