We were both young when I first saw you. I was on my summer vacation so we decided to visit my father abroad. You were thirteen, I was ten. At first glance, I found you attractive, but since I was only a kid, I didn't bother to consider my feelings for you. There was a gathering at our house back then. Most of the adults were in the living room while the young ones (us!) stayed in my room. We played video games the whole night. We weren't given a chance to talk longer since my dad was talking to you, yet I listened to the topics you both spoke about. It wasn't usual for a thirteen year old to be enthusiastic when talking about school. However, you were one of those guys who loved school. That was a plus for you. I smiled as you replied to my father and showed him you were responsible enough even if you were only a teenager.
After two years, we met again. Your parents invited my family to attend your fifteenth birthday party. We did go, but my jaw dropped when I saw you. You grew up. You were different. You had a new pair of glasses, a new hairstyle, and a new fashion style. You got taller as expected. Did two years fly that fast? You were serious even though my lips formed a smile. You greeted us, yet you still scared me with that dull face of yours.
Another get-together was held at our house. This time, I became friends with your only sister and younger brother. The three of us got attached that night, excluding you. I wondered, "Is it because you categorize yourself as an adult now that you don't want to chat with us?" When your sister and I got closer, we would sleep over at each other's houses. That meant I got to catch glimpses of you whenever I was there. That was it or so I thought.
ADVERTISEMENT - CONTINUE READING BELOW
A year ago, you entered college and took up an engineering program in one of the renowned and exceptional colleges in that field. I missed seeing you here. I missed stealing glances from you. I missed having short talks with you. I missed your fear-provoking gaze and once-in-a-blue-moon grin. I missed hearing your unfathomable voice. The neighborhood just wasn't complete without you. Last Christmas, though, you came back for a short vacation. I was pleased because you were nearby. You smiled as I walked towards you, which was strange and odd. We were encouraged to join the paper dance game, but we both declined the invitation. I wanted to take a photo with you, yet my admiration would be evident.
I remember talking about you to one of my friends from my old school. I even teased her that she has a crush on you, but I didn't notice I was the one falling for you. When I couldn't keep you off my mind, when I remembered you in every love song I listened to, when I started stalking your profile and initiating our conversations, when I smiled each time your name was mentioned, when I began asking questions about you through your sister, when I got jealous the moment I found out you were possibly attracted to someone your age, when I started missing every piece of you, when I started off recalling all of our memories together, when I blushed each time our families would tease us to one another, I knew I was screwed. You were turning into someone more than a crush.
I tried keeping my feelings from your sister since she might feel I only befriended her for you, but I couldn't help it. Plus, that wasn't my intention. In the long run, I confessed that I've had a long-term crush on you. She was taken aback. She couldn't believe what I just admitted. She couldn't believe we converse online, more often than you both do. Additionally, she couldn't accept as true that I was the one submitting mysterious confessions to your college's crushes page. There's also a downside to these feelings since I don't know who you really are, the side of you, which you rarely share to someone else. This might only be an infatuation that will soon fade away because I'm drunk on the idea that your love could heal my brokenness.
We may have a lot differences and a number of similarities, yet I can't stop myself from hoping that one day, you'll finally think of me as someone more than your sister's best friend.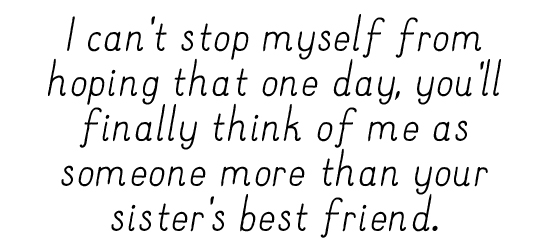 ADVERTISEMENT - CONTINUE READING BELOW
Sent in by k.m. Got your own story to tell? Drop us an email at candymagazine @gmail.com! We'd love to hear what you have to say. If you're lucky, you just might get published in this space, too! Please indicate if you want to remain anonymous. We're also looking for artwork and illustrations to use with the stories, so please send some in if you want to be featured!