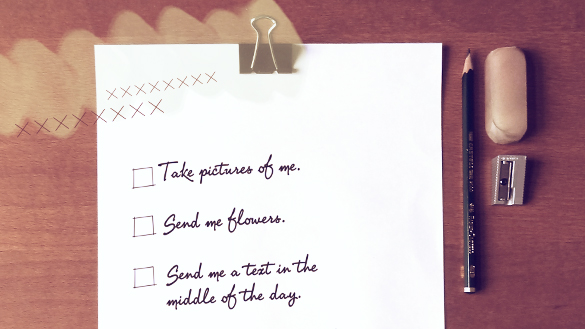 Take pictures of me.
Be my official photographer. Make me feel like I'm your best subject. That I'm always worthy of the shutter click and that I make the scenery even more beautiful with me in it. I've always wanted to be your model and for you to see the potential in me. And that my smile always makes your shots alive, like I'm the lens's focus. I want to see you smile while looking at the screen of the camera while telling me how beautiful and genuine my smile is right there at the picture. I want to you to tell me I'm lovely even if the truth is I look crappy.
Send me flowers.
On those gloomy days when I feel like nothing good will ever happen, send me flowers. Send me the nicest and warmest of them all. Write a note along with them and encourage me to get up from bed and start my day with so much hope and love from you. I wish you'd do this just because you want to make me feel extra special. That the best surprises come at the most unexpected ways. I want to wake up one morning sniffing roses you've sent directly on my doorstep.
ADVERTISEMENT - CONTINUE READING BELOW
ADVERTISEMENT - CONTINUE READING BELOW
Send me a text in the middle of the day.
Texting me I love you during the day when everyone seems to be busy with all the stuff that's going on in the world will be the highlight of my entire tiring day. Maybe I won't actually feel tired anymore when I read a text from you telling me how much you think of me when you're going crazy with all the things around you. I want to feel the flutter of the butterflies in my stomach when I see your name in my inbox with a beautiful message inside.
Tickle and wrestle with me.
Be that immature and playful kid when we're dying of boredom. I want to do this more than just by watching tv while sitting side by side and eating fast food take out. It will never be nonsensical for me. I won't get mad and I won't even mind catching my breath because of laughing way too hard. I won't mind when you wrestle with me and let me win just because you want me to feel strong and powerful.
ADVERTISEMENT - CONTINUE READING BELOW
Sing along with me in the car.
I really wish you'd suddenly sing those girly songs I love to listen to. I want to know how much of an impact I've made on you through those songs. How you've actually memorized its lines like you didn't really hate them in the first place. Let me know you're okay with it and that you in fact love it. I want you to let me know it's so nice you can't help yourself but sing along to it.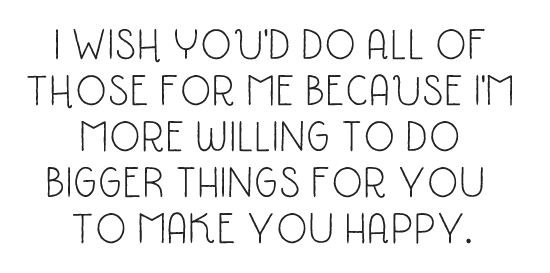 ADVERTISEMENT - CONTINUE READING BELOW
I wish you'd do all of those for me because I'm more willing to do bigger things for you to make you happy. It's not that I'm not contented, there are just any other things that I wish we could laugh at and do together. The ones we never bother to try with each other. I always want to be reminded of the love you have for me by showing me how vulnerable can you get when it comes to me.
Sent in by Therese Baquilar. Got your own story to tell? Drop us an email at candymagazine @gmail.com! We'd love to hear what you have to say. If you're lucky, you just might get published in this space, too! Please indicate if you want to remain anonymous. We're also looking for artwork and illustrations to use with the stories, so please send some in if you want to be featured!
ADVERTISEMENT - CONTINUE READING BELOW