Dear You,
It's been 10 months since you gave up on me, on us. And until now, I'm still here secretly hoping and longing for your love. Wishing that one day, everything would go back the way it used to be. Until now, your smile still brightens up my day, As you play your favorite sport here I am, secretly cheering. Every single conversation and all even the smallest moments that we have still mean a lot to me.
Honestly, I really don't know what to feel. I'm angry because you're the one who told me to never give up. You even said that whatever problems and circumstances we would be experiencing, we would be here for each other and fight for our love. But you're the one who gave up. I try so hard to save our mutual understanding and to save what we had. But what you told me 10 months ago says just one thing: That I am not enough for you.
I'm happy because now, I can really see that you already moved on. You're happy with your hobbies, career, and friends. And because of what we had, I learned that in love, you don't have to give your all. Because at the end of the day, all you have is yourself. You who would comfort you in times of dark nights and sleepless days. You who would motivate and be always there whatever happens.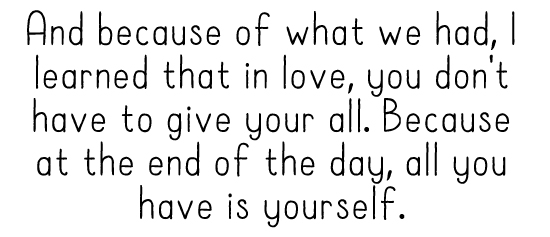 ADVERTISEMENT - CONTINUE READING BELOW
And I hate myself, because until now I am still locked and trapped in our memories: The way we see things differently, still re-reading our sweet and long conversations, still viewing our pictures together, playing our song over and over again. And I just can't let go of all the things that reminds me of you.
And now it's our senior year, and 5 months from now, we would be living different lives. And I think that would be the time that I would totally forget you. And now, I would still want to continue this feeling that I have for you. Because what we had was the most special thing that has ever happened to me. And it's not that easy to let go. But still, thank you for everything. For making me special and for making me feel I'm loved. And I'm thankful that you were my first love and that you became a big part of my life. The scars and feelings are still here but I'm waiting for the day when all of these would be healed and vanish. Then maybe both of us would have already found our own happiness and a new beginning.
READ MORE:
My Favorite Memory of Us
To the Boy Who Says He Loves Me
This is for Everyone Who Has Tried to Let Go
Sent in by Alex. Got your own story to tell? Drop us an email at candymagazine @gmail.com! We'd love to hear what you have to say. If you're lucky, you just might get published in this space, too! Please indicate if you want to remain anonymous. We're also looking for artwork and illustrations to use with the stories, so please send some in if you want to be featured!