There are mornings when I manage to make it through my first cup of coffee before I think of you. Then there are others, when I wake up breathless from a dream I thought was real for a moment of infinity. And I swear, I can feel my skin tingling from your fingertips; but my bed, my bed is empty.
There are days when only moments make me miss you, only the almost-perfect minutes. Then there are those days when you are in everything, in every-single-thing I write, or read, in every thought I think, days when you are as permanent as my heartbeat. And evenings, the evenings. Sometimes I fall asleep before my mind gets a chance to wander. And other times, it's 4am and I'm still awake, going over the details in my head, replaying memories like a bad movie. It used to be black and white, but now, now it's all shades of gray.
ADVERTISEMENT - CONTINUE READING BELOW
We both made too many mistakes and it's no longer silent. No, now there are voices pointing out the errors of our ways. And I try to stay awake, because I'd rather listen to them than dream of you, because the dreams always end the same way. I wish I could forget your name. Whenever I hear it, it creates a lump in my throat and a drop in my stomach. It makes me feel sick because I wonder how can someone who made me so happy cause me to feel this much pain now? The ones you love the most who can lift you in an instant, and destroy you without trying.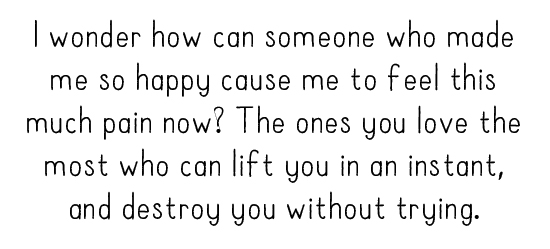 ADVERTISEMENT - CONTINUE READING BELOW
I don't want to salvage the memory of you because all it does now is make me feel numb. I see how happy you are now and I'm glad, but all I wonder is if you hope that I find happiness like I do for you?
READ MORE:
We Were the Right Love at the Wrong Time
To the Guy Who Makes Me Feel Heartbroken
I Wasn't Enough and I Don't Deserve Your Love
Sent in by Dorothy Bianca Layog. Got your own story to tell? Drop us an email at candymagazine @gmail.com! We'd love to hear what you have to say. If you're lucky, you just might get published in this space, too! Please indicate if you want to remain anonymous. We're also looking for artwork and illustrations to use with the stories, so please send some in if you want to be featured!