1. Acceptance
Accept the fact that it's over. When you wake up tomorrow, you won't receive a text from him. When you see him in school, he won't run to give you a hug. He won't text you good night. Don't wait for any of these because chances are, it wont happen. Accept the fact that he came to your life, and now he's gone, and you need to start living without him again. You were able to do that before he came, I guarantee you can do that again. Maybe a little different but I can assure you it will be great.
Recognize the pain. You were able to love with all your heart, it's normal to feel hurt. Your heart has been torn to pieces, and those pieces are being crushed more with every thought of him. It's okay to cry. Cry until there are no tears left. Until it doesn't hurt anymore. Where there is love, there is pain. And even if you love again, there will still be pain. But the pains you overcome in the past will make you stronger and wiser.
2. Time
Moving on takes time. Don't rush. Don't count all the sleepless night. Don't count the tears you've cried. Don't count the days you've spent in your room. Nobody's keeping score. Move on at your own pace. You've been hurt. Allow your heart to take a rest. Even if he seemed to have moved on so quickly. If you feel like you are not yet ready, don't. It's not a competition.
ADVERTISEMENT - CONTINUE READING BELOW
READ: I Should Have Listened
3. Strength
You are strong. It takes a little push to bring that out of you. Find your strength. Get up. Do activities. Do things that you didn't get to do while you were together. Use all your will power to stop yourself from texting him at night. You can do this.
4. Friends and Family
Don't forget that you have an awesome squad and an even more awesome tribe. Spend time with them. Make memories. Go to an adventure or just watch movies at home. They are the best support system you'll ever have.
5. Positivity
Always be positive. He left for a reason. If he left because he no longer loves you, then good. At least you know that he wasn't the one. If he left for another girl, then he doesn't deserve you. He might have left but he gave you the freedom that you deserve. Use that. There will always be more to come. I can't assure that they will all be better, but I'm sure they will be different.
Moving on isn't about forgetting the past. Your past will always be there, resurfacing without notice. The trick is to be able to live with them. Those past have taught you something and have made you who you are today.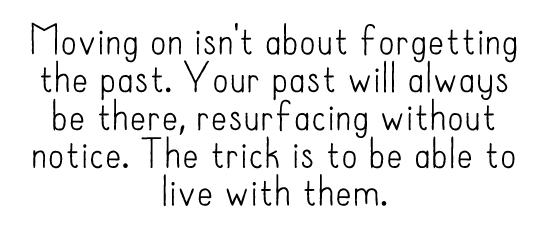 Your life doesn't end after a heartbreak and a heartbreak can repeast so many times. As long as you love truly, there will always be pain. It will all boil down to which person is worth the pain. Worth the effort, worth the sleepless nights.
Before jumping into another relationship, make sure you are ready. Learn to love yourself first. Do not get into a relationship with extra baggage. Remember that for every end, there is a beginning. Seize it.
Jocelle Acman is 19. Got your own story to tell? Drop us an email at candymagazine @gmail.com! We'd love to hear what you have to say. If you're lucky, you just might get published in this space, too! Please indicate if you want to remain anonymous. We're also looking for artwork and illustrations to use with the stories, so please send some in if you want to be featured!