If you're going to look for things that make you stay in bed all day and wallow in self-pity, the world will give it to you on a golden platter. You're going to be the perpetrator of your own misery. The melancholy that lingers inside the pit of your stomach is of your own doing. And maybe with the help of that mawkish TV series you're binge-watching. Stop watering the gloomy clouds! But if you can't stop the rain, learn how to do the hula dance in the storm.

Here are some tips to paint more smiles and grow more daisies in your soul:

DO SOMETHING ADVENTUROUS EVERY DAY
It could be anything. Adventure is a versatile universe. You can try ditching every plan today and go hiking or canyoneering (it might sound really crazy but spontaneity always gives the best memories), or you can try that new cozy tea shop that you've been dying to visit but you're too afraid to dine alone. Try buying yourself a bouquet of fresh flowers and share it with your friends. Or if you're feeling brave, you can give it to someone you find cute and adorable. Visit an art exhibit and pretend to understand every line and angle of that painting, let it swallow you for a moment. I know you're too shaky because breaking the routine is risky but the unknown is waiting. You can always try a different cologne or oatmeal flavor. And that, my little warrior, is embracing the alchemy of the unsure.

COMPLIMENT MORE OFTEN (and mean every word)
Saying and thinking more from the Good Girl Department will keep the "positivity" chain going. The next time you pay the jeepney driver, you can always say thank you and a little "Good morning" sure won't hurt, would it? Try complimenting your classmate or your mom on her cute outfit or nice hair. Say please more often and give the cashier a little grin. Read more motivational quotes and spread the message. Revel in that big breakfast waiting for you. Call long distance friends just to tell them how much you miss them. Remind your Dad to take his vitamins and that he looks dashing with that tie. And do you know the quickest and cost-effective way to practice the art of compliments? When you think of something beautiful, include the one looking back at the mirror. Everybody knows a little dose of confidence can go a long way.

LEARN A NEW WORD EVERY DAY.
Do you know what mollify means? How about well-nigh? Did you know that disinterested and uninterested have different meanings? A really bad day don't seem so harrowing when you find something brilliant like the meaning of blarney, trust me. Download a dictionary app that gives new words every day and try using it on your next Instagram post. For all we know, there's a tad bit lazy poet inside that brain of yours. Wake him up and conquer the world in a jiffy.

PAY ATTENTION.
There are a lot of beautiful things and moments that come from looking at the tiny specks of sunlight touching your skin or from a stranger's spontaneous laughter sitting right next to you. Stop for a little while and smell the flowers. Have you ever thought of waking up early to welcome the sunrise? Notice the notorious magnificence of the sound of the rain or the pulsating vibrance of classical music. Follow the trail of the ants. Read the label of your favorite yogurt. Pay attention to the small things that really matter.

BREAK OUT FROM THE ROUTINE
It is perfectly fine to stop following the itinerary. Muster the courage to deviate from the dull routine of your life and insert something different. You will lose the balance, sure, but you will gain the complexity of what life really is and that my darling is how warriors are made. Equip yourself with the knowledge that anything can happen and do not let the structures direct you. Make use of the crumbles, the ashes, the disarray. Let go of that pointed edge and stop sabotaging yourself, you are still you after the earthquake. You will build something with or without the pillars.

But really, genuine happiness comes from deep within you. You are the doer and finisher of the things that either make or break you. You decide when or how to become truly happy. Go around the world prancing and leaping with happiness.
ADVERTISEMENT - CONTINUE READING BELOW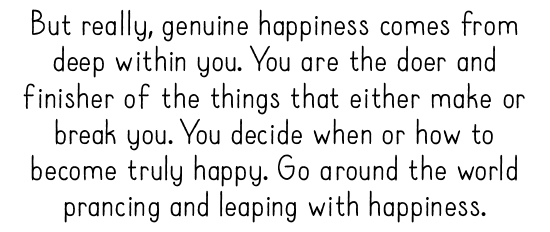 Sent in by Kimmy Vallente. Got your own story to tell? Drop us an email at candymagazine @gmail.com! We'd love to hear what you have to say. If you're lucky, you just might get published in this space, too! Please indicate if you want to remain anonymous. We're also looking for artwork and illustrations to use with the stories, so please send some in if you want to be featured!