1. Endings are inevitable—inevitably harsh, inevitably relieving, inevitably excruciating, inevitably joyous. It doesn't matter, the bottom line is its inevitability.
2. I agree that distance does not matter for two people who love each other so deeply but there will be nights when the comfort of the pillows are inadequate and the empty voids will make you feel claustrophobic. I've learned to utter these words: "I wish you were here" for approximately 178 times a day to myself, but none of these suffice to bring you closer.
3. The sun will not refuse to shine; the waves will constantly kiss the shoreline; music exists despite deafness; colors could be magical to the blind and life will not stop for anyone. So even you have to constantly keep moving forward.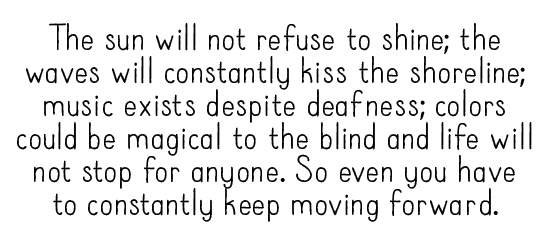 4. You can walk through life with a shield, but you shouldn't. I won't. I would love to experience life at its potency, and I will cradle euphoria and exhilaration in the palm of my hands. I will allow pain and heartbreak and misery to seep through my fingers. I will invite the strength of life in my arms because nothing beats experience. And experience is always an amazing storyteller.
ADVERTISEMENT - CONTINUE READING BELOW
5. Passion should be my best friend, and I will let it push me to glorious adventures I've been thirsting for. I will allow it to ignite a fire in me, and burn unceasingly and let everyone else warm themselves in the flames of my lips and my heart and my words.
6. I will never stop seeking for my parents' and my grandparents' approval. They know best, and this is very much self-explanatory.
7. There is movement in music—in singing, in the ivories of the piano, in the strings, in the beats. Music is not stagnant; music is a breath-taking synchrony of kinetic energy, constantly changing and moving and alive.
8. Losing your WiFi connection isn't going to kill you. Losing physical touch from people you love, losing deep conversations and long eye contacts, losing warm enriching hugs will kill you. Gradually.
9. To love is to persevere; to love is to wait patiently; to love is to truly and genuinely hope, endure, bear and believe all things. And Love makes the ride so much worthwhile.
10. Just like endings, beginnings are inevitable. Beginnings are inevitably hopeful, inevitably exciting, and inevitably beautiful. And I will choose to end my list with a beginning. In fact, I will choose to end all my lists with a beginning and keep my doors always open so Love, Opportunities and Adventures can finally meet Patience who has been waiting in the room with me. And that is how I will always begin.
READ MORE:
She's Broken and Drowning in Her Own Feelings
I Won't Let Him Destroy Me Again
Dear Insecure Girl
Sent in Kreisha Daza. Got your own story to tell? Drop us an email at candymagazine @gmail.com! We'd love to hear what you have to say. If you're lucky, you just might get published in this space, too! Please indicate if you want to remain anonymous. We're also looking for artwork and illustrations to use with the stories, so please send some in if you want to be featured!