Dear Future Love,
I wonder where you are. Have we met already? Are we friends? Are you still in a relationship? Or are you just right behind me, sitting here in the coffee shop? Oh well, I think there are a lot of possibilities. But nevertheless, please promise me one thing. Promise me that the wait will be worth it.
As of the moment, I have no idea who you are. It's just that, I'm still waiting for the right time. That time when I'll be able to say, "Oh. Now, I know. This is the man that I've been writing this letter for." I've been through a lot. Sleepless nights due to a heartbreak? Well, yes. Been there, done that. Oh! Maybe you, too? Who knows? Maybe you're sobbing in the corner of your room by this time while I'm here, taking a sip of my Iced Macchiato and typing this letter. As I've said earlier, no one knows.
Tomorrow, in a couple of weeks, in three months or in four years? When will I meet you? Maybe in a decade? Presumably, right after I earn my Med school diploma. Or who knows? Maybe as I exit this shop's door, I'll bump into someone and voila! It's you.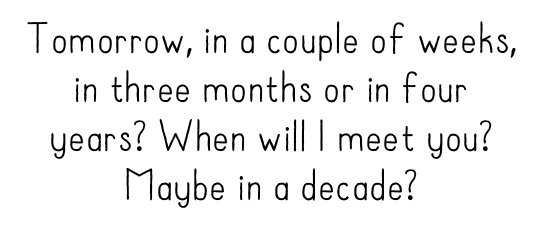 ADVERTISEMENT - CONTINUE READING BELOW
Every now and then, I keep thinking about you. I keep thinking about things we'll do upon meeting each other. I'm thinking about what we will be going in our first date. Most of the time, I think about a lot of stuff and giggle like a high schooler. But what I have in these thoughts is a faceless man, a man with an unknown identity.
Oh, how I long for you to come. How I long to experience those sweet things once again, but end it in a different way. My past relationships have been odd but I know that a better one is yet to come. I'm not losing hope. I know that the good Lord is preparing both of us to be better versions of our own selves. By that time that we've met, I know that the long wait will be worth it. As for now, I'll just leave this coffee shop to start another chapter in our book. Who knows, maybe in the next chapter, you'll already be identified? Only fate can tell.
Love lots,
Your sweetest downfall
READ MORE:
Does Love Happen by Fate or By Choice?
To the Ghost of My Past Love
To My Future Someone
Sent in by D.S. Got your own story to tell? Drop us an email at candymagazine @gmail.com! We'd love to hear what you have to say. If you're lucky, you just might get published in this space, too! Please indicate if you want to remain anonymous. We're also looking for artwork and illustrations to use with the stories, so please send some in if you want to be featured!