Whether you just had your heart broken or you're up there in cloud nine celebrating what you have with your wonderful guy, these 3 beautiful poems will surely resonate with you and tug at your heartstrings.
1. OCD by Neil Hilborn. This spoken word poem of a man with OCD will move you to embrace changes and take risks. We are all wired in different ways and we all seek stability. But there is always that one person who will make you brave the storms and go through things you never thought you could handle.
2. The Type by Sarah Kay. Mending a broken heart? This poem will make you feel loads better. You are a woman and you should not feel sorry for not accepting excuses and half-meant apologies. Most of all, you don't have to change who you are because you're you and you're supposed to be held, flaws and all.
ADVERTISEMENT - CONTINUE READING BELOW
3. The Most by Lang Leav. Ahh, great love. Once in your life you'll encounter one and losing him will break you, more than you could ever imagine. The good news is you won't always feel that way. A few days, weeks, years from now, things will change and you'll go back to the awesome person you've always been—or you'll turn into a new and better you.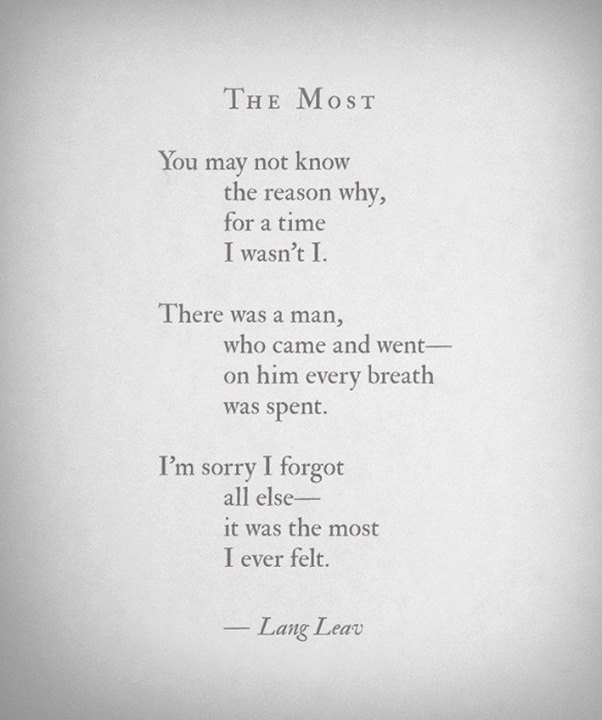 via Facebook (Lang Leav)
ADVERTISEMENT - CONTINUE READING BELOW
Wrote something about love or your feelings? Send them to us at candymagazine @gmail.com and we might just publish your piece here.