The role of campus journalists in a university is as imperative as the media's in our society. If you're wondering how writing for a student publication influences the life of campus journalists, Dominic Kean Calavia, a magna cum laude graduate of Philippine Normal University (PNU), shares his experiences as an Editor-In-Chief (EIC) of PNU's official student publication during his final year at the university.
1. The first draft is always the hardest.
"I can actually recall [my] first assigned article, it was about SONA ng Bayan, specifically Youth's on the former President Rodrigo Duterte in 2018. I thought that my first draft was okay but it was not," he said while sharing his struggle to write a striking headline. Nevertheless, with the help of their news editor, he was able to polish it and found the experience of seeing his byline for the first time rewarding.
2. You will meet people who may or may not have the same interest as you.
Ever since his junior high school days, Dom was already hooked on K-pop. Although he didn't meet people who are also fans of EXO and NCT Dream, his co-student journalists were very supportive of his endeavors in and outside of the publication. "Siguro ang naging common denominator ng mga naging friends ko sa pub ay ang pag kakape at pagkain," he jokingly shared. According to him, despite their differences, all of them have pledged the same thing, which is to support the masses. "By being a writer of the publication, I was exposed to different local and national issues. These experiences honed me to write for the masses, including the students," he added.
ADVERTISEMENT - CONTINUE READING BELOW
3. You have to analyze data-driven facts.
Dom emphasized that a campus journalist is the voice of the student body, as well as the masses. "For me, a campus journalist should go beyond competitions and recognitions, a campus journalist is the voice of the student body. As campus journalists, we must amplify the calls and voices of the sector that we are serving," he shared. According to him, it is also imperative for a campus journalist to have good analytical skills since they have to analyze data-driven facts which will enable them to report timely and relevant news that sides with the truth.
4. Communication matters.
Before the pandemic, Dom's usual routine includes staying in their publication office which they refer to as their dorm. He and his co-journalists made it their second home wherein he did the edition of articles, planned events, and organized publication schedules, as its former Associate-Editor-in-English (AEE). However, things changed when the pandemic began. "We were having a hard time planning because we were more efficient in a face-to-face meeting since there were no problems in terms of internet connection, conducive space for learning, and other online set-up challenges," he recalled. According to him, communication has become more essential in the publication.
5. There's a need to go beyond the four corners of the school.
You may have encountered the phrase "touch the grass," and campus journalists do so by immersing themselves in the grassroots communities. According to Dom, Basic Mass Integration (BMI) enables them to further understand and expose the ills of society to better serve the people. "One of the common BMI is attending protests wherein I met different sectors that have specific calls about rights, education, health, and other important issues and concerns. It is for these reasons that he highly condemns the rampant attack and intimidation of media practitioners. He also reiterated that the masses that they chose to speak the truth for are the working class which includes less compensated teachers and health care practitioners, youth, women, and the LGBTQIA+ community, as well as the farmers and fisherfolks that were being taken for granted.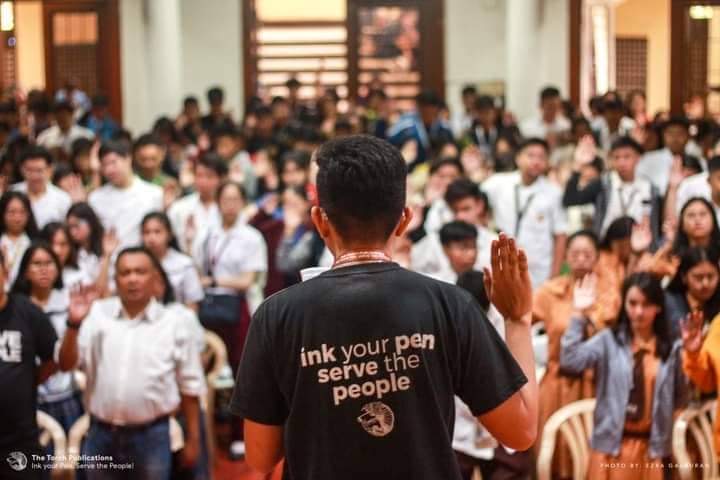 Prior to his graduation, Dom managed to land a job at Don Bosco Technical Institute Makati as a Junior High School English and Research teacher. He will also serve as the Club Animator of the school's official publication, The Bosconian Journal. According to him, by being the club's advisor, he hopes to breed another generation of journalists who will fight against fake news through critical analysis.
ADVERTISEMENT - CONTINUE READING BELOW
Answers have been edited for length and clarity.