The shift from face-to-face classes to an online setup posed plenty of challenges for students. From classrooms, they had to navigate through different programs and platforms just to access classes and meet with their professors online. Terms like "Zoom fatigue" eventually started popping up along with the rise of burnout among students and teachers alike.
In hopes of finding a solution to this common problem in the online setup, a group of college students decided to design and start Teemly, a productivity tool that allows teams to set up meetings and operate all in one platform. Since starting, the group won the Grand Champion title at Sandbox Philippines, a startup competition for young Filipino innovators.
Here, Teemly CEO Harvey Sison and Teemly Customer Success Manager Hannah Kua talk to Candy about how they started and how they plan to build on their success:
How did the idea of Teemly come about?
Harvey Sison, CEO of Teemly: Teemly were started then by three Atenean undergraduates and a Computer Science student from Pamantasan ng Lungsod ng Manila (PLM). The idea actually started as a mentorship project for founders wherein they want to enhance their skills during the pandemic. We then picked a problem we all were experiencing and we wanted to solve. While we were building the product and talking to customers, we realized that it wasn't just us who were experiencing the meeting problem but a lot of professionals and businesses were struggling, too. Thus, we decided to move out of our comfort zone and challenged ourselves to shift into building a startup.
ADVERTISEMENT - CONTINUE READING BELOW
How did the team balance their studies while developing Teemly?
Hannah Kua, Customer Success Manager: Teemly started as a student-run startup as we've initially seen this problem that students and teachers are experiencing in the remote work setup. To effectively manage it with academics, Teemly followed a project-based setup where what matters is that tasks will be finished whenever possible as long as it is within agreed deadlines.

Due to the pandemic, the entire team still hasn't been able to meet with each other face-to-face, but through Teemly's help and other video calling platforms, we were able to brainstorm and create ideas using a more systemized approach. We avoid giving sudden projects and out-of-the-blue deadlines as we also understand that our developers and managers have academics during the day. We ensure that we are able to plan our weekly KPIs ahead of time and during a preferred time where everyone is available to call.
ADVERTISEMENT - CONTINUE READING BELOW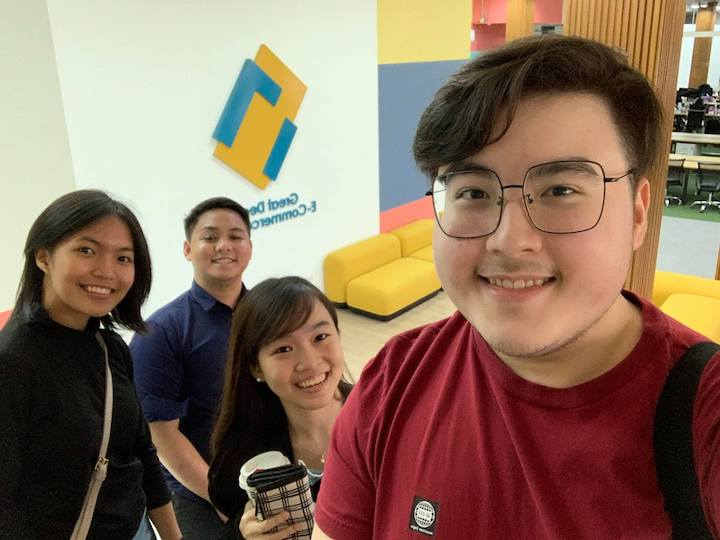 I think what also makes Teemly work is our value for communication and understanding. We communicate with each team member on a daily basis to get an update on what they did for Teemly during that day, know what other help they'll need in approaching it, and even the simple non-work related kamustahan just to lighten our day. We give value to clear communication so we can better understand why some outputs might need more improvements from their end + so we can also celebrate even the smallest wins from our team.
ADVERTISEMENT - CONTINUE READING BELOW
What is the edge of Teemly over other platforms that operate similarly to it?
Hannah: Teemly isn't just a scheduling platform but a productivity tool for teams as we provide collaborative and automotive tools to supercharge meetings all-in-one intuitive workspace. In comparison to other large scheduling softwares, one of the biggest edge that Teemly has is that it caters ultimately for teams, wherein our business model for groups is on a per team basis and not a per account basis - making it the cost-efficient scheduling app for teams.

In addition, Teemly doesn't just cater to external guests, it can also tap into internal meetings as well. Invitees can also just overlay their events from other calendars to easily refer to their schedules when choosing a preferred time, making it easier for both the sender and the recipients. Teemly has a very powerful automation algorithm for you and your team, solving the most hassling aspects of scheduling – finding compatible times to meet with large groups, sending cancellations and rescheduling proposals, managing follow-ups, as well as custom reminders and notifications.
ADVERTISEMENT - CONTINUE READING BELOW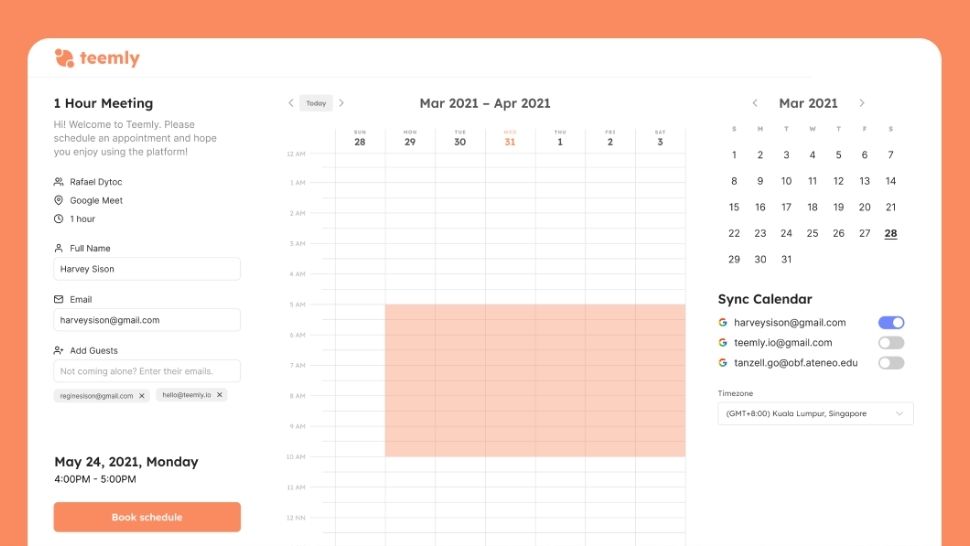 Soon, you can also incorporate Teemly in your usual team workspace so you won't be forced to adjust to a whole new environment. One of the strongest advantages that Teemly would also have is that we try to make it as human as possible. We aim to not just become a software you'll click on from time to time whenever you need to. We'll be your friend, we'll hold your hand as you adjust to the very sudden and stressful remote work set-up. The team behind Teemly does it best to also respond to customer concerns as soon as possible. With a team dominantly filled with college students and part-timers, we're very passionate and driven to provide our consumers not only the best scheduling platform possible, but to also become the top-of-mind tool when it comes to remote work assistance.
ADVERTISEMENT - CONTINUE READING BELOW
Y
ou got the Grand Champion title at Sandbox Philippines
. Can you tell us about that experience?
Harvey: Teemly earned the title of Grand Champion in Sandbox Philippines' Pitching Competition. The prizes that we were able to receive amounting to P100,000 and up to P2.5 million grant from the competition will be used as additional capital for product development and increasing the current user base of Teemly to 10,000 - 100,000 users. On the flip side, the experience with Sandbox was both challenging and refreshing as the founders had to be part of an extensive program for almost three months and had to survive each challenging stage of the cohort. Competition was tough as there were other startups who were also promising. Also, we were happy that we were able to have the chance to meet great investors, mentors, and experts in the startup industry. They helped us refine our product and pushed us to our limits which allowed us to grab the winning spot.
ADVERTISEMENT - CONTINUE READING BELOW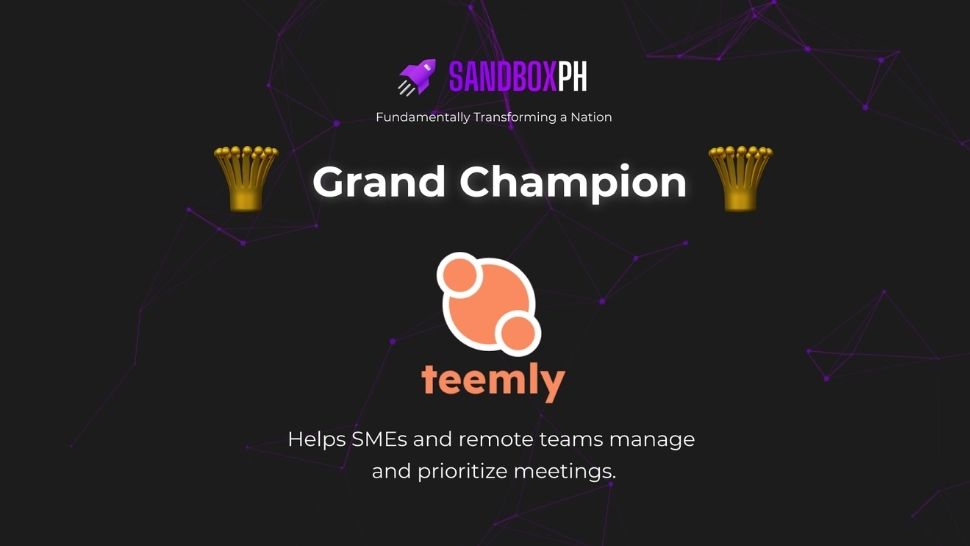 Post-Sandbox Philippines, some of the Sandbox judges and mentors actually reached out to our team after the competition to help provide us with more insights and comments on how we can further improve the software. Our team is now eyeing to better cater to a larger target audience globally (whilst still not losing sight of our main USP), so we can better maximize the P100,000 cash prize we were able to gain from Sandbox.
ADVERTISEMENT - CONTINUE READING BELOW
READ MORE:
Fine Arts Grad-Turned-Med Student Stays Crafty Through Her Small Biz
Meet the 17-Year-Old San Beda Student Behind These Empowering Statement Tees
This Student Community Pantry Organizer's Been Cooking for Others Even Before COVID-19
A Clothing Line by Pre-Law Students Used Big Brands' Excess Fabrics for Its First Collection
#WATCHCANDY: Subscribe to Candy Magazine on YouTube and follow @candymagdotcom on Tiktok for guides to college life and beyond.
Candy is now on Quento! Click here to download the app and enjoy more articles and videos from Candy and your favorite websites!