It's been exactly 173 days since I took my last Theo orals ever, and 122 days since I walked around the Ateneo de Manila campus as a student of the university. While for most people a couple of months may not seem like a long time, the quick transition from being a student to a full-time employee has been more than enough to make me forget about my lifestyle as a student, and focus on trying to adapt to my new environment as a working girl. So, when the opportunity to visit our old universities, and live on a college student's budget for a day presented itself, I grabbed the chance to visit my old school and get a glimpse on how I used to spend my weekdays with no hesitations at all. After all, how big of a difference can five months make?
ADVERTISEMENT - CONTINUE READING BELOW
The Daily Commute
There are three ways on how an Atenean goes to school: by car, by public transportation, or by foot if you're a dormer who lives within campus, or near the school. While the Ateneo campus may be big, it's no secret within the Ateneo community that looking for a parking space, just like the online enlistment, is very much like the Hunger Games. So if you want to avoid the drama of having to look for a much-coveted parking space in JSEC, take the train. Just like the old times, I took the train from Gilmore to Katipunan for only P16 a trip and it took me only thirty minutes to get to Katipunan from my place, too. Sweet!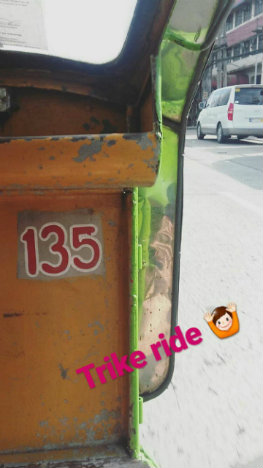 If jeepneys are a part of the Filipino culture, the trike is a part of the Ateneo culture, too. Whether you're going from the iconic 7 Eleven by the corner of Esteban Abada to Xavier Hall, or you want to take a cue from my freshman self who took a trike from Bellarmine to JSEC, rushing for a Math 11 exam, Ateneans know that they can always rely on a trike to get them from point A to point B quickly. Well, most of the time at least. Walking outside of the Katip Station five months later, still nothing has changed. Like T-Swift's famous lyrics, Katipunan was still the perfect picture of busy streets and busy lights. The trikes were still green, the line was still long, and even the trike barker was still the same! Surprisingly, the trike fare was still the same P25 from the last school year, too.
ADVERTISEMENT - CONTINUE READING BELOW
Total amount spent: P41
Food
While every college student desperately tries to avoid the curse of the Freshman 15, it's simply impossible to do that in the Ateneo. With three college cafeterias to choose from: JSEC, Gonzaga, and the legendary Manang's, how can you avoid the temptation of good food?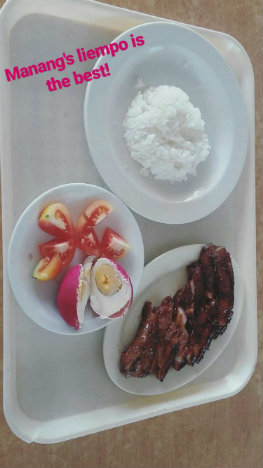 Freshmen and sophomores are usually the frequent customers of Manang's because it's conveniently placed just outside the covered courts where PE classes are held. Ordering their famous liempo-and-rice combo, I'm not sure if it was the familiar benches where my blockmates and I used to hang after PE, the perfectly cooked slab of pork in front of me, or the fact that I only paid P100 for a full meal, but there's no doubt that a trip to Manang's made my heart skip a mighty beat on a crazy hot Friday afternoon.
ADVERTISEMENT - CONTINUE READING BELOW
Whether you're a night person or not, night classes are a norm in the Ateneo and you know what that means. Dinners with the block, of course! While some students opt to eat out for dinner, if your schedule won't permit it, JSEC is your best bet.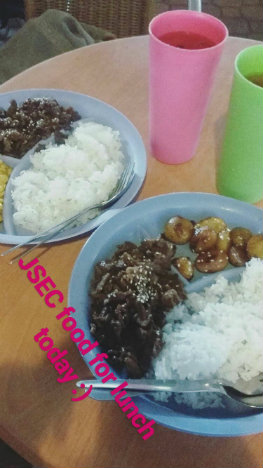 There was barely anything new in JSEC when I went back to Ateneo except that all the food stalls were new and the familiar faces that I used to see occupying the tables were no longer there. But hey, the food is still good and there's an even wider variety of cuisine—from Taiwanese to Korean—for students to choose from. While a meal in JSEC costs a whopping P180, you can get your fifty pesos back after returning your utensils at the deposit counter. Plus, if it isn't Friday, you can even score yourself some JSEC money!
ADVERTISEMENT - CONTINUE READING BELOW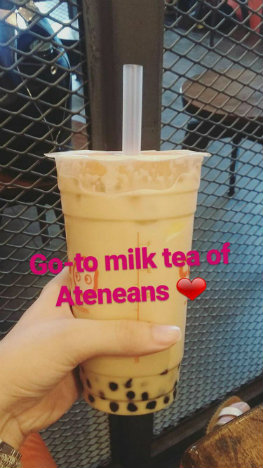 Because Katipunan is a whole stretch of universities, businesses—especially restaurants—have capitalized on this opportunity. From the classic Xocolat to the newer Sweet Ecstasy, Ateneans never run out of places to go, and food to chow down. If coffee isn't your thing, Ateneans usually head straight to Coco for a cup of milk tea with the block for a quick study sesh. I thought that the milk tea phase would have died down by now in the land of blue, but the orange space was still full when I went in with the familiar Accounting rants, heads buried in a pile of readings, laughs and secrets shared among blockmates, and the smell of 100 peso milk teas in the air.
ADVERTISEMENT - CONTINUE READING BELOW
Total amount spent: P330
Readings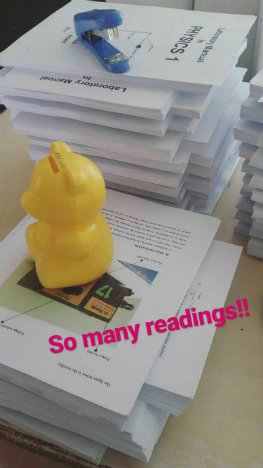 If high school was big on text books, college is fortunately not. But that doesn't mean that you'll get a free pass on readings already because Ateneo is a university that's extra heavy on the readings.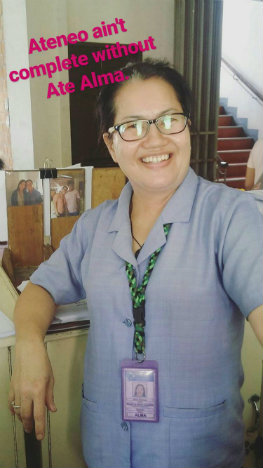 While readings differ per class, some profs may require a ten-page reading for the whole sem and another prof may require a twenty-page reading per meeting. While I obviously did not miss the long readings on Aristotle and Hobbes, I did miss the familiar face of Ate Alma, who always photocopies the long readings of dozens and dozens of students with a smile, the loud sound of the Xerox machines, the purring sound of the cats who hang around the different photocopying stations, and the not-so distant memories of my blockmates and I panicking and rushing to get an article photocopied five minutes before class.
ADVERTISEMENT - CONTINUE READING BELOW
While spending the day reminiscing and reliving my college memories was undoubtedly fun, I spent a whopping 371 pesos for one day when the average allowance that an Atenean gets is a thousand pesos per week. And that didn't even include readings and random block hangouts! But here's the thing, Candy Girls, whether you're an Atenean, or not, you're going to spend in college—for readings, for lunches, for late night grub, for hangouts, for transportation fares, the list goes on and on.
But the friendships you build, the experiences that you'll gain, and the memories that you'll create, these are priceless.
And while some people you'll meet in college will come and go, there are going to be people who are going to remain in your lives for good.
ADVERTISEMENT - CONTINUE READING BELOW
And that alone is worth all the hundred bucks in the world.