"Wala namang pera diyan e?" "
Madali lang naman iyang arts 'di ba?"
"'Wag ka na magpabayad, shoutout na lang kita."
Imagine how tired we are from hearing these statements? We've been hearing these myths and commentaries about the arts for so long that some aspiring artists have stopped pursuing their dreams—or worse—began to feel ashamed for expressing their passions in public. But one thing that Gen Z is currently contributing to this society is the gradual progress of helping people change their perspective on how people see and support artists of today. 
The creative field has received too much exploitation from society for years because people do not treat their work as real labor and do not pay them the rate that artists deserve. The "Walang pera sa arts," belief is created only because some employers refuse to pay the artist's work. Thus, resulting in parents' opposition to enroll their children in art courses and such. 
ADVERTISEMENT - CONTINUE READING BELOW
But these college students have proven that you can excel and, at the same time, earn just by doing your passion for the arts. Together, let us support the local artists of this generation!
Photography
Aleck Rada, Adamson University
Instagram: @aleckrada
Aleck has been capturing beautiful portraits and events around places for years. He covers debuts, parties, and other important events in the country such as rallies and religious festivals - everything in same-day edits! I assure you; he can make the most mundane scenery the most stunning one around. Hire him if you need someone to cover your next event, you won't regret it! 
Package Rates: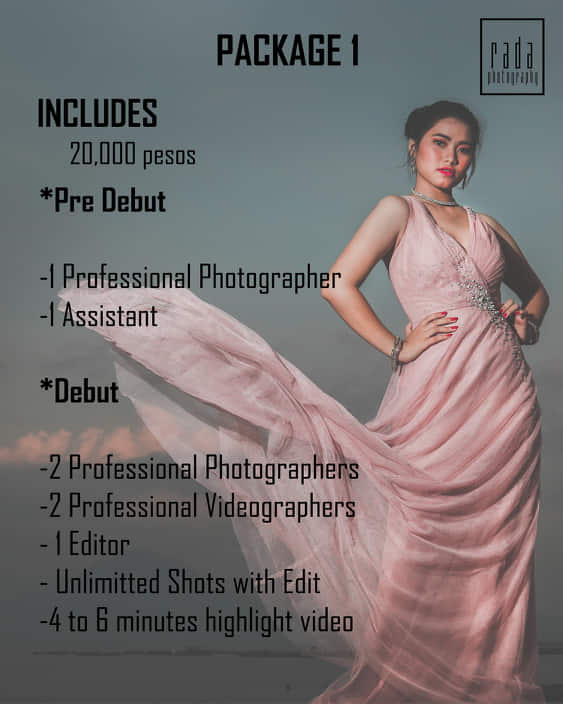 ADVERTISEMENT - CONTINUE READING BELOW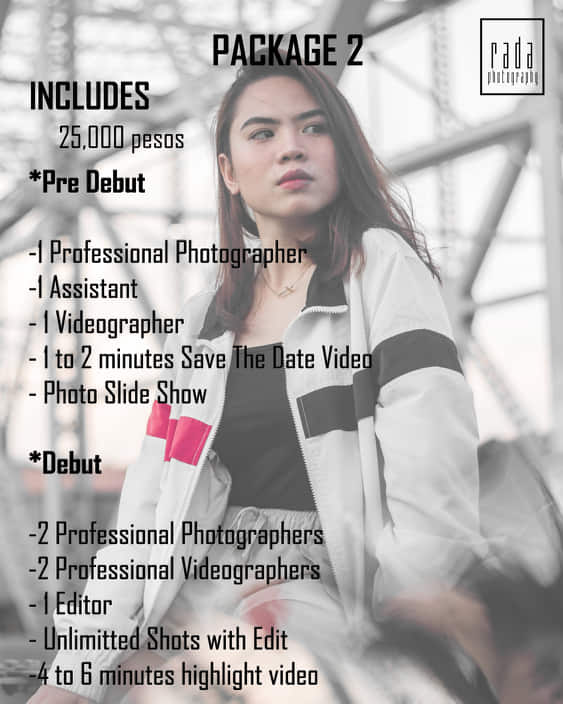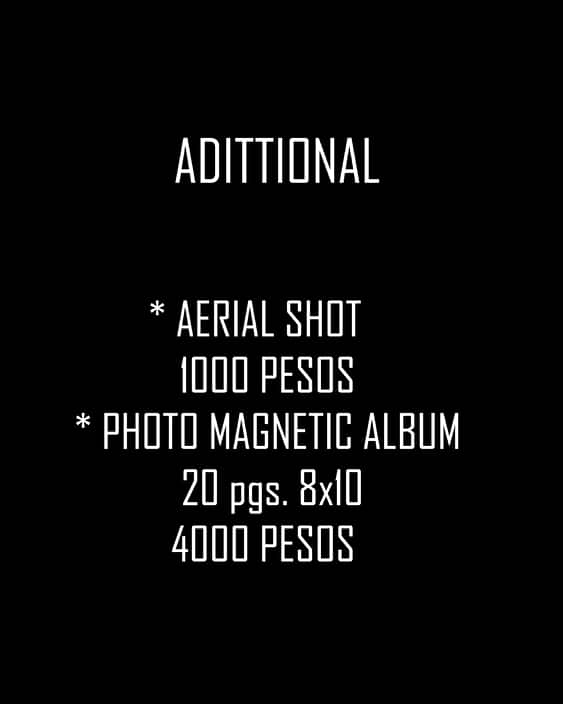 Videography
Aerol Encarnacion, Adamson University
ADVERTISEMENT - CONTINUE READING BELOW
Facebook: AE Films
In every event, Save the Date and Same-Day Edit videos have become essential in this digital age so people can relive the important moments. Aerol has been documenting different memorable moments for quite some time now–such as weddings and debuts. Watch his videos on his Facebook page, and see his flourishing talent in film. Book him and his team at your next event!
Package Rate:
ADVERTISEMENT - CONTINUE READING BELOW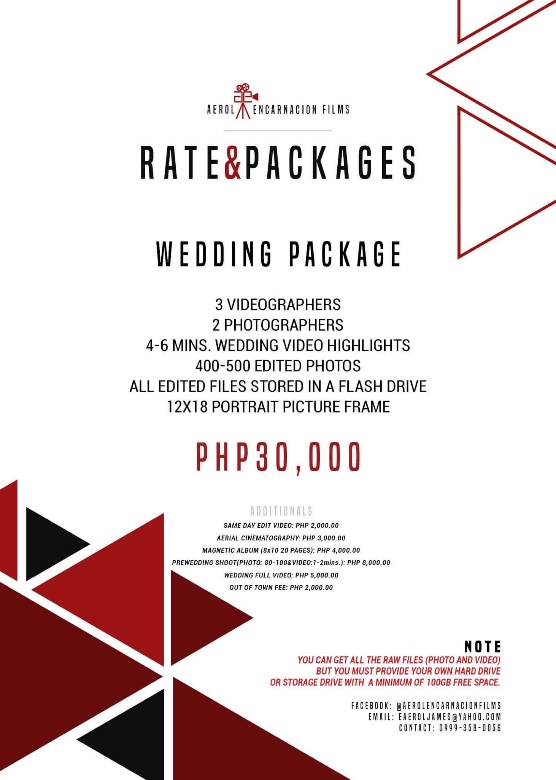 Graphic Illustrations
Frankie Lavarias, St. Scholastica's College
Facebook Page: Frank Studies / Instagram: @frnxksu.studies
Graphic illustrations have become a new trend in the creative industry. Right now, people are all over animations, and Frankie is one of the aspiring graphic illustrators in the biz who contributes to the love.
ADVERTISEMENT - CONTINUE READING BELOW
She does mostly layouts of infographics, powerpoints, publication materials, invitations, and such. If you want to have a daily dose of creative satisfaction, follow her page and see her UWU-worthy and impressive works!
Rate: Starts at P300 (depending on the complexity and difficulty of the design)
Nicole Angeles, iAcademy
Instagram: @riyokki
You probably have seen her works already around Twitter – and most probably liked, retweeted, and swooned over them!
Nicole has been doing infographics, vectors, logo designs, and digital illustrations of different images, like your favorite characters and everyday sceneries, for quite some time now. Over 7k followers on Twitter and 3k followers on Instagram, her works surely have been an inspiration to many aspiring graphic designers out there!
She doesn't only use her talent to share her skills but also to inform people through her skills. Visit her accounts to see more of her awe-inspiring works!
Package Rates:
ADVERTISEMENT - CONTINUE READING BELOW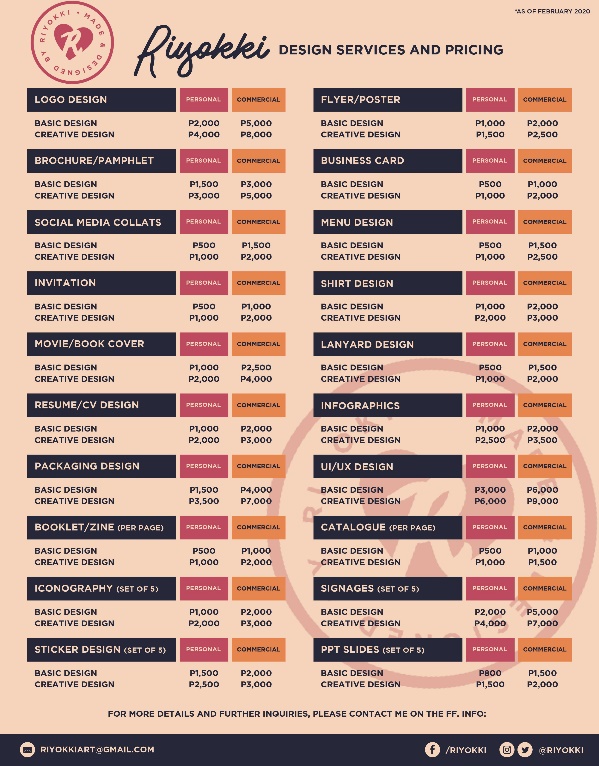 Painting and Sketching
Justine Esguerra, St. Scholastica's College
Instagram: @_little_old_lady
Do you want to have a portrait of your loved one, your pet, or even yourself? Or a relaxing landscape of your favorite place? Justine is here to impart her creative skills and give you a mesmerizing output that you won't regret! Choose from different art styles – watercolor to sketch. See and follow her IG account, and witness the versatility of her talent. 
ADVERTISEMENT - CONTINUE READING BELOW
Package Rates:
Portrait
Headshot
Whole bond paper: (Watercolor) P950 & (Sketch) P700
Half bond paper: (Watercolor) P600 & (Sketch) P450
Quarter bond paper: (Watercolor) P300 & (Sketch) P300
Landscape/Environment
Acrylic (16" x 24"): P2,500
Ready-made artworks
Half bond paper: P100
Quarter bond paper: P50
Esmeralda Bautista, University of Sto. Tomas
Instagram: @smeowart
Her works are definitely to die for, tbh. If you want something along the lines of surrealism and realism, Esmeralda can be your go-to artist. Right now, she's into selling prints by demand such as stickers and postcards. And currently, her actual paintings are being sold through school organizations. Come visit her IG art account to see her fascinating and surreal artworks!
Package Rate: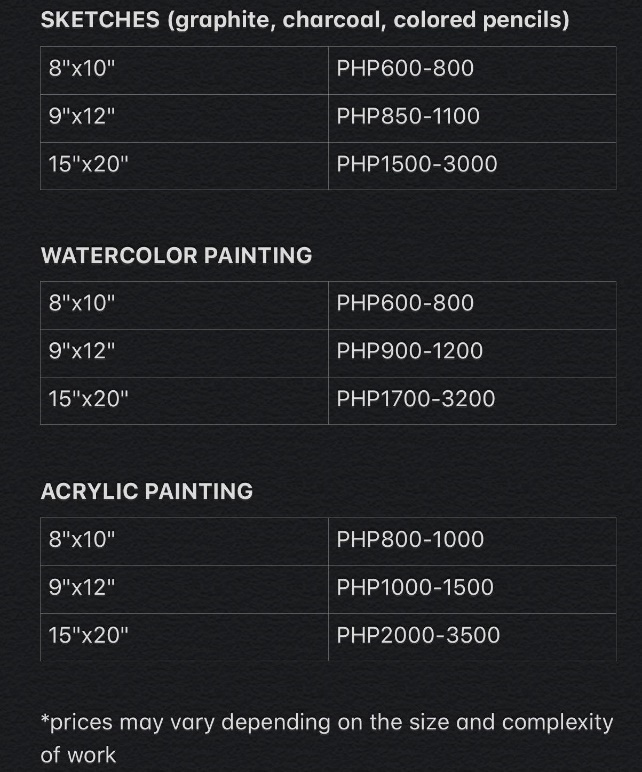 ADVERTISEMENT - CONTINUE READING BELOW
Tattoo Art
Alisha, De La Salle–College of St. Benilde
Instagram: @alishainks
There is no such thing as "too many tattoos". There will always be room for one more! Alisha started pursuing her passion for ink back in 2015 and continued it up until now. "Having my art on someone else's body is already a reward in itself," she says. She got more into the hand-poked tattoo technique rather than using a tattoo machine despite it "being more labor-intensive and time-consuming" because it gave her more control over the whole process. She sometimes designs her client's tattoo, but oftentimes her clients have already made designs on their own. Visit her IG account to see her unique works! Book an appointment and get your first tattoo now.
Package Rate:
Less than 1x1 inches – min. of P500
(Usual size) 2x2 inches – P1,000 – 2,000 (depending on the design and colors)
ADVERTISEMENT - CONTINUE READING BELOW