Last April 10, I was able to try a one of a kind experience—walking barefoot for almost the whole day in a public place. The experience was during TOMS Philippines' "One Day Without Shoes," an annual event, where people are encouraged to take off their shoes and walk barefoot in order to understand the importance of shoes in a child's life. This year's event was held in Greenbelt 3 and hundreds of people joined the event. Organizers, NGOs, press people, and even mall-goers walked barefoot around the mall. It was truly a fun-filled summer day dedicated to a good cause!
If there's one thing I've learned from the event, it's that all of us can make a difference in the world we live in. TOMS was created by a traveler who simply wanted to help children who had no shoes to protect their feet. In order to help these kids, every pair of TOMS shoes purchased matches a pair of new shoes given to a shoeless child. The heat my feet felt during the event was nothing compared to the broken glass and debris millions of children around the world walk on. If simply going barefoot for a day sparks a change, then there are a million little things we all can do to make a difference. Here are 5 things you should remember if you want to change the world:
ADVERTISEMENT - CONTINUE READING BELOW
The change you want to see starts in you! Don't wait for others to see what you already see. Instead, be the change itself and raise awareness. It's a chain reaction. All it takes is one brave soul to start a movement.
Small things make a big difference. Going barefoot for a day is just one, but there are so many little things you can do like switching off the lights, recycling, and even just smiling at a random stranger. Small, random acts of kindness lead to big things.
Be open. Be willing. At first, I was hesitant to walk without shoes because the floor was hot and dusty. But I knew that opportunities shouldn't be missed. Often, the most meaningful experiences happen if you say yes!
The kindness you give never goes waste. Never be discouraged if things don't go as well as you planned. If you planned to help a hundred and was only able to help ten, then at least you've already made ten lives better. Don't ever think that the kindness you give doesn't have an effect. Kindness is never too small.
Don't stop making a difference. If you've reached your goal, it doesn't mean it's over. Just keep going. Our world has a lot of room for improvement. The opportunity to give, to share, and to make a difference is always around.
What are you doing to make a difference?
ADVERTISEMENT - CONTINUE READING BELOW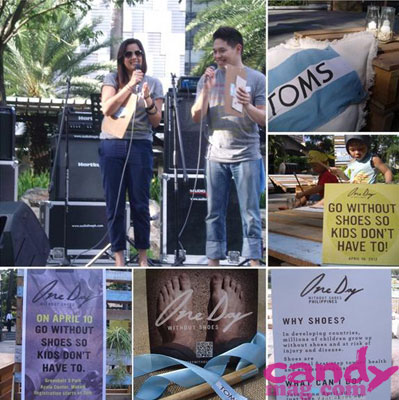 ADVERTISEMENT - CONTINUE READING BELOW