Since 1999, Candy has always featured young Pinay celebrities on its covers—girls who embodied the brand's values and ideals. Famous actresses who graced the glossies' covers include Kathryn Bernardo, Nadine Lustre, and Julia Barretto—all of whom have grown up to be stars in their own right. But after years of only featuring notable celebrities and influencers on the cover, the Candy team has finally decided to give avid readers a chance to become the next cover star via the Candy Cover Search 2023. 
Candy readers were invited to apply via a microsite and garner votes to help their chances in securing a spot for the Go-See. After scrolling through hundreds of entries and enduring a gruelling deliberation, the Candy editors were able to narrow down the list to 25 hopefuls who got a ticket to the Go-See, where they were closely evaluated by the team in order to determine if they have what it takes to become the magazine's next digital cover star. From there, the editors carefully chose six individuals who stood out the most and proved that they got what it takes to become the Next Big Thing, and eventually, the lone September 2023 cover star. Meet the Top 6 finalists below:
ADVERTISEMENT - CONTINUE READING BELOW
Candy Cover Search 2023: Top 6 Finalists
ZOE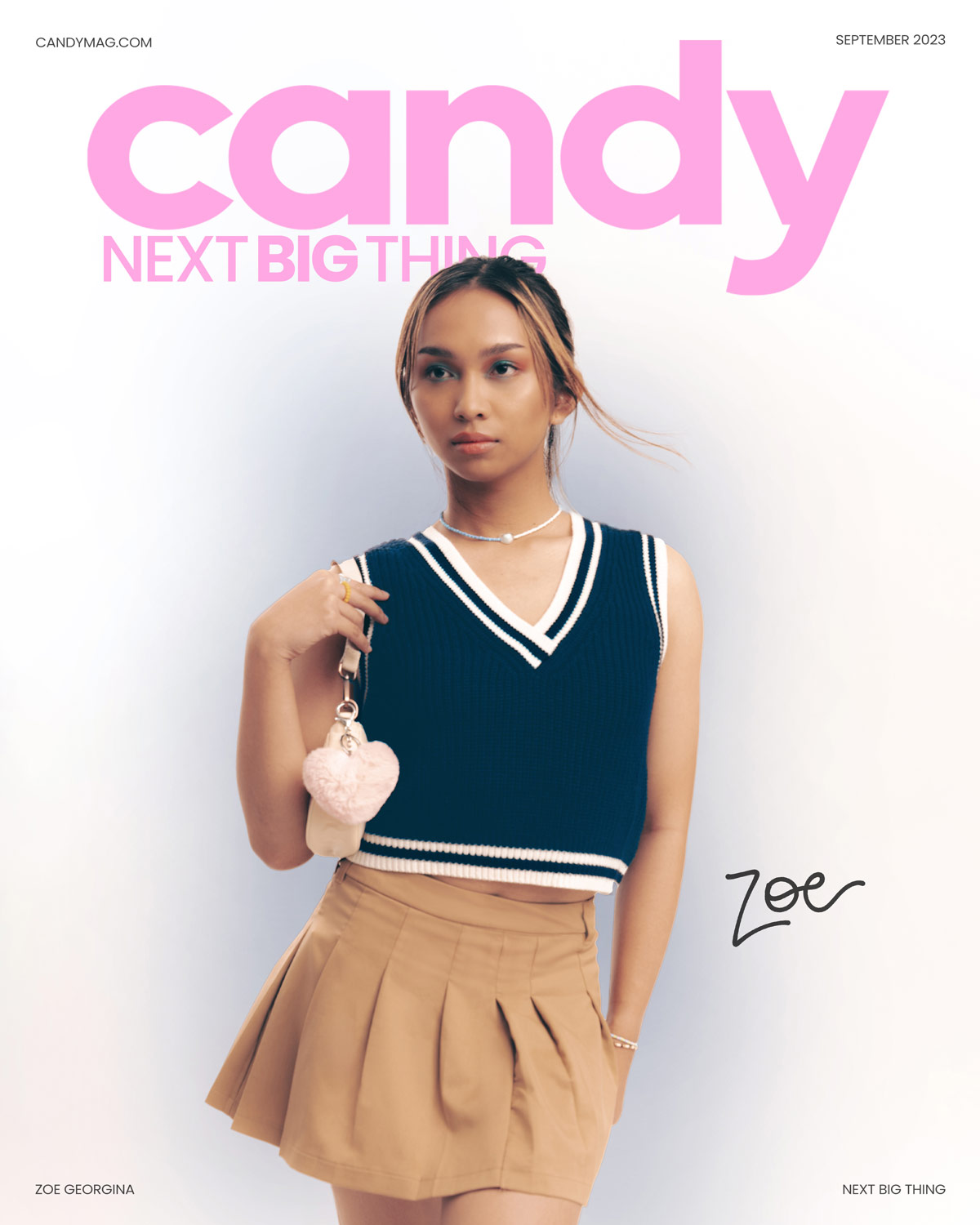 Vest, P599; Skirt, P1,190, both H&M, Megamall. Pippa Necklace in Blue, P189; Chunky Ring, P40; Nabi Ring, P30; Palette Beaded Bracelet in Peachy, P75; Candy Bracelet in Froot, P75, all BEADSY, shopee.ph/__beadsy. Priestess Mystic Club Series Cream x Brick Bag, P3,195, DOUGHNUT, doughnutphilippines.com.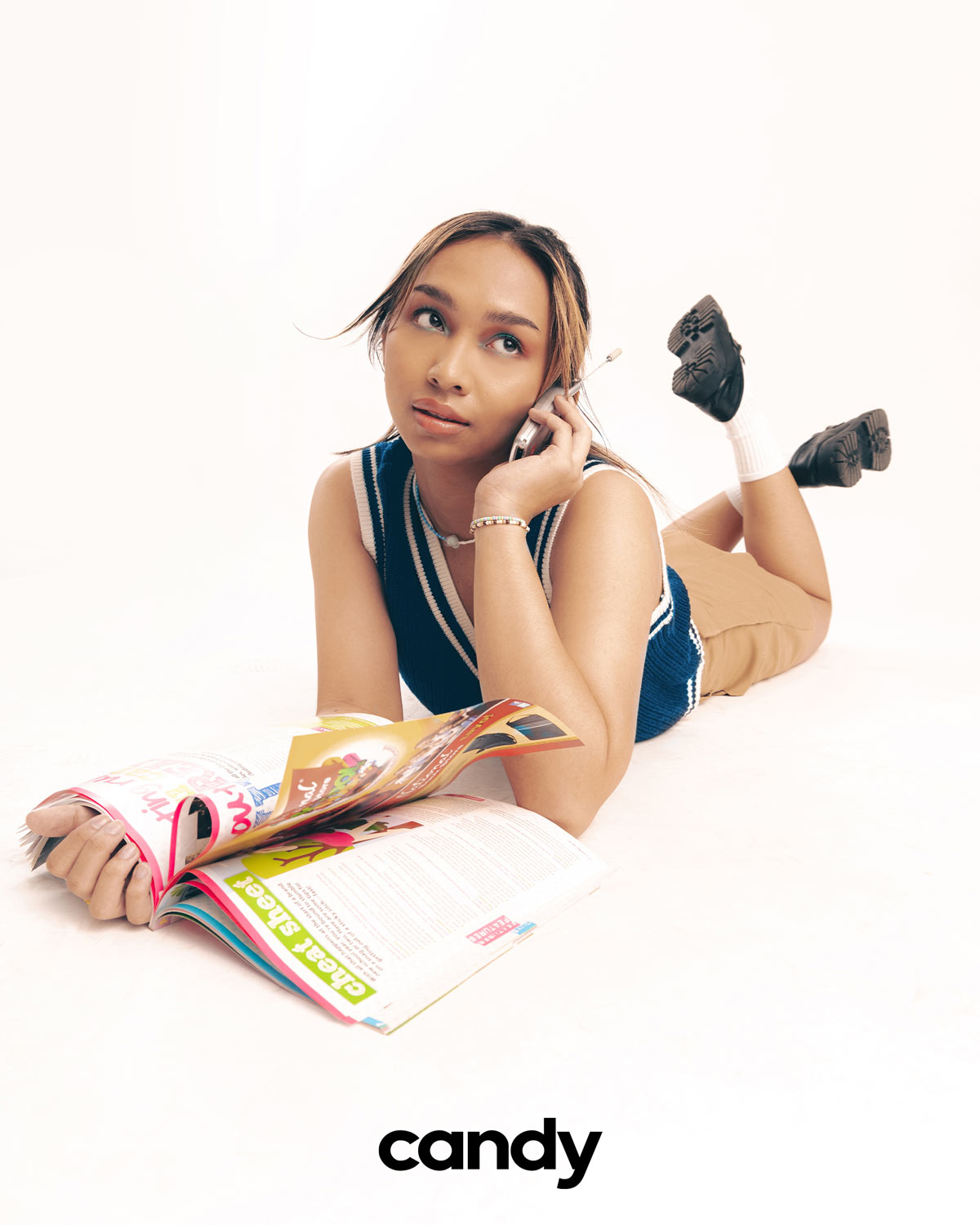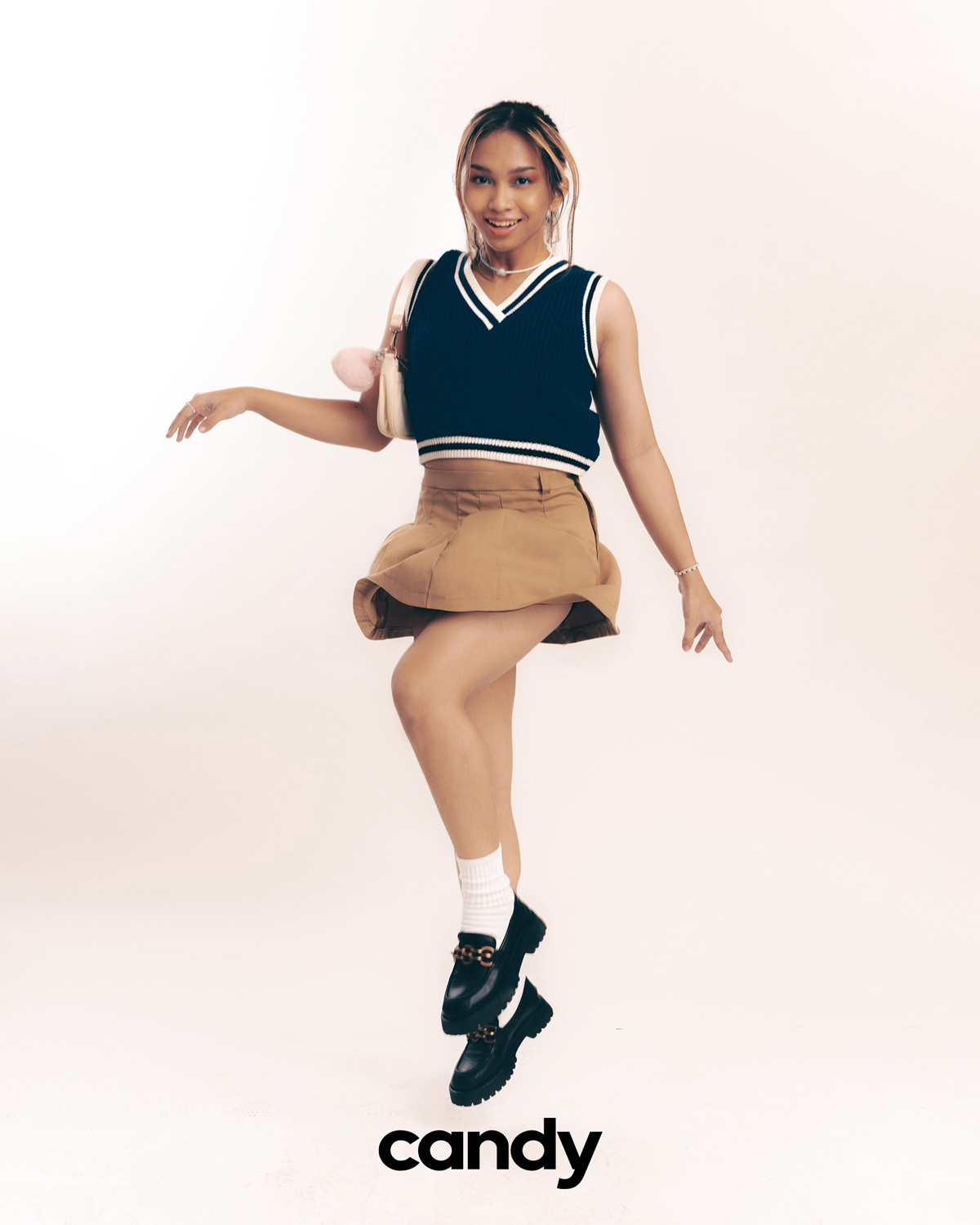 ADVERTISEMENT - CONTINUE READING BELOW
The first time you see Zoe (or Zoe Georgina, thank you very much), you would probably think that she's a quiet girl, maybe shy to a fault even. "Akala nila mataray ako lagi," she confesses to me, sharing that her default face usually leads people to believe that she isn't approachable. The more I talked to Zoe, however, the more I could see just how wrong first impressions can be. She is timid and soft-spoken, yes, but she absolutely had no problem shrugging that mask off when she needed to. Whether it's lip-syncing for her life during the talent portion of the Go-See or posing up a storm during the photoshoot, the Communication student was not afraid to show what she was made of.
Compared to her fellow finalists who have been in the content creation industry for more than a few years now, Zoe has relatively less experience than her peers. Starting out in the peak of the pandemic in 2021, her first TikTok post—a reaction video to the Miss Universe competition—immediately went viral. "Nung nakakuha na po ako ng mga views, sabi ko continue ko na siya," she shares. "Nung una po, mga POV lang po mga ginagawa ko, mga [skits], then nag-switch po ako sa makeup and lifestyle na mas gusto ko pong ginagawa."
ADVERTISEMENT - CONTINUE READING BELOW
She persisted in posting until she finally gained brand collaborations in February of this year. Her mom, overjoyed at the news, advised her to continue the momentum. "Nag-start po ako mag-audition sa mga fashion show para magkaroon po ako ng exposure," she reveals. She tried out for a local fashion brand's all-queer fashion show but failed to make it to the Top 25. Refusing to be deterred by this setback, Zoe applied to become a campus ambassador for a major e-commerce platform and got accepted. Her next major project is actually this Candy photoshoot! "Umiyak po ako nun. Tas nagsisisigaw po ako sa bahay kasi first photoshoot ko 'to tas katabi ko si mama. Tears of joy po talaga," she shyly admits.
When asked what she thinks she brings to the table as part of the Top 6 finalists, the NU Laguna student simply said: "Walang nakakagawa ng ginagawa ko—[it's] the Zoe experience!" 
ADVERTISEMENT - CONTINUE READING BELOW
ALICIA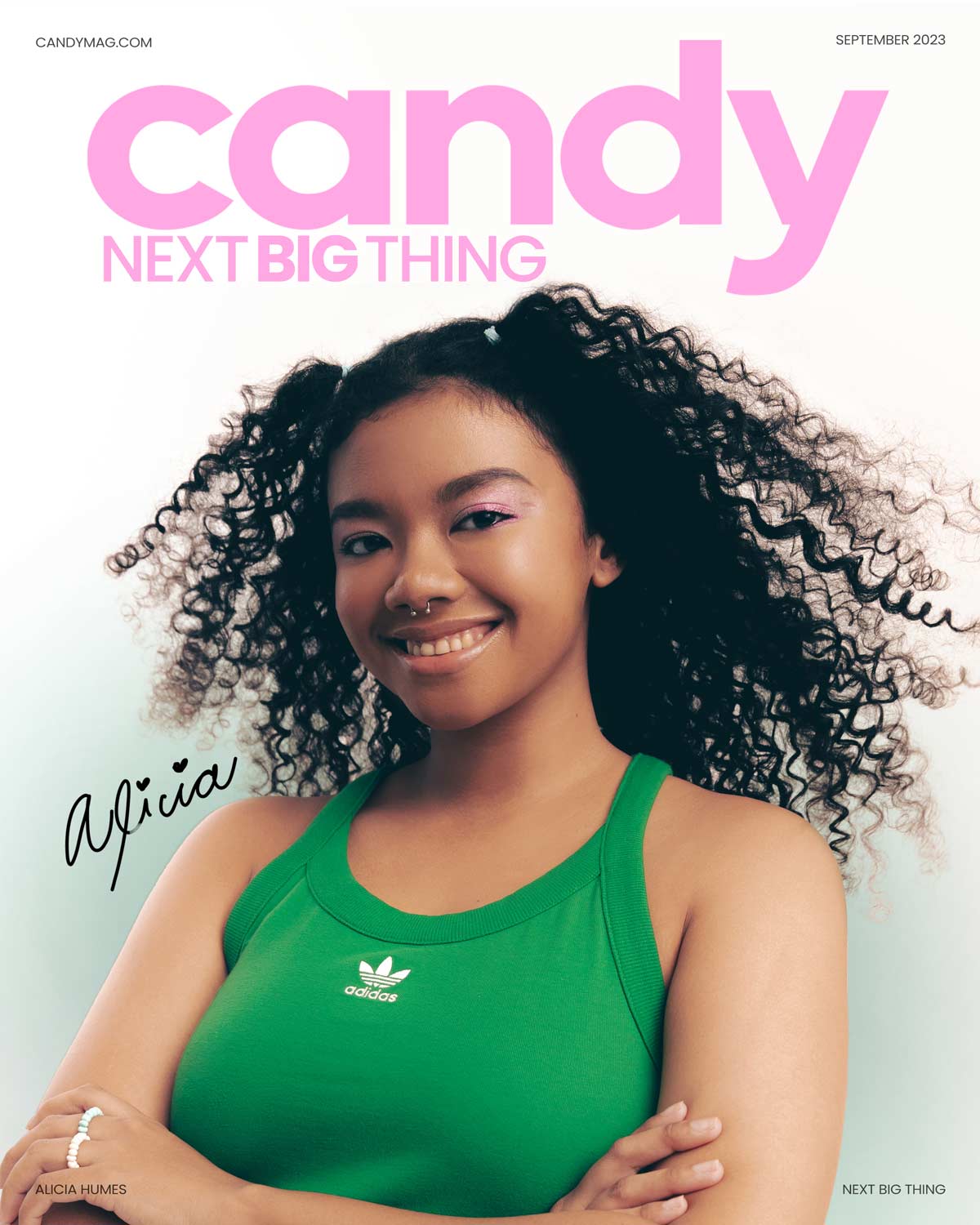 Dress, P3,300; Shoes, P6,500, both ADIDAS, Glorietta 3. Sweater, P2,295, FOREVER 21, Megamall. Chunky Rings, P40, all BEADSY, shopee.ph/__beadsy. Priestess Mystic Club Series Bag in Nautical, P3,195, DOUGHNUT, doughnutphilippines.com.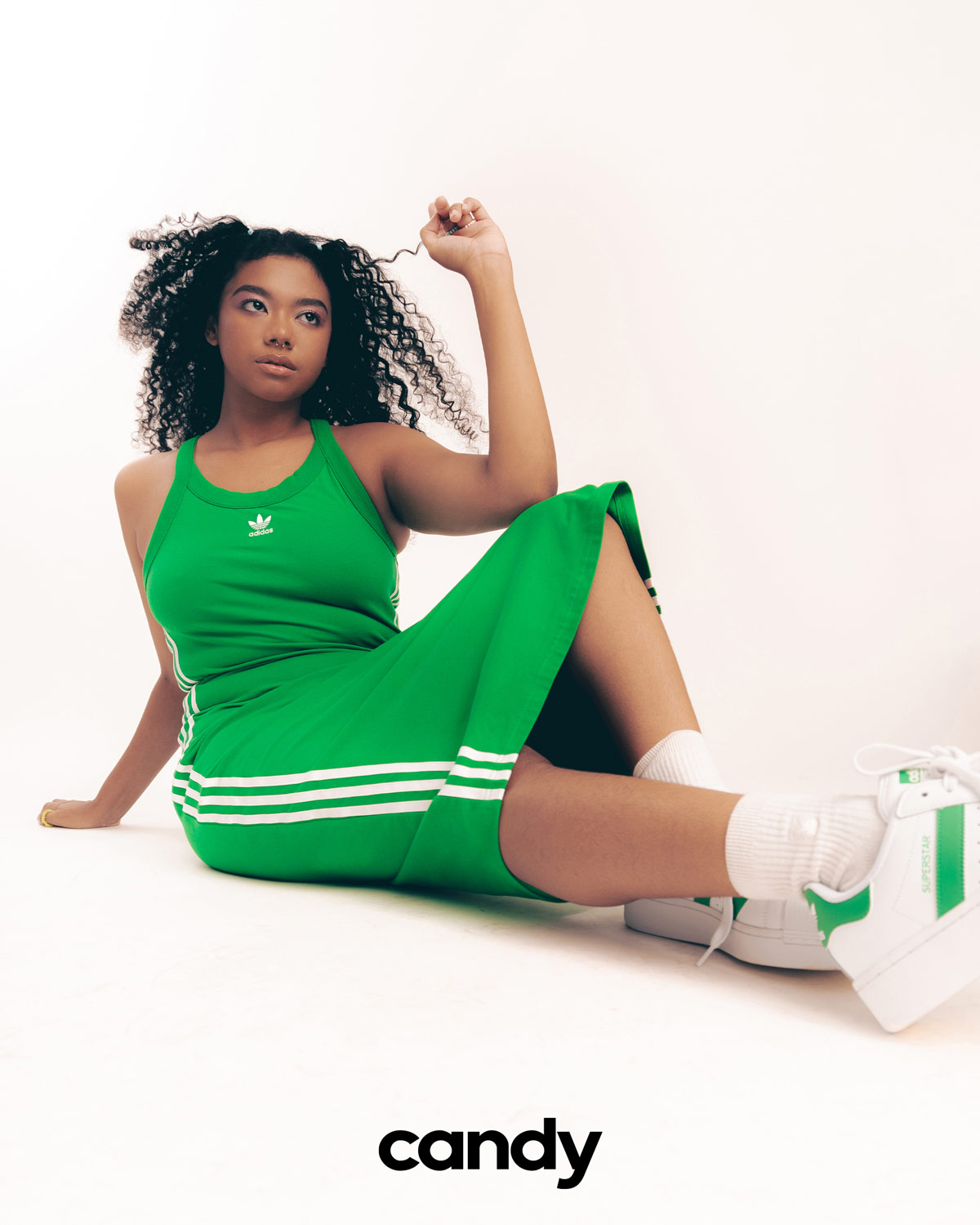 ADVERTISEMENT - CONTINUE READING BELOW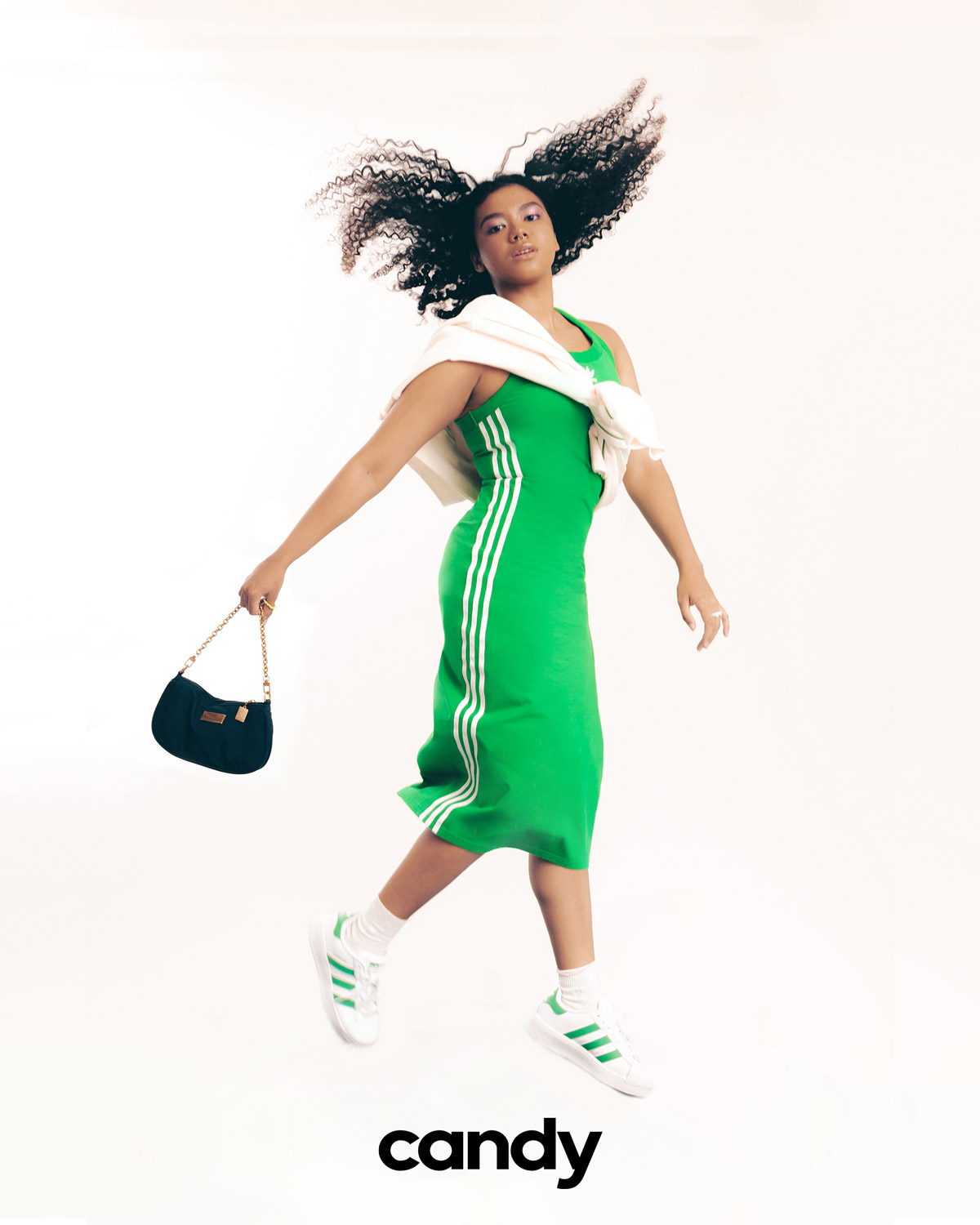 The first thing you'll notice when you look at Alicia is her big, voluminous hair. In fact, when asked what sets her apart from the other finalists, the aspiring doctor replied, "My hair!" The next thing you might notice is her voice, which can be heard clear as day as she merrily chats up the hair and makeup artists and her fellow finalists. She admits that this wasn't the cheery disposition she had a few weeks back when she graduated. "Honestly, the moment I graduated, parang feeling ko yung mga plans ko after graduation, on hold pa. My plan was before I graduate, kailangan ma-accept na ko sa mga medical schools na inapplyan ko," she admits. "That wasn't the case. I was so lost after I graduated."
ADVERTISEMENT - CONTINUE READING BELOW
Blessings come to those who wait, though, and just when Alicia thought all hope was lost, a string of good news was waiting for her. "Nagsabay-sabay siya actually! [The] Go-See, acceptance sa medical schools… nagsabay-sabay talaga siya, yung news. I'm really thankful, lalo na ito na kasama pa ko sa Top 6," she beams.
Alicia is not one to wait around for things to happen, though. The self-confessed outdoorsy girl admits that she feels most at home when's actually *out* of the house. "[I like] camping, hiking, and free diving. Those outdoor activities, it's like my therapy. It's like self-love. It gives me time to reflect, like whenever I do those things." 
When it comes to the kind of thing she wants to be remembered for, Alicia aims to leave a positive mark on young girls struggling with their confidence right now. "At that age kasi talaga, maraming girls na parang 'di ma-accept yung sarili nila and [self-love and body positivity talaga] yung impression na gusto ko ibigay sa kanila. Yung mga sinasabi ng ibang tao about you, it shouldn't define you kung sino ka talaga. Kasi ikaw yan eh, kilala mo sarili mo." Well said!
ADVERTISEMENT - CONTINUE READING BELOW
SIMONÉ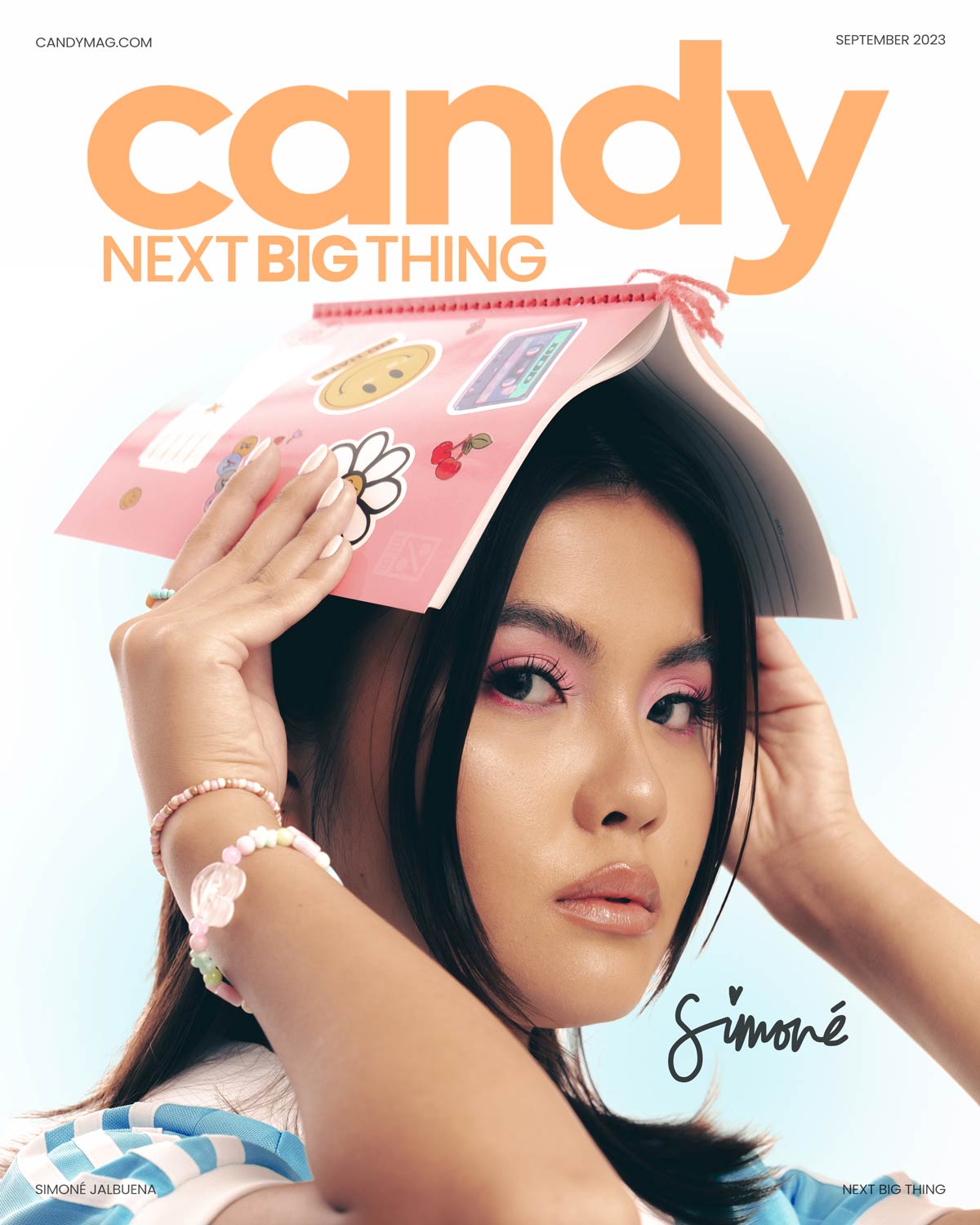 Crop Top, P2,100, ADIDAS, Glorietta 3. Pleated Skirt, P1,190; Loafers, P2,290, both H&M, Megamall. Niki Bracelet, P179; Heart Ring, P30; Palette Beaded Bracelet in Pinky; P75; Jelly Necklace, P189, all BEADSY, shopee.ph/__beadsy. Priestess Kaleido Series Bag in Mushroom Checked, P3,195, DOUGHNUT, doughnutphilippines.com.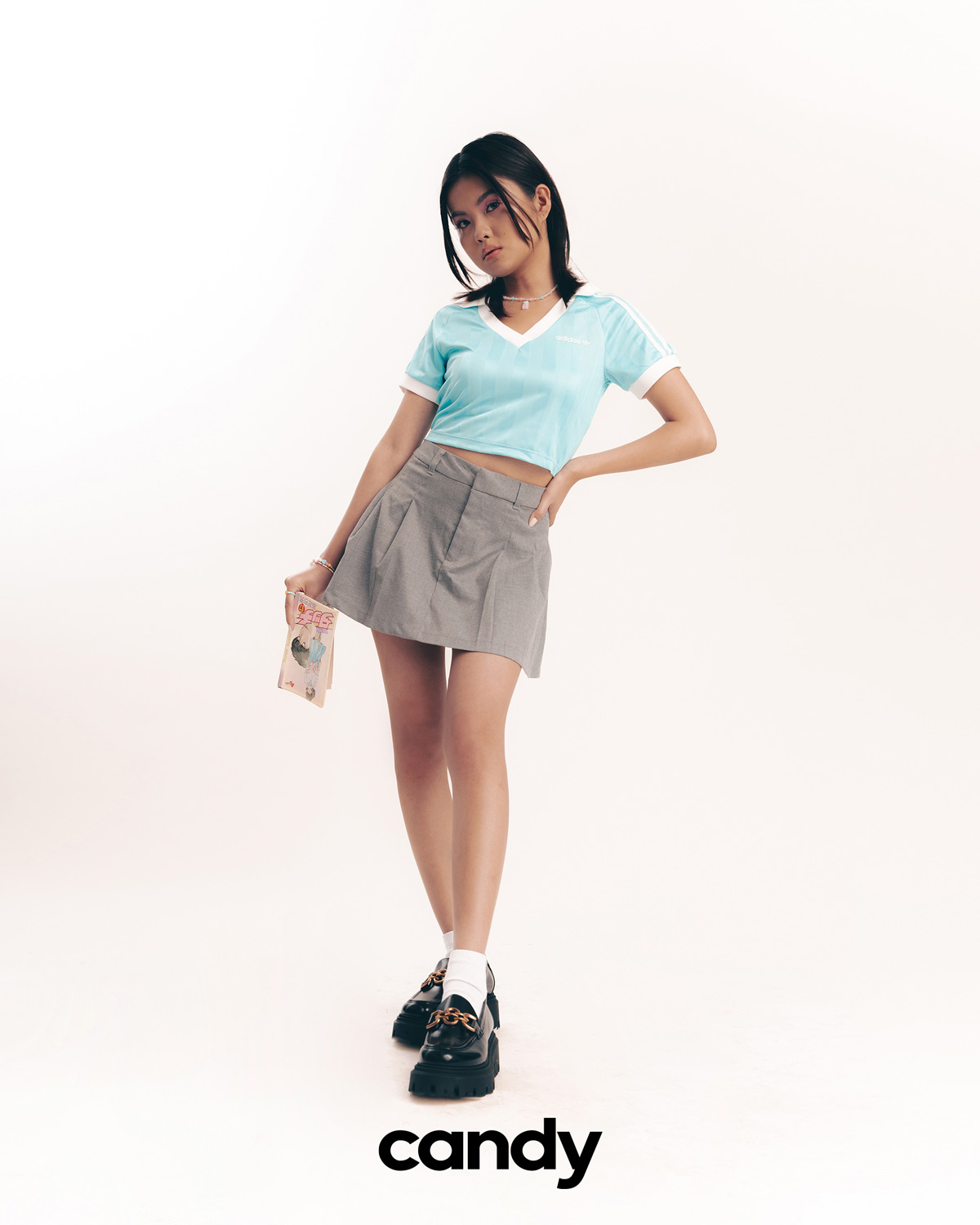 ADVERTISEMENT - CONTINUE READING BELOW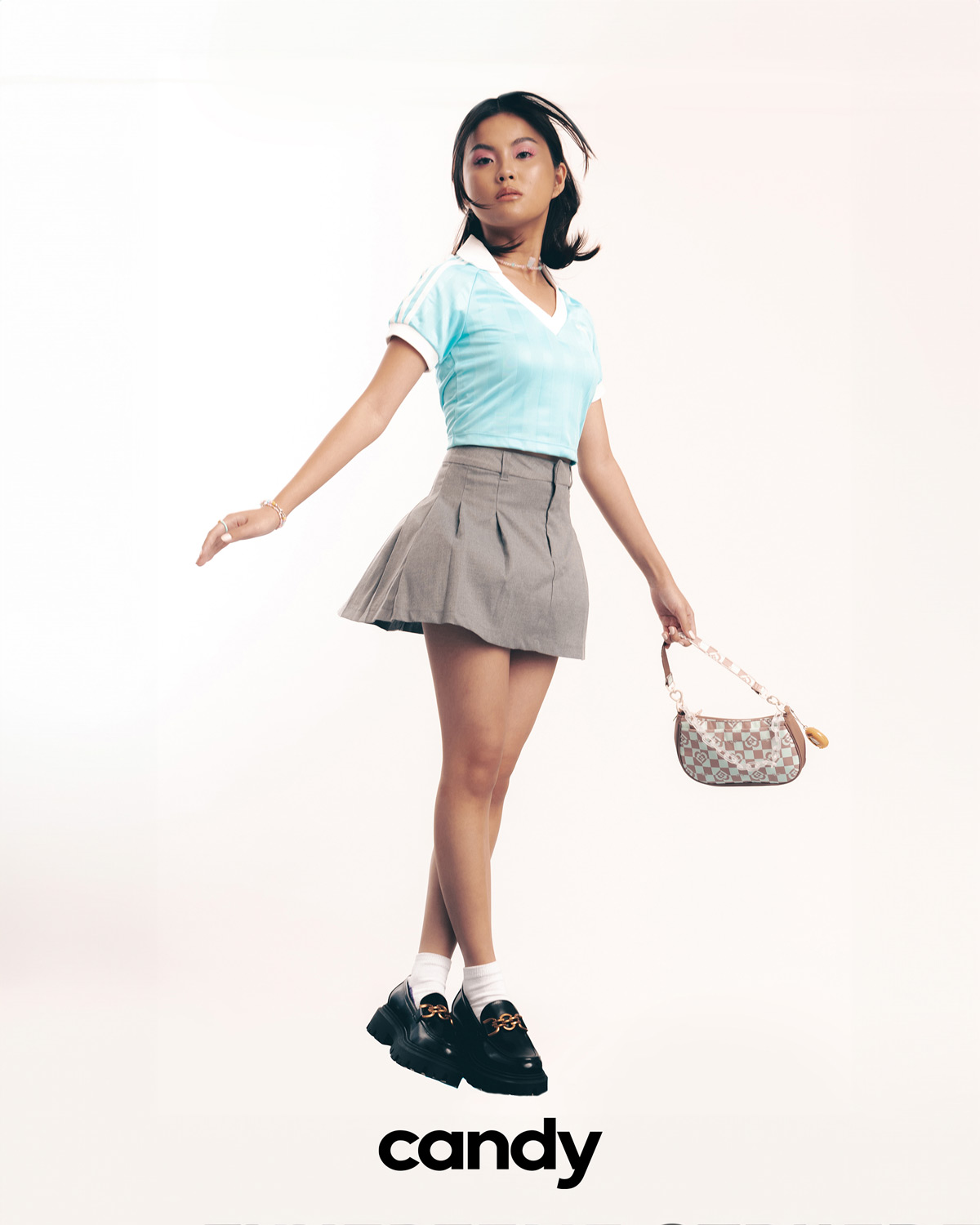 In a roster filled with content creators and influencers, Simoné is just a regular ol' student—except that she's not *just* that. The fifth-year Atenean student is proudly working towards earning her degree, a Bachelor of Arts in Diplomacy and International Relations with a specialization in East and Southeast Asian Studies along with two (!!!) minors: Urban and Regional Development and Chinese Studies. When she's not busy studying for her major, Simoné can be found honing her artistic skills, whether it's in woodworking, pottery classes, weaving classes, or baking.
ADVERTISEMENT - CONTINUE READING BELOW
The Atenean originally applied to the Cover Search on a whim, after having seen it online. "Like 'Okay, let me check this out 'cause what's there to lose? So I went through it," she shares. Despite encountering several technical difficulties where she almost gave up, she turned to the ~life~ skills she learned from her various interests. 
"In pottery, you really have to be patient and I remember what they were saying na you have to make sure that you're just focusing on the object," she divulges. "You have to clear your mind because it would be really evident that you're overthinking or thinking about something else with the way the pottery goes."
Once she graduates, Simoné plans to be just as busy and as ambitious as ever. "For me, I have options," she says matter-of-factly. "To work in a non-profit because I really love service work, advocacy work… It's been a passion of mine since I was little. Other than that, it would be to work in an international corporation like ADB. There's also the option to do journalism since I already do it in a different field. And lastly would be to further my studies in development."
ADVERTISEMENT - CONTINUE READING BELOW
KYLE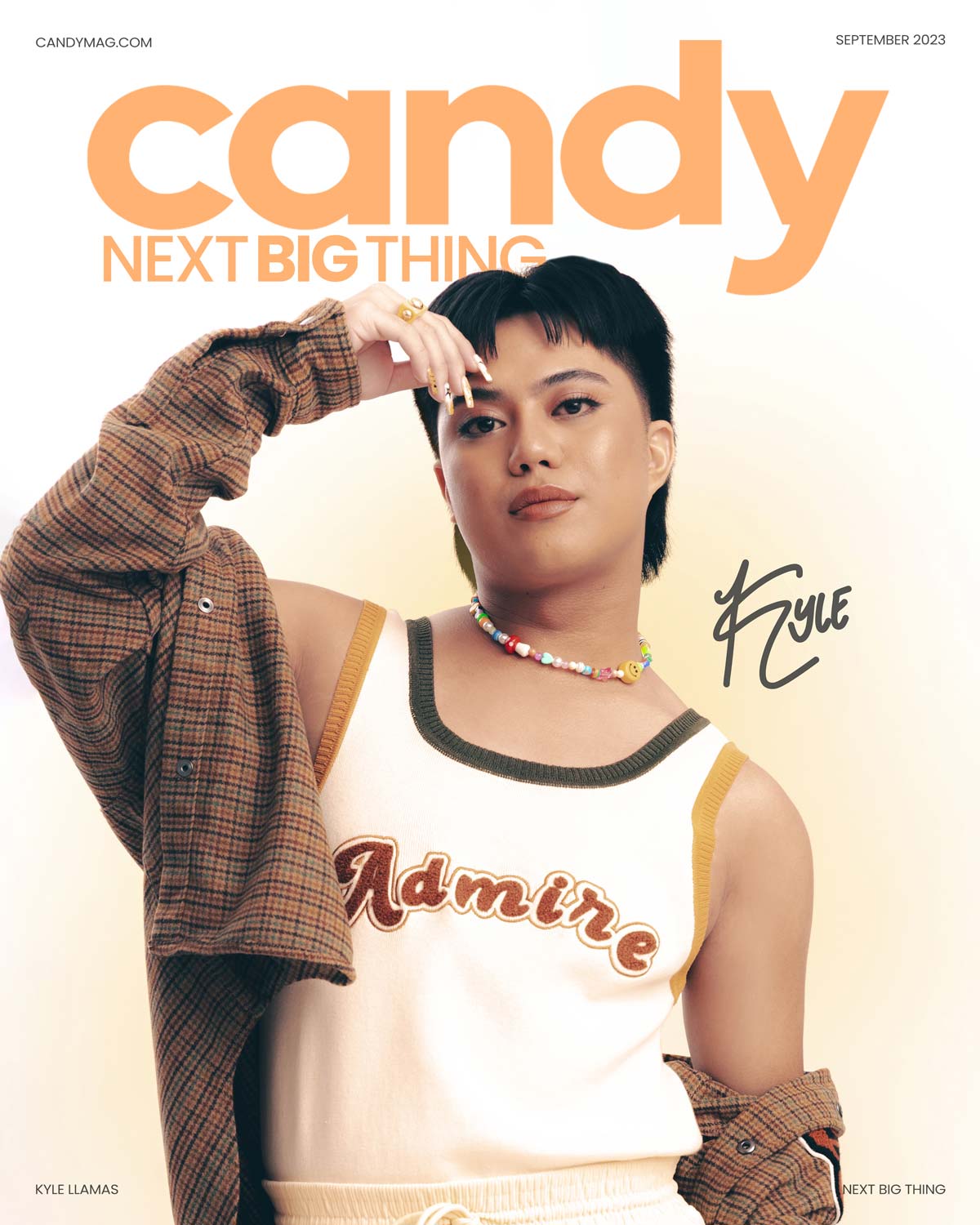 Top, P3,195, URBAN REVIVO, Mall of Asia. Jacket, P2,690, H&M, Megamall. Kuku Necklace, P350, BEADSY, shopee.ph/__beadsy.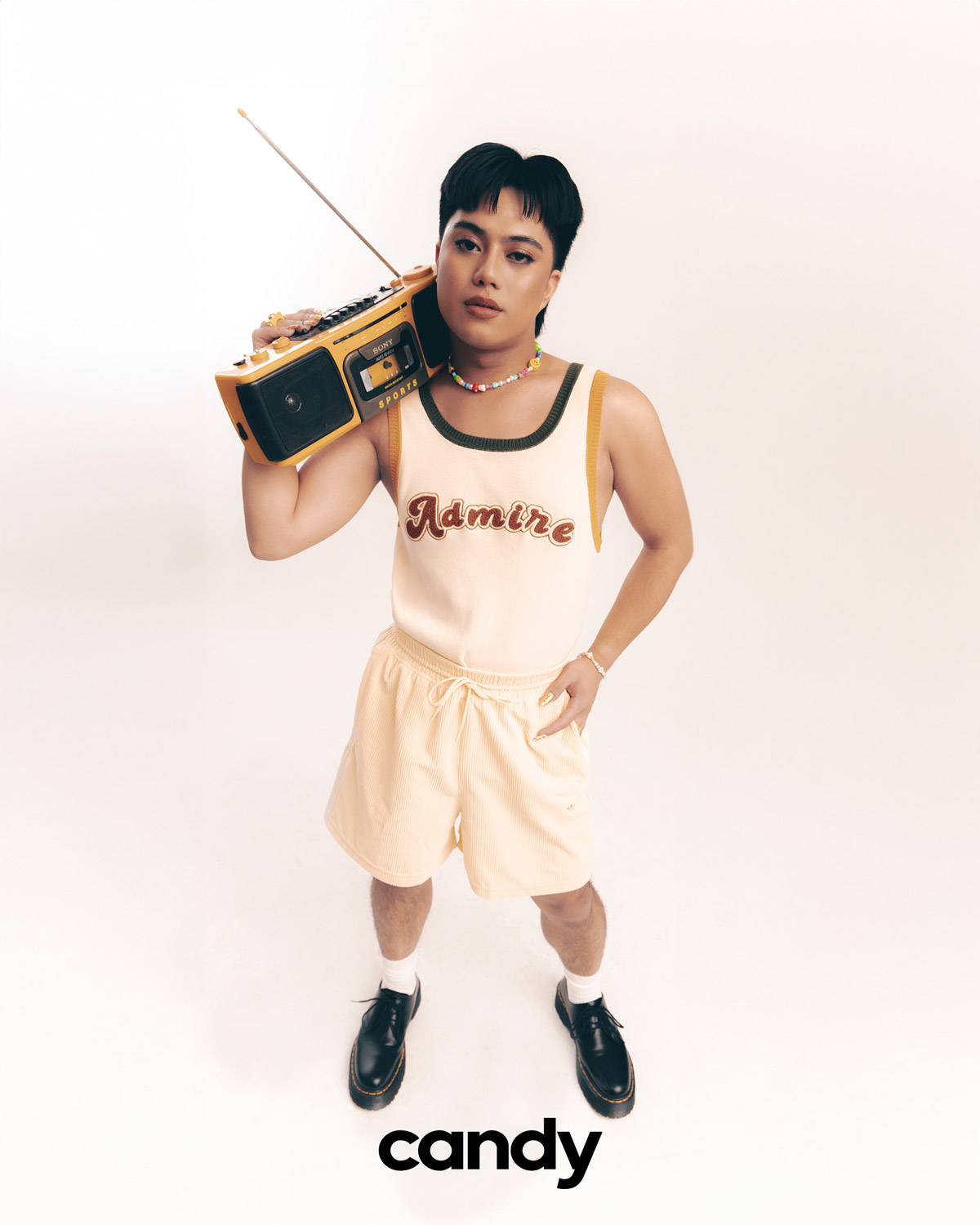 ADVERTISEMENT - CONTINUE READING BELOW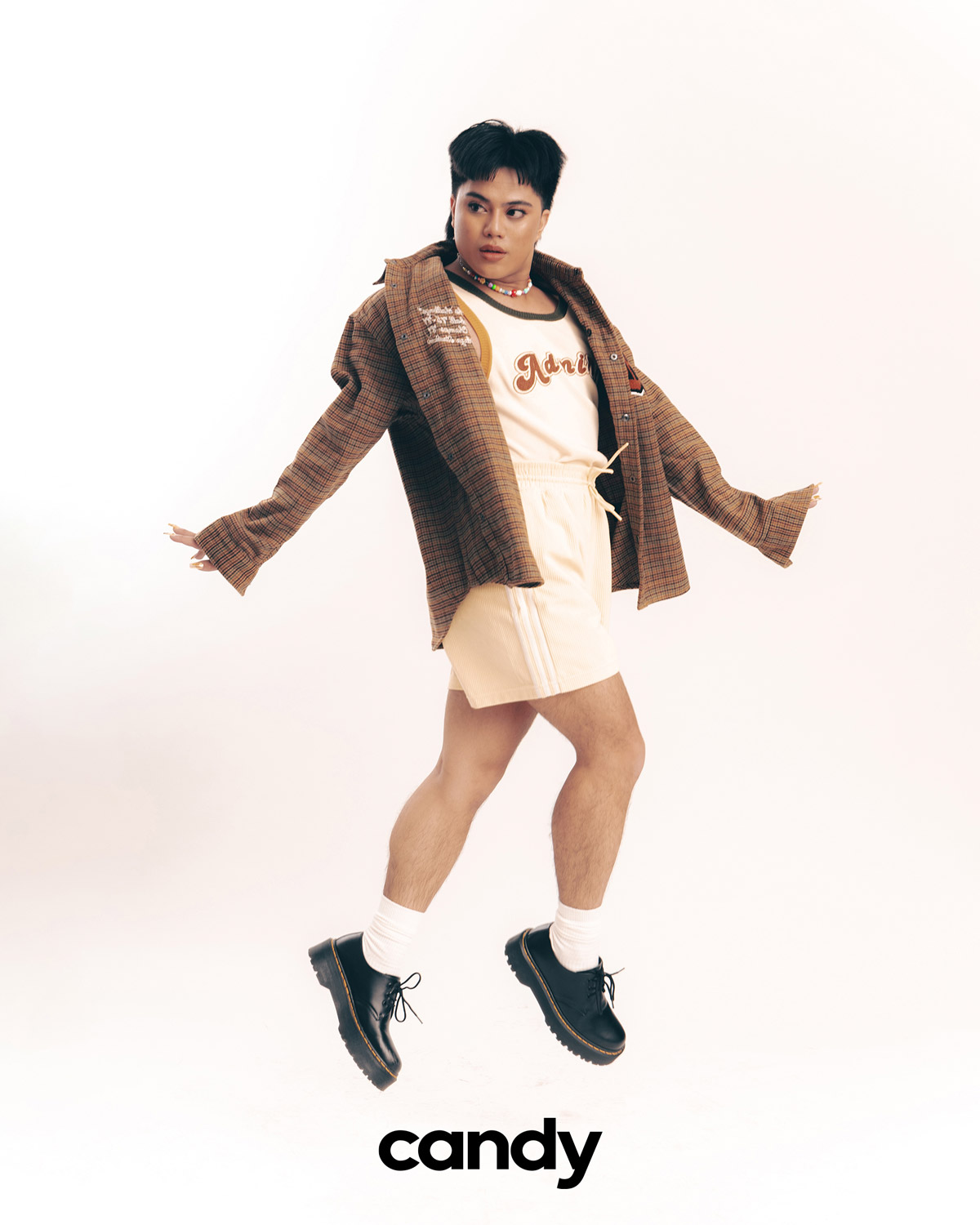 If there's one thing you need to know about Kyle, it's that he wears his heart on his sleeve and he's not afraid to get candid about what he's been through. A breadwinner since he became a working student, it's clear that the UST graduate has been through a lot—but he emerged out of it a winner. 
ADVERTISEMENT - CONTINUE READING BELOW
Calling himself "Ang Rakaterong Bestie," Kyle has been hustling for as long as he can remember. "Photographer na 'ko ever since high school, then my friend told me na I should try modeling. I started [content creation] when I was in my first year of college and I took it seriously to the point na 'di ako papayag na ito lang i-po-post ko. As someone who was a micro-influencer palang before, I really grabbed all the opportunities," he shares.
Being a content creator may seem like a dream job for many people, but Kyle went through his fair share of hardships balancing it with his schoolwork. "I will not romanticize what happened… I was really struggling. I was asking for professional help already because it wasn't easy. Especially since I was studying in a Catholic university, I'm queer… so there was a lot of prejudice inside and outside of it so it wasn't easy at all. Andaming pressure. So I'm really happy that I was able to survive that," he says with conviction.
ADVERTISEMENT - CONTINUE READING BELOW
It was with this kind of laser focus and determination that got him through the Cover Search and Go-See. "Going here, I had a game plan already. This is a once-in-a-lifetime moment for me, especially since I was just a queer kid na nasa province lang tas ngayon nasa Manila na doing the thing that he loves," he notes.
NEIL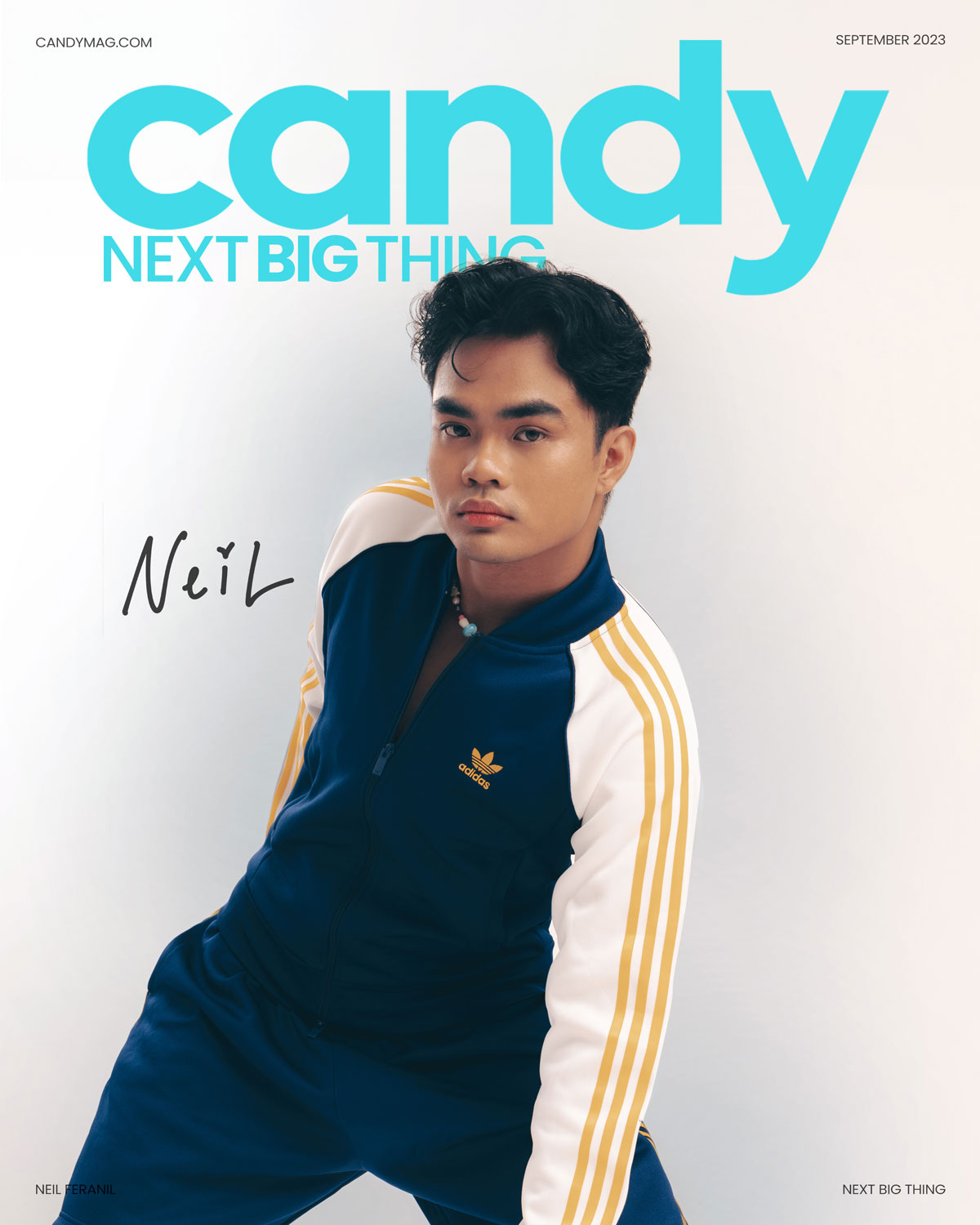 ADVERTISEMENT - CONTINUE READING BELOW
Jacket, P5,500; Shorts P3,700, both ADIDAS, Glorietta 3. NEWJEANS OMG Necklace, P350, BEADSY, shopee.ph/__beadsy.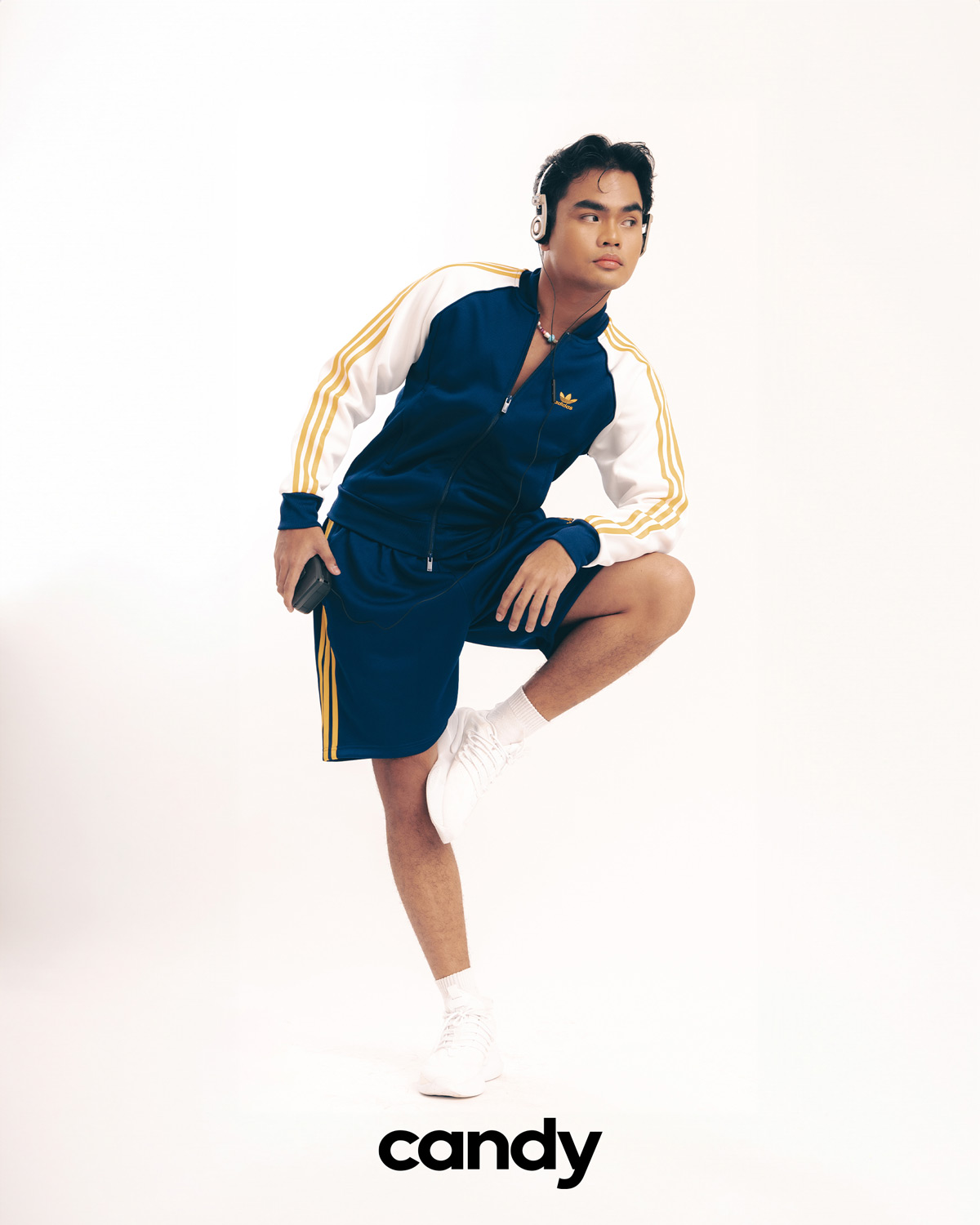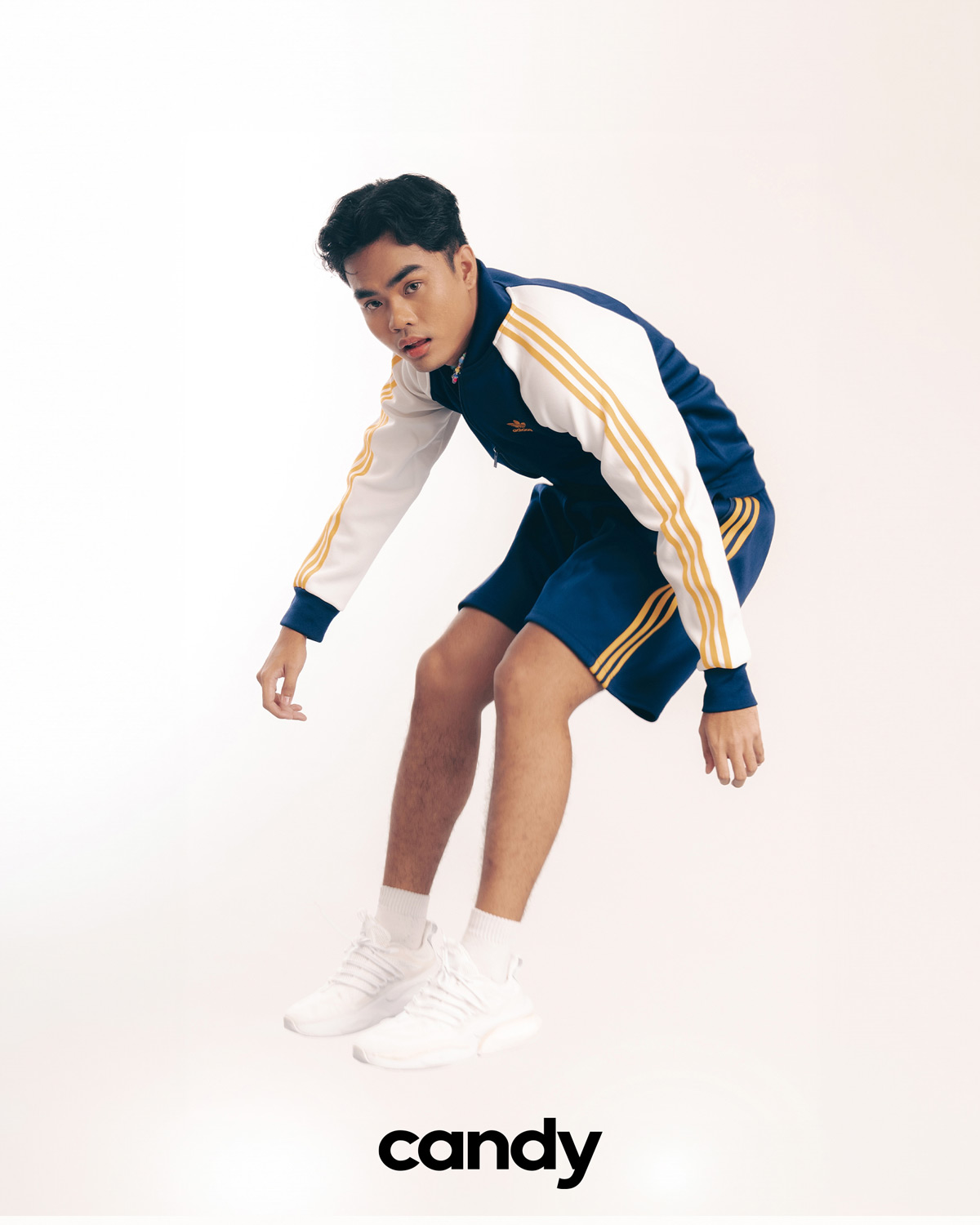 ADVERTISEMENT - CONTINUE READING BELOW
Neil definitely stands out when you walk in a room with him in it—and it's not just because he stands at a towering 6'1, though it certainly helps. The recent Aircraft Maintenance Technology graduate from WCC has that infectious aura about him that just makes you want to listen to him—and he certainly has a lot to say. 
"I'm not yet done with [school] actually… I'm planning to go to a flying school since it's my dream to become an airline pilot," he shares. "I'm currently in the process of deciding between two schools kung ano yung perfect sakin—one sa Subic, one sa Clark."
Outside of his passion for aviation, Neil is already an accomplished content creator and host and is proud to wear many hats. "Nung mga 2015 to 2016, nag-try ako mag YouTube up until nag-gain ako ng thousands of subscribers then na-invite na ko sa YouTube FanFest. Dun na yung start talaga for me," he notes. "After po nun, I started going to college na and I felt like I wasn't getting the engagement that I wanted so I quit YouTube and focused on my studies."
ADVERTISEMENT - CONTINUE READING BELOW
"That was two years na nag-stop akong mag-content creation until yun nga… nagkaroon ng competition ng May 2020 which was the Lazada Laz Get Famous competition which I won, then after that yung hosting [gigs] ko, nagtuloy-tuloy na siya."
So what keeps him busy these days if not for his budding aviation and content creator career? "Actually, right now, I'm in the process of creating a brand. It's a brand that's part of my niche, I'm still in the process of building it. It's a different product na 'di sine-sell these days so I'm confident about it. I'm building a brand focusing on men featuring products that are very limited," he divulges. We'll definitely be keeping an eye out for that!
DANI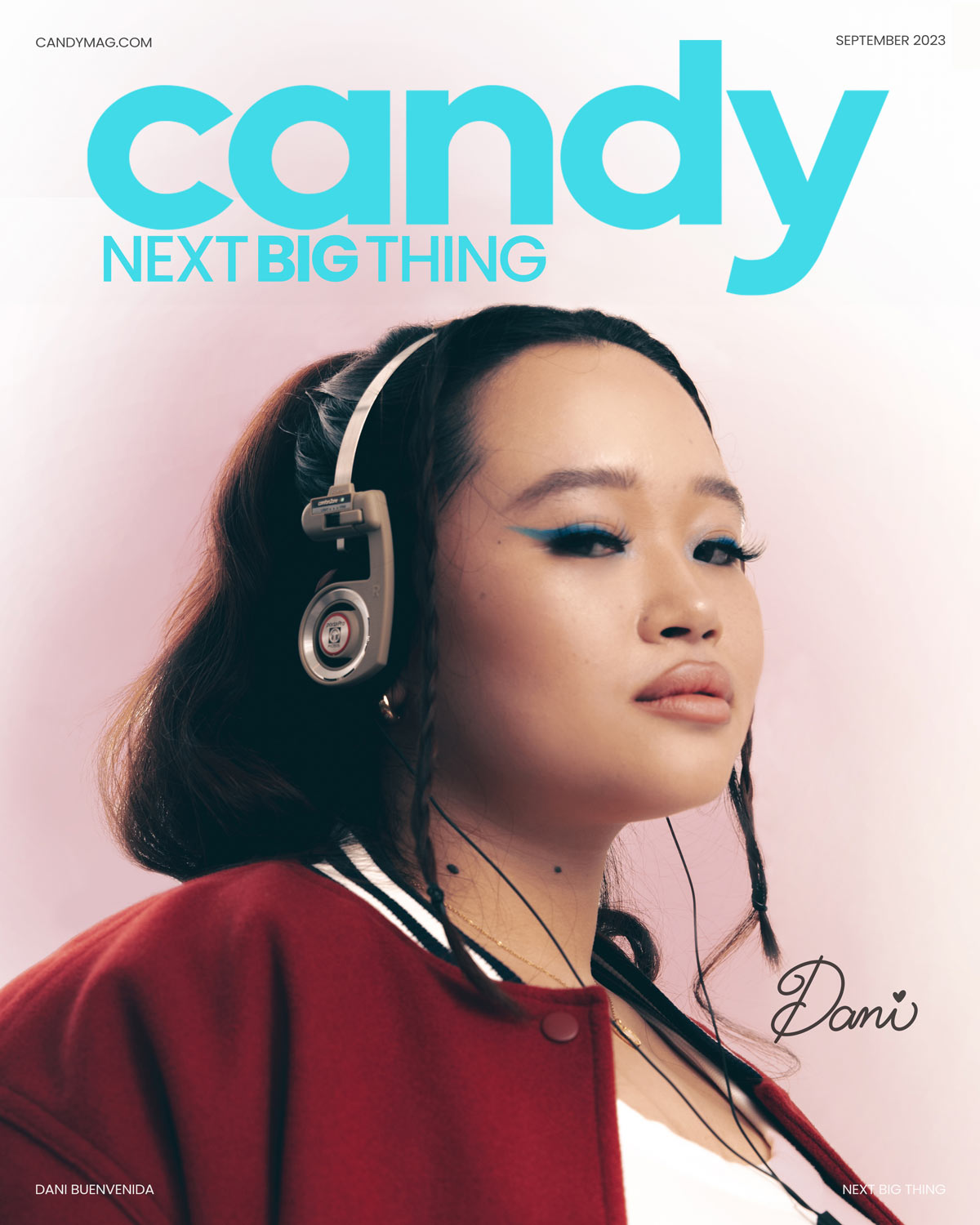 ADVERTISEMENT - CONTINUE READING BELOW
Tank Top, P2,100, ADIDAS, Glorietta 3. Varsity Jacket, P2,690; Skirt, P1,190, both H&M, Megamall.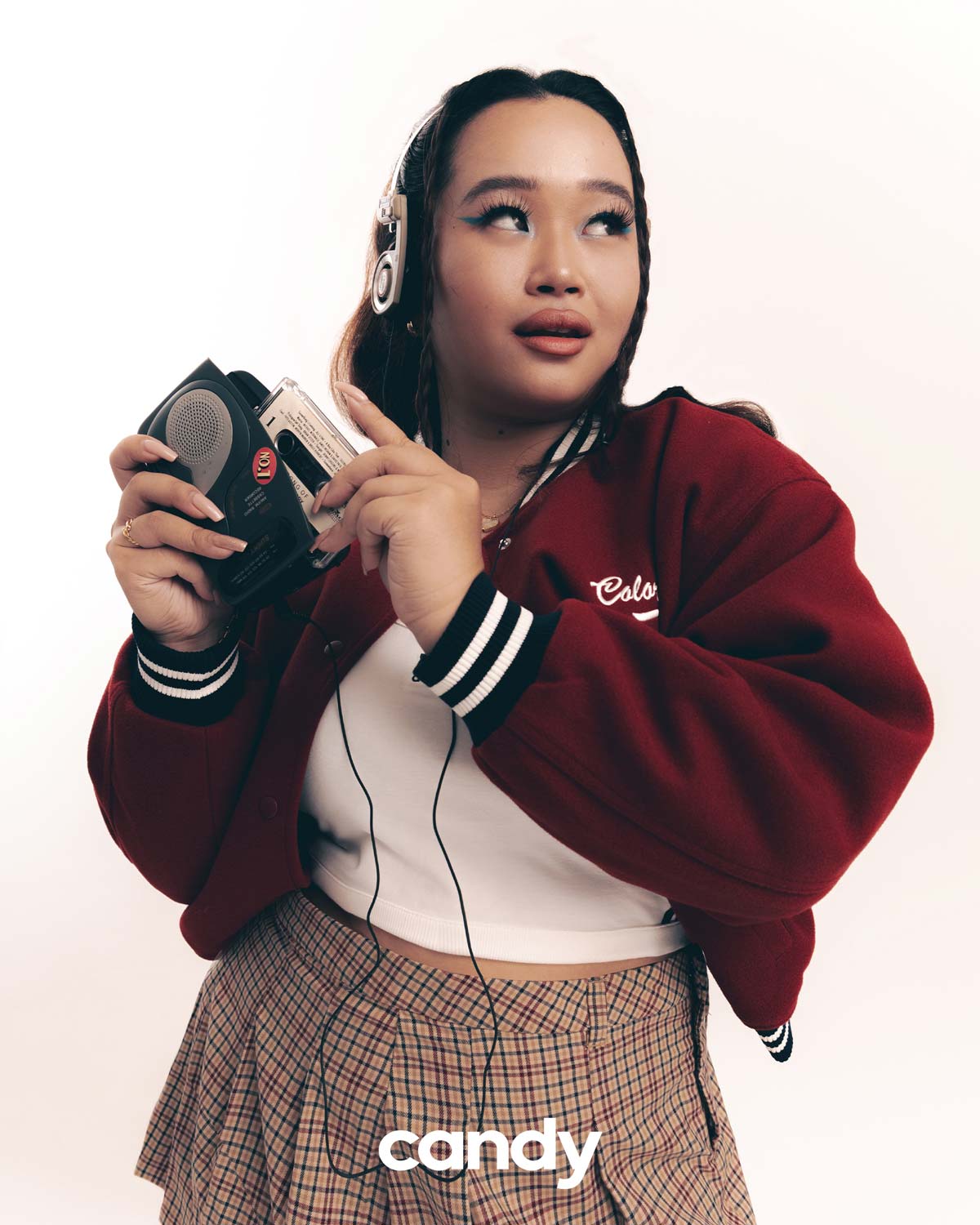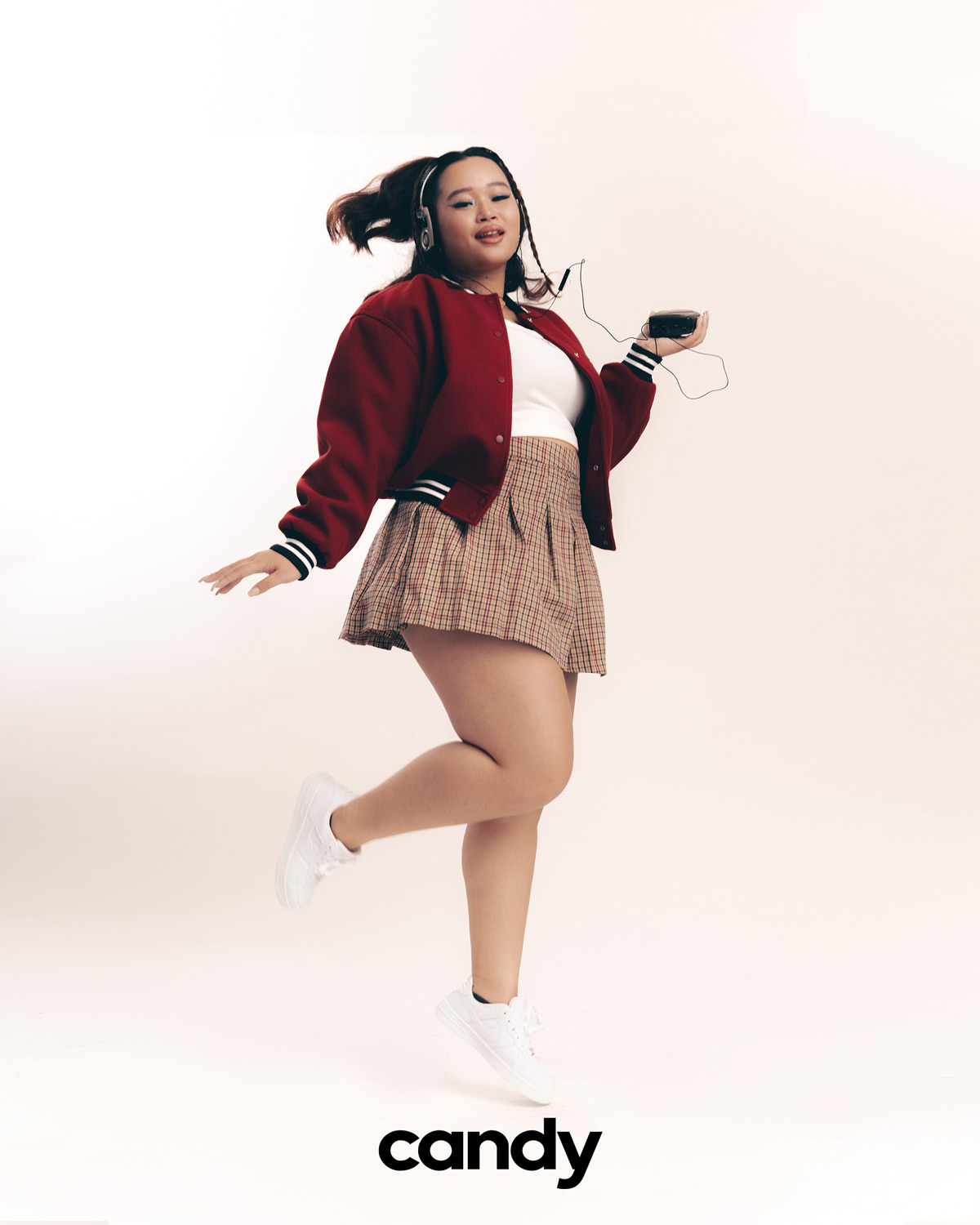 ADVERTISEMENT - CONTINUE READING BELOW
If you scroll on your TikTok FYP long enough, then you might have already come across one of Dani's videos. Aptly called "Landian Tips," her series aims to help people out with how to flirt with others. Despite her seemingly ~*raunchy*~ content, Dani is a big ball of sunshine, bouncing from one corner of the studio asking her fellow finalists to film a TikTok with her or chatting up the hair and makeup artists. She wasn't always like this, though. The Speech Communication major shares, "When I was young, I was so insecure with my looks and I would look at Total Girl and see yung part na outfits per season… and I remember feeling so insecure because my cousins would be a part of [the spreads] and bakit ako wala?" 
Part of this was the reason why she decided to push through with her application despite feeling like she couldn't allot enough time for it given that she was in the middle of working on her thesis at the time. When she finally did apply—further spurred on by her friend and fellow finalist Neil—and saw that she was gaining votes, Dani was inspired to carry on. "This is me proving to my younger self that I can be one of those girls."
ADVERTISEMENT - CONTINUE READING BELOW
As a self-proclaimed bida-bida, she was in sixth grade in 2012 when she thought of making her own YouTube channel. Encouraged by famous creators like Rei Germar and ThatsBellaYT, Dani got inspired to finally do sit-down videos talking about anything and everything under the sun. One fateful day, she saw someone on YouTube make a video about sending Google Forms to her past crushes, and thus, the early days of her Landian Tips series was born. "I just started making similar videos like '10 turn-ons guys have with girls,' '10 tips for online dating,' and my subscribers really liked it. To the point na my professors would suggest like, 'Magbigay ka naman ng tips sa ganto ganyan' and I'm like 'Ma'am?!'
Eventually, she had to stop her budding YouTube career due to being a BS Org kind of person by the time the pandemic rolled around. It was only in 2022 when she acquired a shiny new phone that the possibilities came flooding back. "I was just lying down about to sleep and bigla ko lang naisip yung landi tip na video. The next day, it had 100 likes. So I was like, 'Okay, what if araw-arawin ko 'to? So for three weeks straight, every night I'd post like five TikToks."
ADVERTISEMENT - CONTINUE READING BELOW
In fact, Dani became so successful with her series that she eventually decided to turn it into a full-fledged study—her undergraduate thesis! "I just passed my manuscript yesterday so talagang defense na lang talaga!" she shared excitedly. We definitely can't wait to read it, TBH!

***
ADVERTISEMENT - CONTINUE READING BELOW
Producer and Stylist: Leika Golez
Assistant Producer: Yssa Cardona
Writer: Cheska Santiago
Shoot Assistant: Shalom Dela Cruz
Art Director: Bacs Arcebal
Associate Art Director: Pauline Moyano
Sittings Editor: Marj Ramos
Hair and Makeup: Muriel Vega Perez
Photographer: Borgy Angeles
Photographer's Assistant: Pao Mendoza
Videographer: Richford Unciano