Ever since the first community pantry was established, plenty of similar initiatives popped up across the metro, led by various individuals and groups with the same intent of lending a helping hand where they can in the middle of a global crisis.
One such group is Borahae from Manila, a group composed of fans of the South Korean supergroup BTS. The seven-member music group is known not just for their chart-topping music but also for their active involvement in various inspirational and philanthropic efforts.
Inspired by the examples of RM, Jin, Suga, j-hope, Jimin, V, and Jungkook, Borahae from Manila decided to start their own community pantry—which they aptly called the Magic Shop Community Pantry—with sites across the metro. They were even visited by Atty. Chel Diokno, who declared his admiration not only for the particular fanbase who participated in the initiative but also for the group's fandom in general.
ADVERTISEMENT - CONTINUE READING BELOW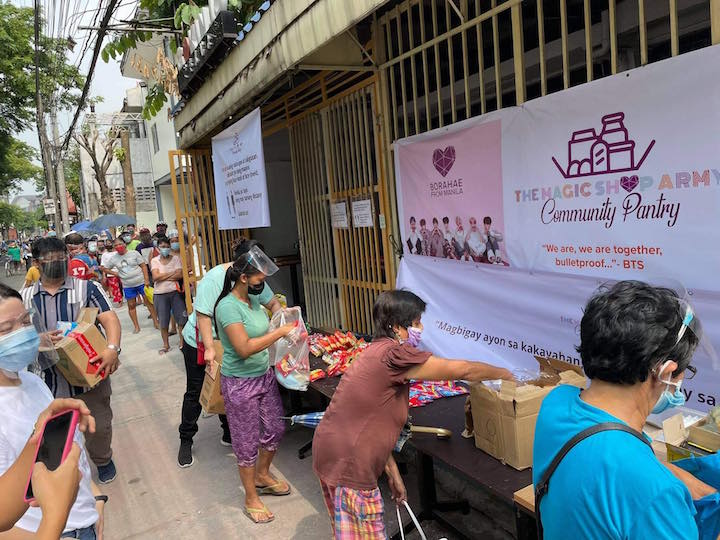 The group is composed of regular individuals who all share the same love for BTS. Its administrators are individuals who hold day jobs in various industries: Joan de Venecia-Fabul who is a lawyer; Nikko Dizon, a journalist in hiatus and a communications specialist; Kankan Ramos, digital marketing expert and visual artist; and Zaza Sarmiento, teacher and bacon maker.
ADVERTISEMENT - CONTINUE READING BELOW
Here, we talked to their admins about how their group started, how they put up a community pantry, as well as their future plans for its operations:
They started out as a Facebook group for fellow BTS fans.
Stanning your favorite artists is best done when you have someone to fangirl and fanboy with. And after BTS' Map of the Soul ON:E online concert, Joan decided to start the Borahae from Manila Facebook group and added her fellow ARMYs, including Nikko, Kankan, and Zaza, as a way of coping with their post-concert depression. "Borahae" translated to "I purple you," a phrase coined by member Kim Taehyung, aka V. The phrase suggests the notion of loving their fans until the very end, because purple or violet is the last color of the rainbow.
"Borahae from Manila became our refuge after MOTS ON:E," Nikko explains. "It became our space to celebrate BTS every single day, to freely talk about RM, Jin, Suga, j-hope, Jimin, V, and Jungkook, their music, their achievements, their variety show, BTS, BT21, TinyTan merch (!!) – everything about the boys with fellow fans." Now, the group has around 1,400 members and counting.
ADVERTISEMENT - CONTINUE READING BELOW
Serving as a good example to fans, the BTS members are known to engage in humanitarian efforts and give back to the community when they can, which gave the admins of Borahae from Manila plenty of inspiration and motivation to do the same. "It's difficult to give just one example," Nikko admits. "There are the huge gestures, like their $1M donation to Black Lives Matter which, as everyone knows, ARMYs matched in just a few days. The boys also recently spoke out against Asian hate and racism."
Even the smaller gestures also have a huge impact on their fans. "How the boys themselves take care of each other also remind us to be kinder to our siblings, our friends, to the people around us," Nikko says.
Music-wise, BTS has a lot of meaningful songs in their discography. But if there's one song that perfectly fits the sentiment of starting a community pantry to help those in need, the group says, "it's Anpanman. It's BTS' song named after a Japanese anime character who doesn't have superpowers but strives to help others the best way he can."  
ADVERTISEMENT - CONTINUE READING BELOW
Teamwork makes the dream work.
A few days after the first few community pantries were set up, Joan decided to ask the Facebook group if they'd want to start their own. "The answer was an overwhelming yes. A number of our members quickly formed the core group of planners and organizers," Nikko says.
Everyone used their expertise and their connections to build their community pantry from the ground up. Nikko explains, "Zaza became the team leader on the ground, Lia and Maryanne took charge of online coordination and monitoring of donations, and Andi solicited and coordinated donations. Kankan designed our banner that included the BTS photo and our BFM and Magic Shop ARMY community pantry logos."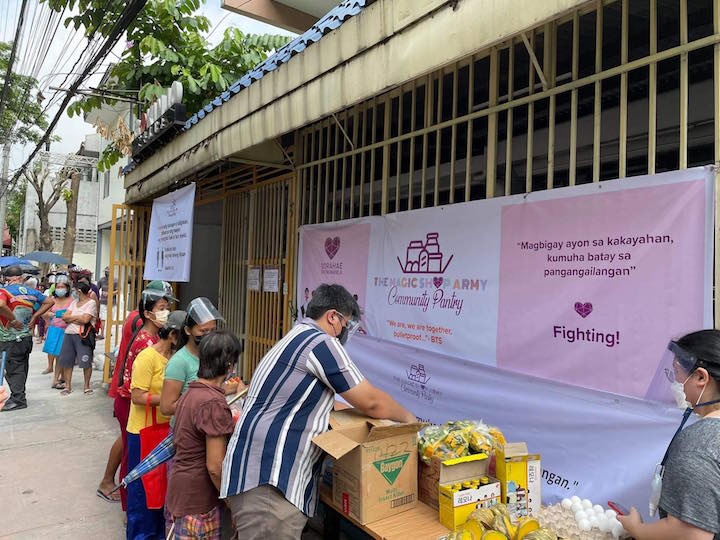 ADVERTISEMENT - CONTINUE READING BELOW
Several members also offered their restaurants as locations for the community pantries. "Our members, Pepa and Byron, offered their restaurant space in Marikina for our first day, Zaza's friend Enrique offered his restaurant, Mijo, to be our site in Poblacion, Makati."
This isn't the first time they had an outreach program, however. The group donated their registration fees to UNICEF Philippines for BTS and UNICEF's Love Myself Campaign, an initiative that, as explained by Nikko, "aims to protect children from all forms of abuse and violence, as well as empower local communities to prevent violence."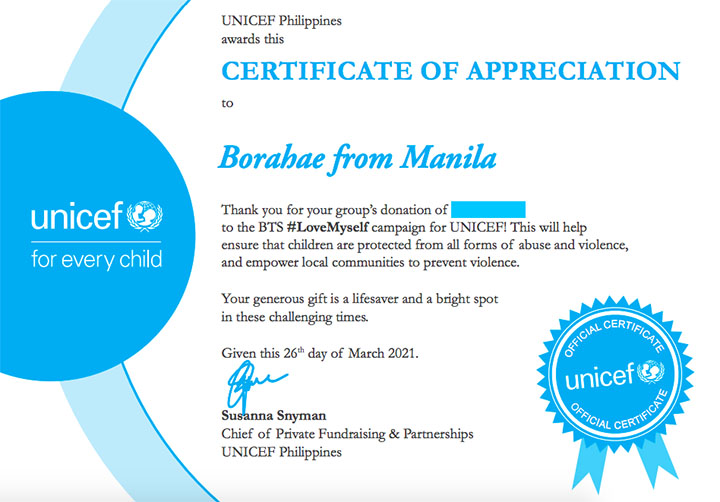 ADVERTISEMENT - CONTINUE READING BELOW
The biggest challenge for them was strictly enforcing social distancing. 
The biggest challenge for the group was the enforcement of social distancing. "It's tough to be one meter away from each other while there's a really long queue," Nikko explains. "and of course, it's natural for a person to linger a bit on the table while choosing what they need for their homes." To address this, several members were on-site to coordinate with local government units regarding the enforcement of social distancing and other health and safety protocols.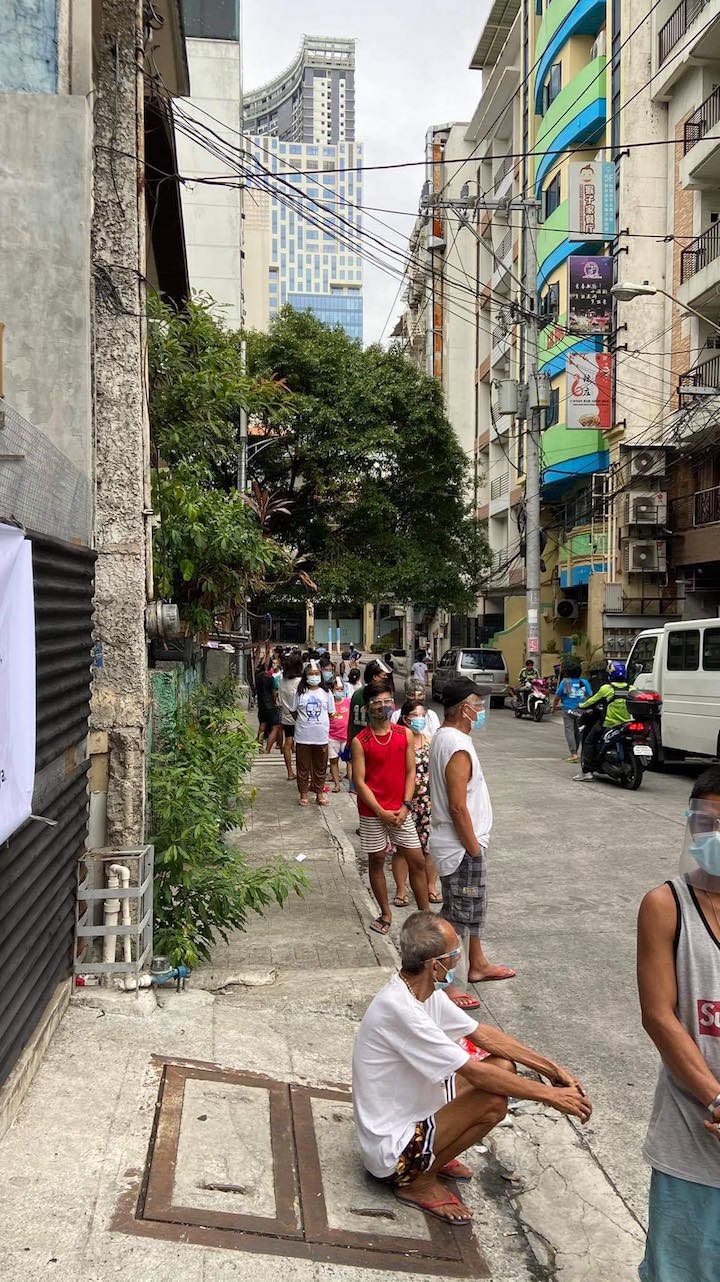 ADVERTISEMENT - CONTINUE READING BELOW
Chel Diokno personally dropped by to bring his donations.
Aside from the members of the group, even non-fans offered a helping hand to sustain the pantry. Atty. Chel Diokno, who personally knows one of the group's admins, Nikko, offered to help. "It was a coincidence that on the night the Borahae from Manila volunteers met online to organize the community pantry," Nikko says. "[I] received a message from Dean Chel about the guidelines he tweeted on what to do in case law enforcers visited one's community pantry."
When Atty. Diokno found out that the group was actually starting their own pantry, he decided to bring some donations himself and even chatted with the members while observing the entire initiative. "He nodded and—under his mask and face shield—you know he smiled at each one who passed us, thanking us for the food."
ADVERTISEMENT - CONTINUE READING BELOW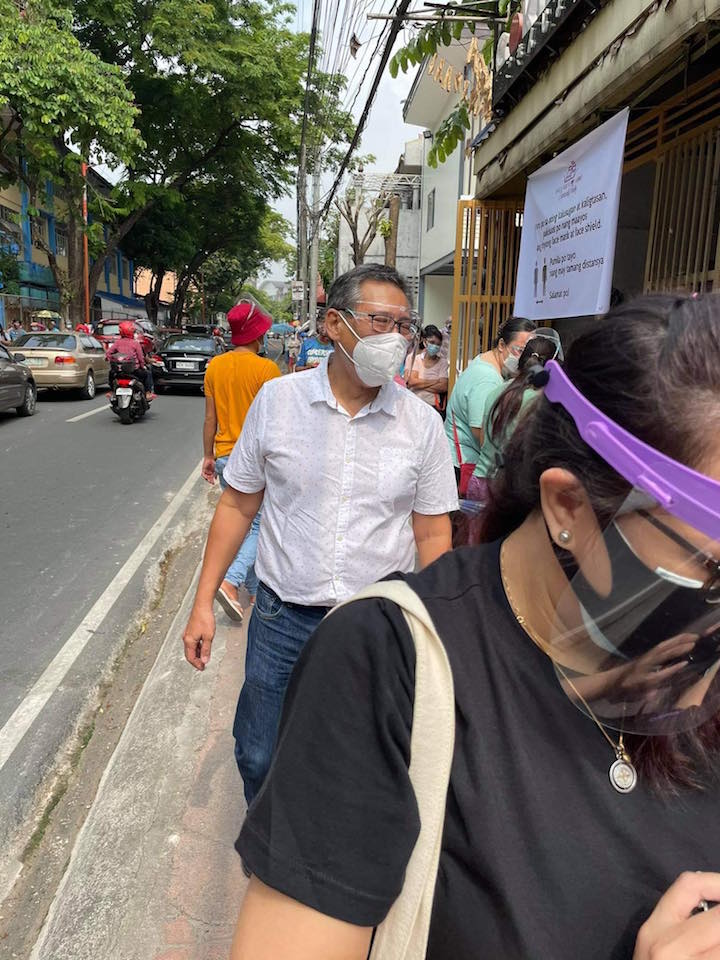 One conversation the members had with Atty. Diokno was how to keep the community pantry going. "It's something that the Borahae from Manila community pantry organizers are now discussing," Nikko says.
Borahae from Manila intended to have a five-day run for their community pantries, with sites in Makati and Marikina.  For the last three days of their operations, they teamed up with the ICM nuns of St. Theresa's College who also started their own community. They will put up a site outside the ICM convent in Banawe Street, Quezon City on April 28, 30, and May 1, from 7:30 a.m. up until supplies have run out.
ADVERTISEMENT - CONTINUE READING BELOW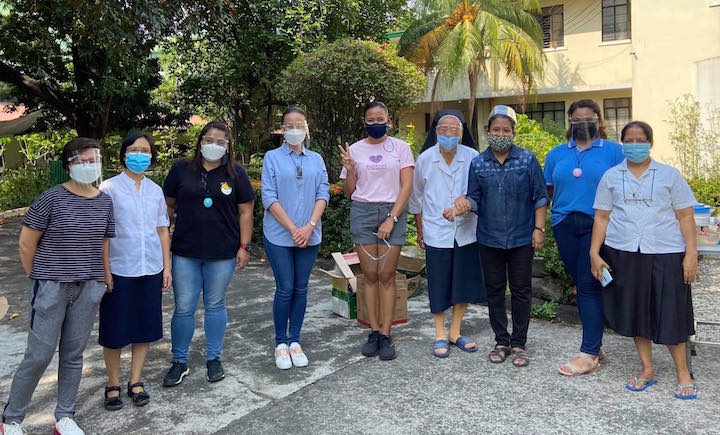 "After May 1, we still have to decide where the Magic Shop community pantry will pop up next but Borahae from Manila is determined to have another one in May and at least once or twice a month in the succeeding months," Nikko says. "Hunger doesn't end with a bag of vegetables, rice, and canned goods. There's no end in sight for the pandemic which means there will still be so many families that will struggle to put food on the table." 
ADVERTISEMENT - CONTINUE READING BELOW
***
#WATCHCANDY: Subscribe to Candy Magazine on YouTube and follow @candymagdotcom on Tiktok for guides to college life and beyond.
Candy is now on Quento! Click here to download the app and enjoy more articles and videos from Candy and your favorite websites!