News flash for college juniors and seniors: Thesis Season is around the corner! Excitement and nervousness start to rise because it is the last major requirement they have to complete before throwing caps at CCP. But before all that excitement, enduring months of sleepless nights, reading hundreds (not exaggerating) of journal articles, having late-night dates with Word and GDocs, and an abundance of revisions is a rite of passage to get that diploma.
All of these apprehensions about the thesis process might sound intimidating and stressful. But these former students awarded for Best Thesis, Anne Bonsato from St. Scholastica's College, and Monique Co and Jane Pascual from De La Salle University, are here to impart tips and stories of their ups and downs to motivate you throughout the process. And more importantly, introduce you to another side of the thesis journey – the fun and gratifying one!
Anne and groupmate Arabella Tingo did their thesis on Childfree by Choice: Multiple Case Study of Voluntary Childfree Women, Monique and groupmates Jasmin Pila and Revan Manzano's thesis is A Study on Asymmetric Cost Behavior among Banks in the ASEAN-5, while Jane together with groupmates Camille Pascual, KD Mercado, Sean Go, Jorgia Romero, and Sheridan Villanueva did their thesis on An Integrated Marketing Communications Campaign for Green Cross Total Defense.
ADVERTISEMENT - CONTINUE READING BELOW
Read on to see what Anne, Monique, and Jane have to say regarding their their personal experiences:
On choosing the best thesis topic
The start is always the hardest, they say. This is the part where you have to assess your skills and weaknesses as a researcher and acknowledge what specific topic or advocacy you are willing to commit yourself to for the rest of the year.
For Monique, there are three essential factors to consider: the study's novelty, the availability of the related literature, and the clarity of the methodology in testing the hypothesis.
"Novelty in the sense that it adds new and profound insights to existing research," she explained, "It's important to show that the study was built on a plethora of previous research. Also, RL defended the plausibility of the initial hypotheses."
Anne considered the importance of personal interests and advocacy in choosing the best topic. "We wanted to explore women who chose not to restrict their choice on the expected milestone and to emphasize women's empowerment in every aspect of our lives," she shared.
ADVERTISEMENT - CONTINUE READING BELOW
As an advertising major, Jane challenged herself to take on the "hopeless cases" in their field. "I think it is more fulfilling to work on a brand that everyone thinks is impossible to do," she explained. "The more problematic it is, the more interesting it is. Especially if you're able to find a solution to the problem." 
The importance of a "thesis mate"
Like any other relationship, you have to be ready to invest all your trust and support in your thesis mates because thesis is not just a requirement you have to pass; it is a commitment you have to cultivate.
Anne's friendship with her thesis mate, Arabella Tingo, made everything easier for the both of them. Anne shared, "We've been friends since the second semester of freshmen year… we were able to know each other's weaknesses and fill in those gaps." They believed that prioritizing each other's mental health over anything else made a big difference in their attitude towards the whole process.
ADVERTISEMENT - CONTINUE READING BELOW
Further, one important tip she shared was, "You should choose a group or partner that has the same goal as you and that you trust each other's ideas."
Like Anne, having a common goal was also a defining factor for Monique that made her and her thesis mates' (Jasmin Pila and Revan Manzano) relationship successful. "I think what went well for us was that even if our own responsibilities were clearly defined, we never hesitated to catch one another," she shared. "So, we were okay with additional work or rework if doing so would improve our thesis."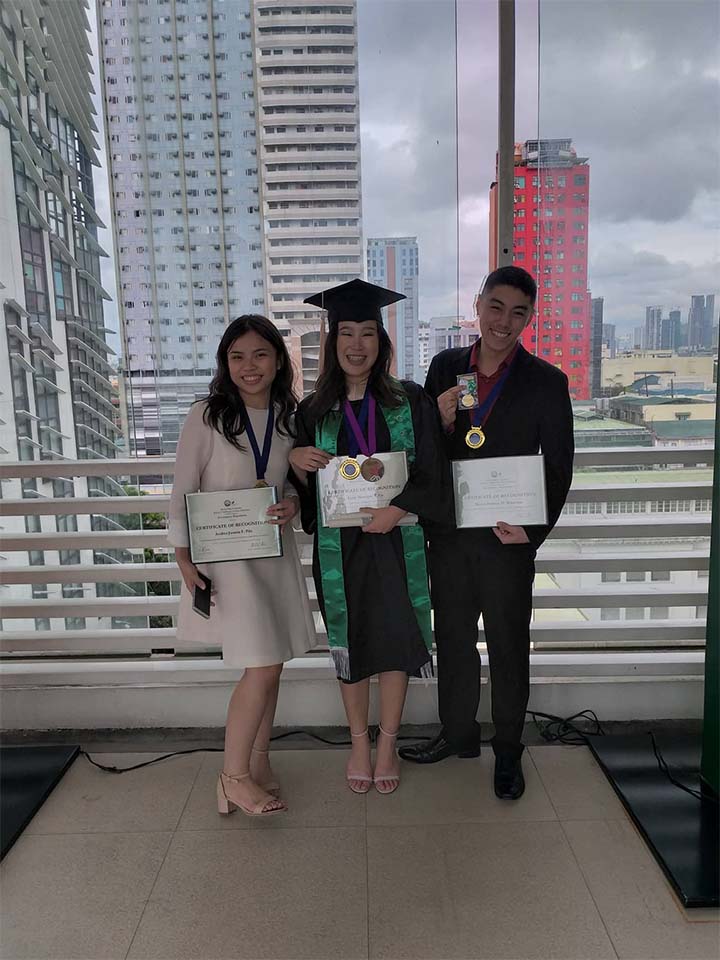 ADVERTISEMENT - CONTINUE READING BELOW
Jane shared how important it is to acknowledge when to rest and give time for leisure to attend to each other's needs. "The fun moments outweighed those conflicts. We deal with the conflict at first and tried to move on from it by taking a break or eating out or singing our hearts out for a while, then go back to work." 
How to surpass the most difficult phases in the thesis process
For Anne, gathering their participants is one of the hardest methods based on their experience. By expanding their connections and being resourceful, they were able to accomplish this phase. She also shared a tip when it comes to using tech resources, "Google Docs is the key in terms of revising your documents. We also created a shared email for us to tap professionals and participants that can give us their insights. Use Google Drive [to] store all your back-up journals in case your laptop can't handle everything already!"
ADVERTISEMENT - CONTINUE READING BELOW
In Monique's experience, discussing the findings was the most challenging part of their thesis. "We had to be disciplined and meticulous in drilling down on the whys and corroborating the analyses with literature." For her, students should take advantage of the consultations with thesis advisers to have the most reliable help organizing and analyzing their ideas to improve their work. Further, she advised giving importance to every piece of data, whether minor or major detail. "Even for the insignificant results, we found insights that added value to our overall study." 
For Jane, time management was their main issue; thus, it is important to recognize each member's strengths and weaknesses to assist each other efficiently. "As a team, we recognized this and decided to solve the case by dividing the thesis tasks based on the expertise of each member."
To effectively defend your paper to the panelists
Monique advised, "If the central theory is complex, you might want to consider creating an introductory video that visually explains the concept. This efficiently refreshes the panelists' memory."
ADVERTISEMENT - CONTINUE READING BELOW
Anne shared the most common question every presenter has to prepare for, "Why are you pursuing this study if there are relevant studies made in the past?" And she advised, "Consider the relevance of your thesis in the generation that we have now and place yourself in the shoes of your participants and communicate it to your panels."
She also shared a pro tip: "Index cards will be your best friend; make it a month before defense if possible."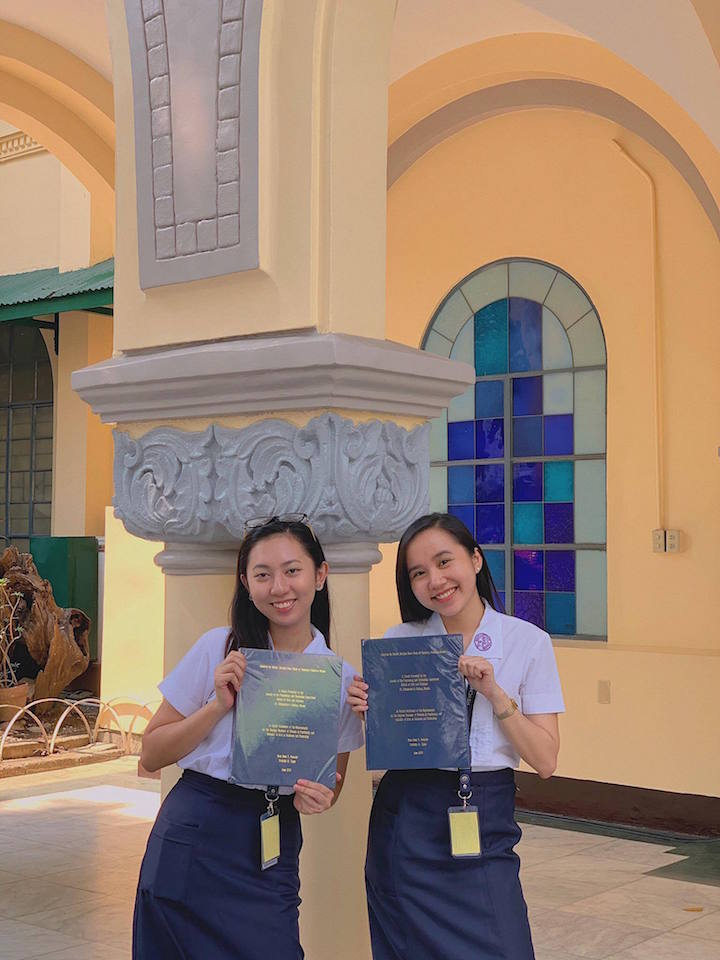 ADVERTISEMENT - CONTINUE READING BELOW
For Jane, it is all about owning your work. "Don't feel intimidated by the people you're presenting to. Always remember that you know the topic better than them," she said. "Prepare a direct to the point script for your presentation… think of possible questions that they might ask and find the answers to it in advance."
One advice they discovered along the way
Monique shared, "Contrary to popular belief, thesis can be a pleasant experience. Roadblocks are part of the research process, not the dead end. To succeed, there are no shortcuts – you need to self-learn a lot of things (using databases, understanding complex methodology, among others). Lastly, you need to have genuine curiosity about your study."
For Anne, "Just be patient, especially when it comes to searching for RRLs and gathering participants. If you're doubting that your topics will not be given that much appreciation, please take a risk. Sometimes, unpopular or deviant ideas will bring you a lot of learnings and insights. Besides, the reason you are doing this study is to share the new knowledge to our youth."
ADVERTISEMENT - CONTINUE READING BELOW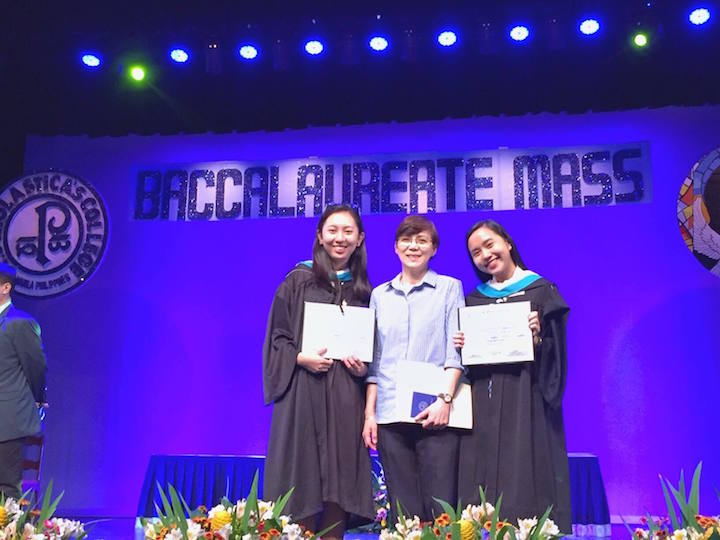 Jane advised, "Choose your teammates carefully. Choose classmates that you feel you have chemistry with. You don't have to choose your closest friends as thesis mates. I'm actually not close with my teammates prior to our thesis journey but I still chose them. I experienced working with them on other projects and I found it easy to work with them. Don't forget to have fun along the way."
ADVERTISEMENT - CONTINUE READING BELOW
***
#WATCHCANDY: Subscribe to Candy Magazine on YouTube and follow @candymagdotcom on Tiktok for guides to college life and beyond.