The first time I crossed paths with Bella Racelis, it was through the screen of my laptop. Our connection was a bit faulty, the audio a little choppy, but no amount of digital constraints could bring down the then-19-year-old's bright smile and sunny disposition. Sat amongst our beauty products, we did our makeup together—a YouTube classic for one of the OGs, of course—while I asked her about her life in quarantine.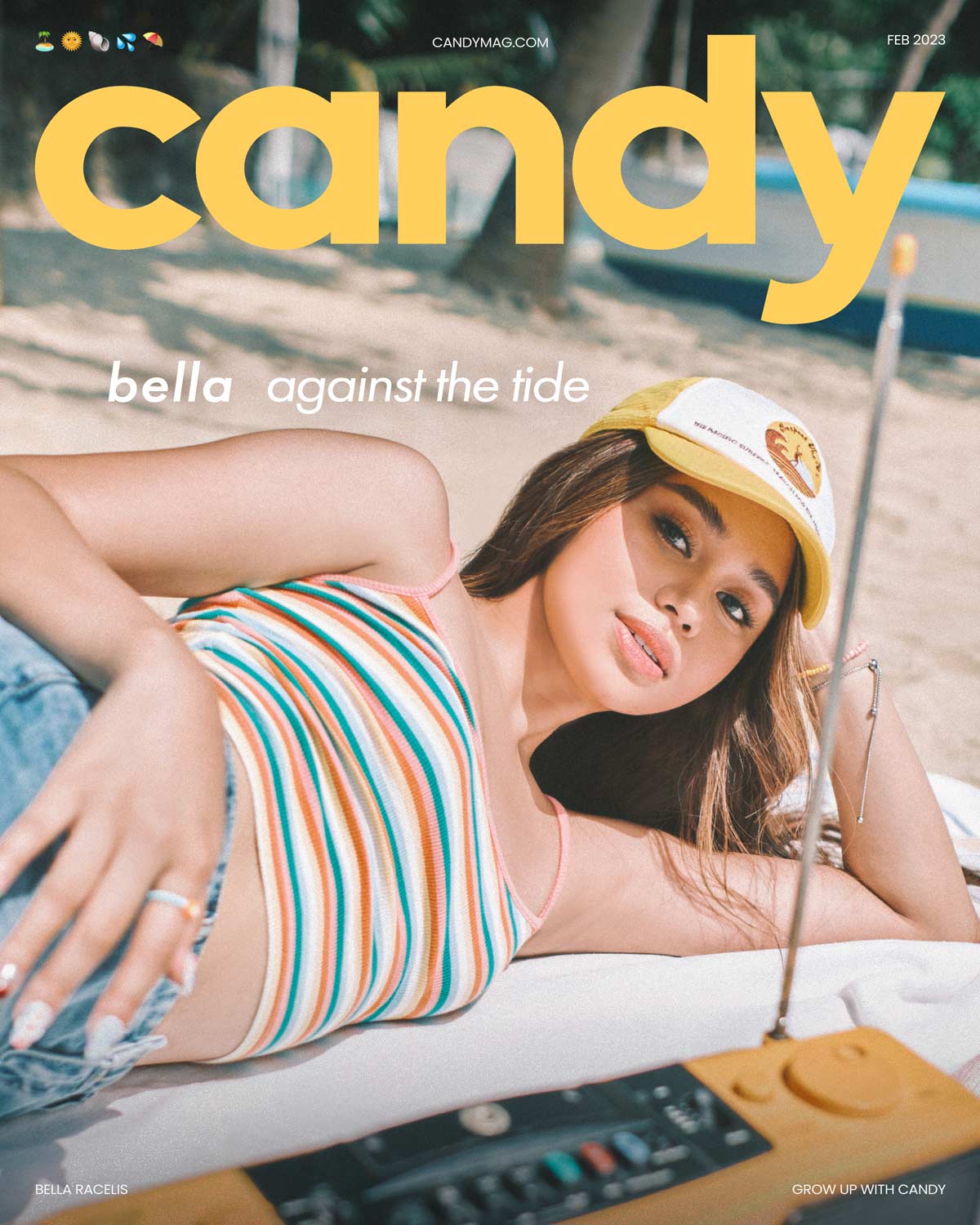 Bella Racelis for Candy February 2023
The second time wouldn't come until a few years later. We were on a beach two hours away from her hometown, and the sun was almost getting ready to bid goodbye. Splayed out on the sand with the wind in her hair and a K-pop song playing in the background, she fixed her gaze on the camera and looked exactly in her element. She was also just as bubbly as ever, constantly making jokes with the team and being game to do anything we asked of her, which is why it came as a surprise to me when she shyly admitted she was an introvert during our interview days later.
ADVERTISEMENT - CONTINUE READING BELOW
Starting Out
"Hala, nagsasalita pala [siya]!" was her family's initial reaction when they found out she was doing YouTube videos. This response was completely valid, Bella (or Ara, as she is fondly called at home) tells me. "As a kid, I was always shy and timid. I didn't really grow as someone who's sociable. I was more introverted kasi before," she admits. "Pag may social events or family reunions, I wouldn't be the one to start the conversation with someone."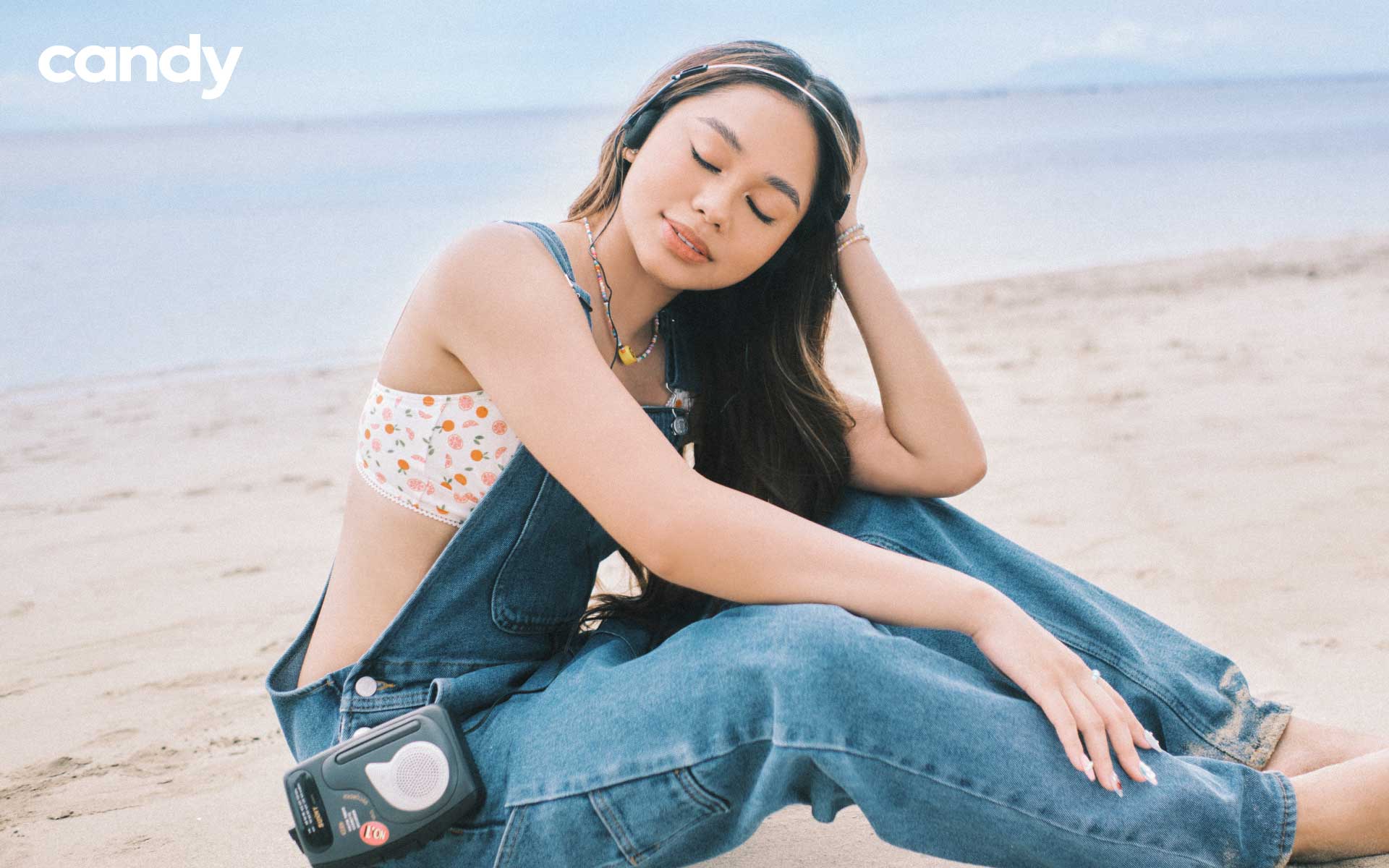 Dungarees, P2700; White Bralette, P800, both MONKI, Mall of Asia. Chunky Ring in Sky, P40; Candy Beaded Bracelet in Froot, P40; Candy Beaded Bracelet in Daria; P40, Kalei Necklace, P199, all BEADSY, shopee.ph/__beadsy.
Growing up as a self-proclaimed introvert, Bella tells me that being a content creator was never really in the cards for her growing up. "I remember I wanted to be a nurse—that's what I put in our grade school yearbook. I also wanted to be a chef," she divulges. "When I was a kid, I would always watch cooking videos, baking videos."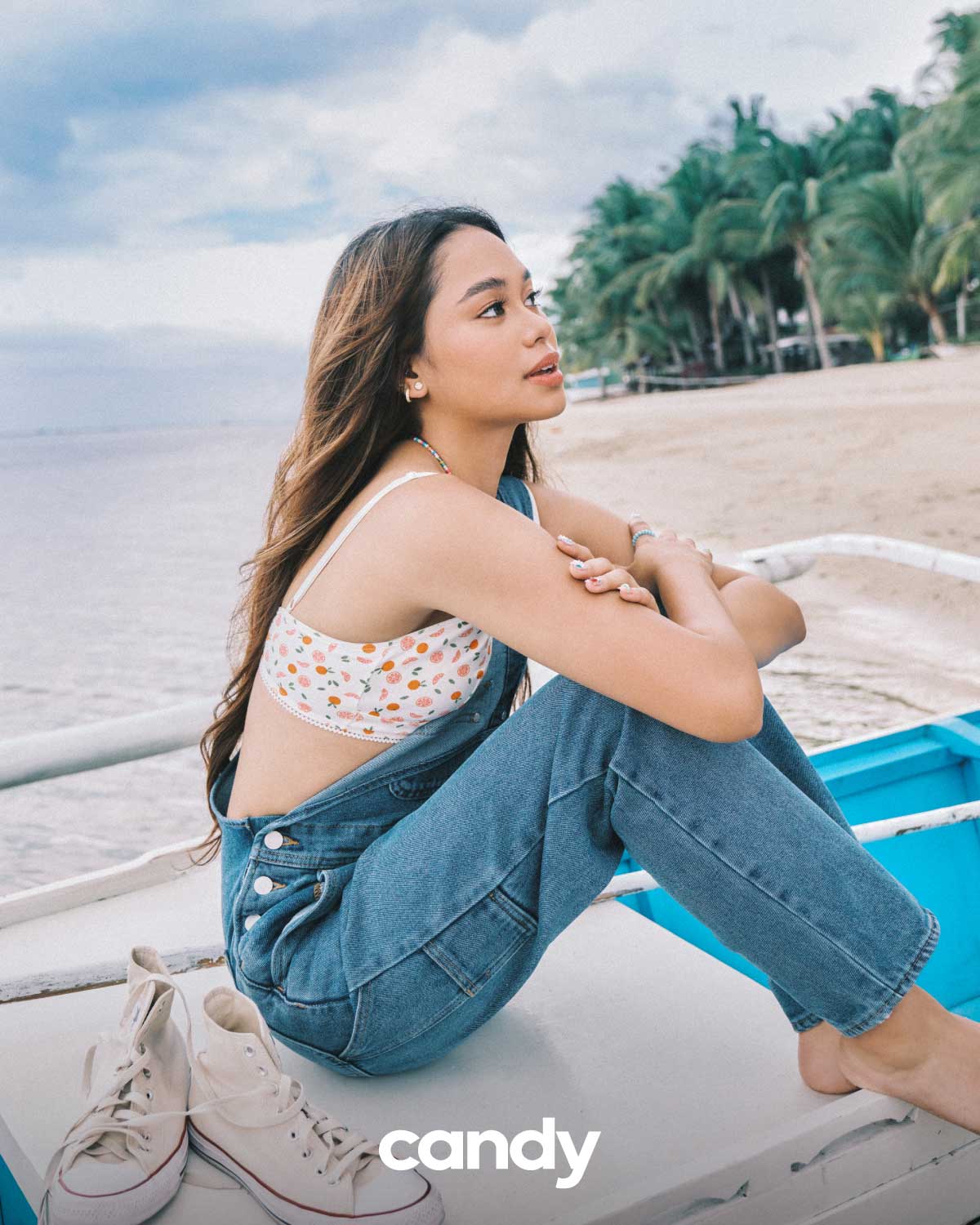 Of course, life has a way of steering you in the right direction, and for Bella, it came in the form of international YouTubers. Like many other young teens in the early 2010s, Bella was fascinated with watching their vlogs. She spent her days following the lives of popular creators like Joe Sugg, Zoella, and Bethany Mota, even admitting to me that she attended multiple YouTube Fan Fests just to see them IRL.
She became enthralled with their content, spending hours watching their videos. "I got addicted to watching [their] vlogs… that's when I wanted to try it out for myself," she shares. Sometime in early 2015, she plucked up the courage to pick up her camera—an iPhone 4s at the time, a far cry from the tech she uses now—and welcomed the internet into the world of ThatsBella.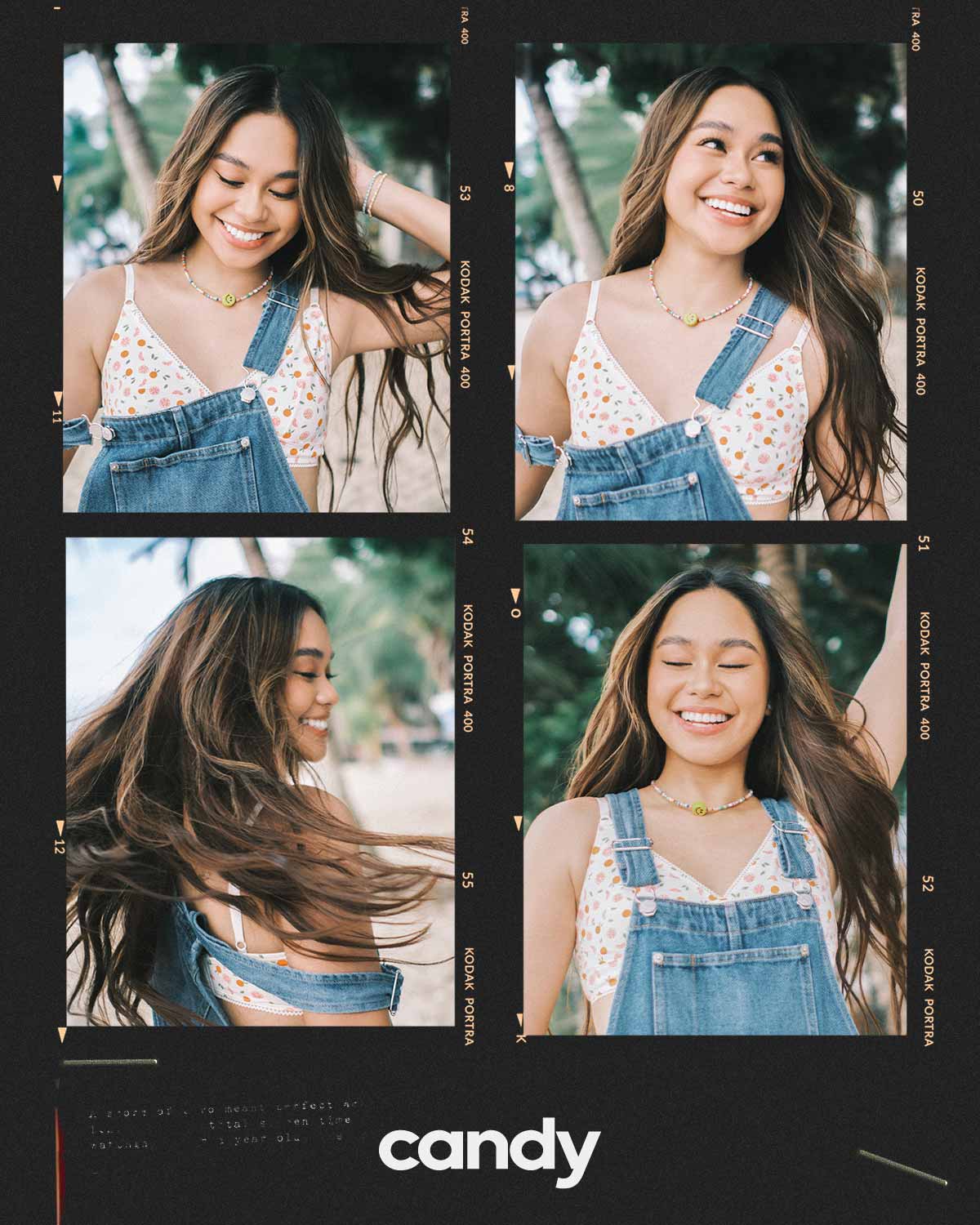 ADVERTISEMENT - CONTINUE READING BELOW
Rising to the Top
If you look at Bella's uploads now, you'll see a lot of daily vlogs, taking her viewers (lovingly called the BellaFam) along with her as she navigates her way through college and her career as a content creator. But if you're an OG fan, you'll know that she loved doing tags and challenges. "It was super easy to create content before," she reminisces. ICYDK, her popular uploads from that time were "what's in my bag" videos, try-on hauls, and her Quick Q&A series featuring fellow content creators and celebrities.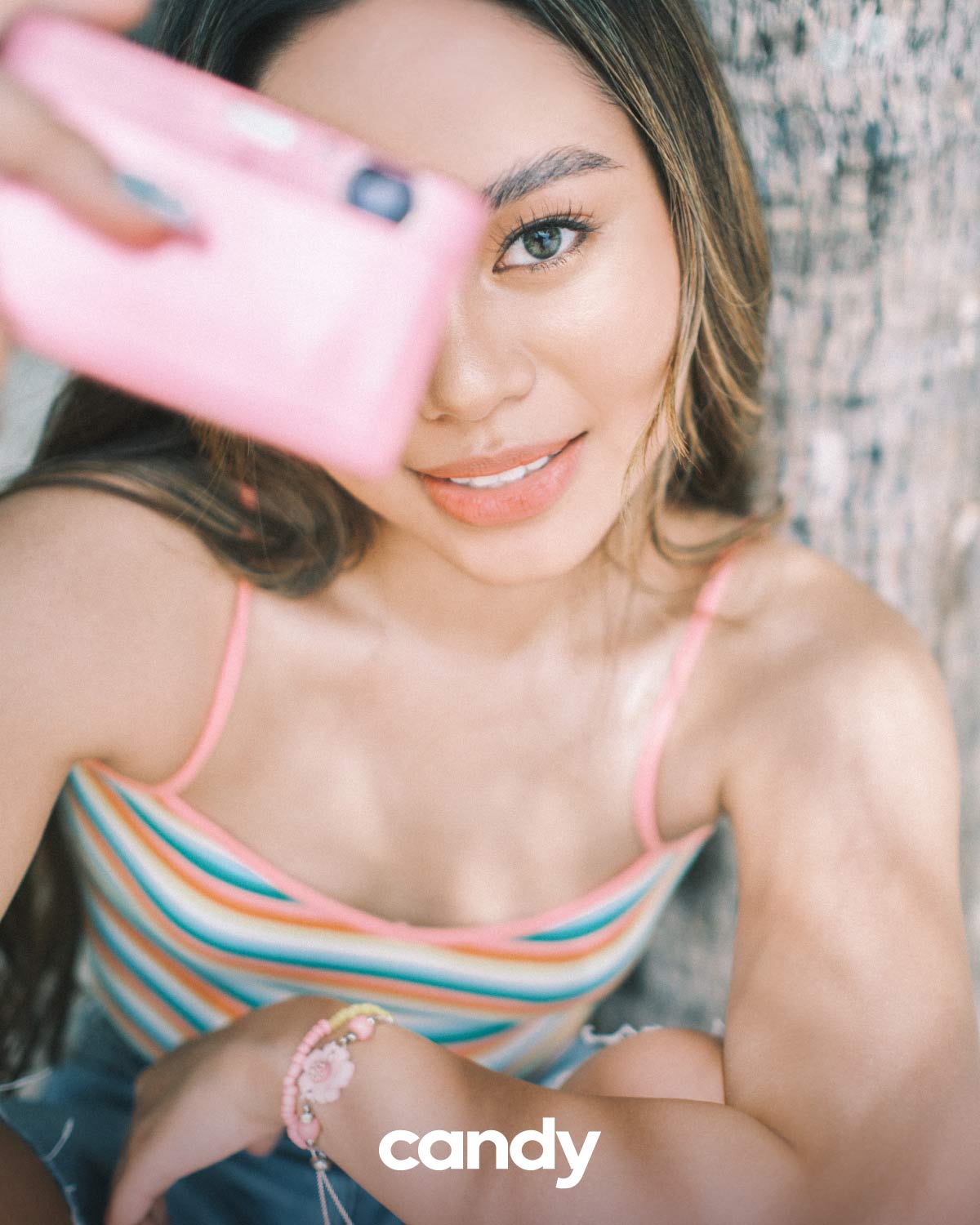 When she started hitting five to six digits in views came the brand partnerships, sponsorships, and paid ads. As a young content creator, navigating her way through the intricacies of her newfound career was difficult, but Bella was lucky enough to have her parents as her compass. 
"One of the pieces of advice they gave was to just enjoy the process," she shares. She also notes how much they stressed to "always remember to value the people who support you," especially her BellaFam. "My family always reminds me to value them because, without them, I wouldn't be able to get to where I am now."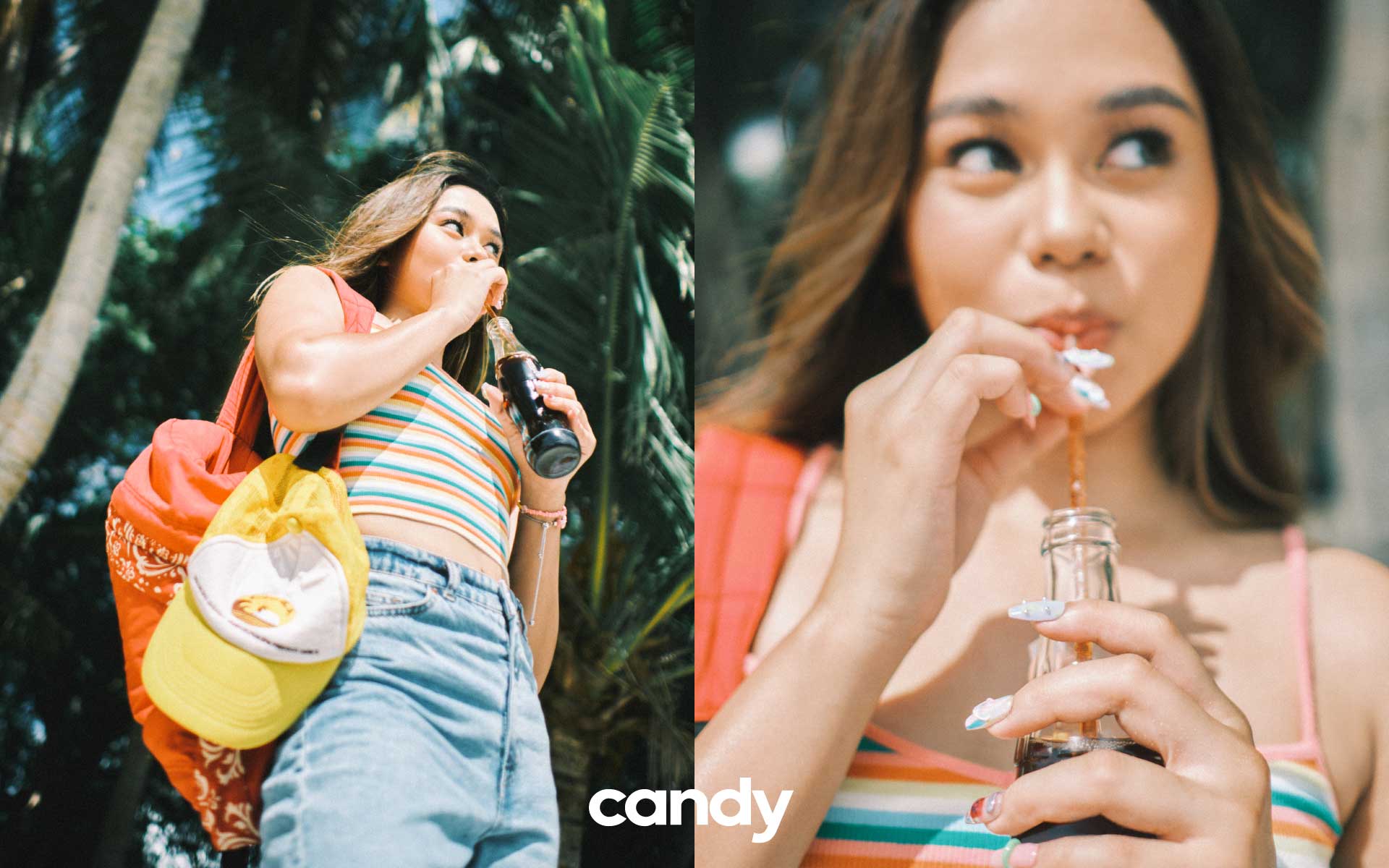 I comment on how surreal it must feel to have grown alongside her viewers, the people who watched her transform from an awkward and lovable 13-year-old into the more confident and headstrong 21-year-old she is today. "It's definitely interesting nga," she agrees with me. Their relationship is a two-way street, according to her. "I easily remember my viewers all the time like when I see them during my events or meet and greets. I've also been seeing these OG fans like in college or randomly in the mall and they're also all grown up," she gushes. "It really feels like we're all growing together and we're a big family."
ADVERTISEMENT - CONTINUE READING BELOW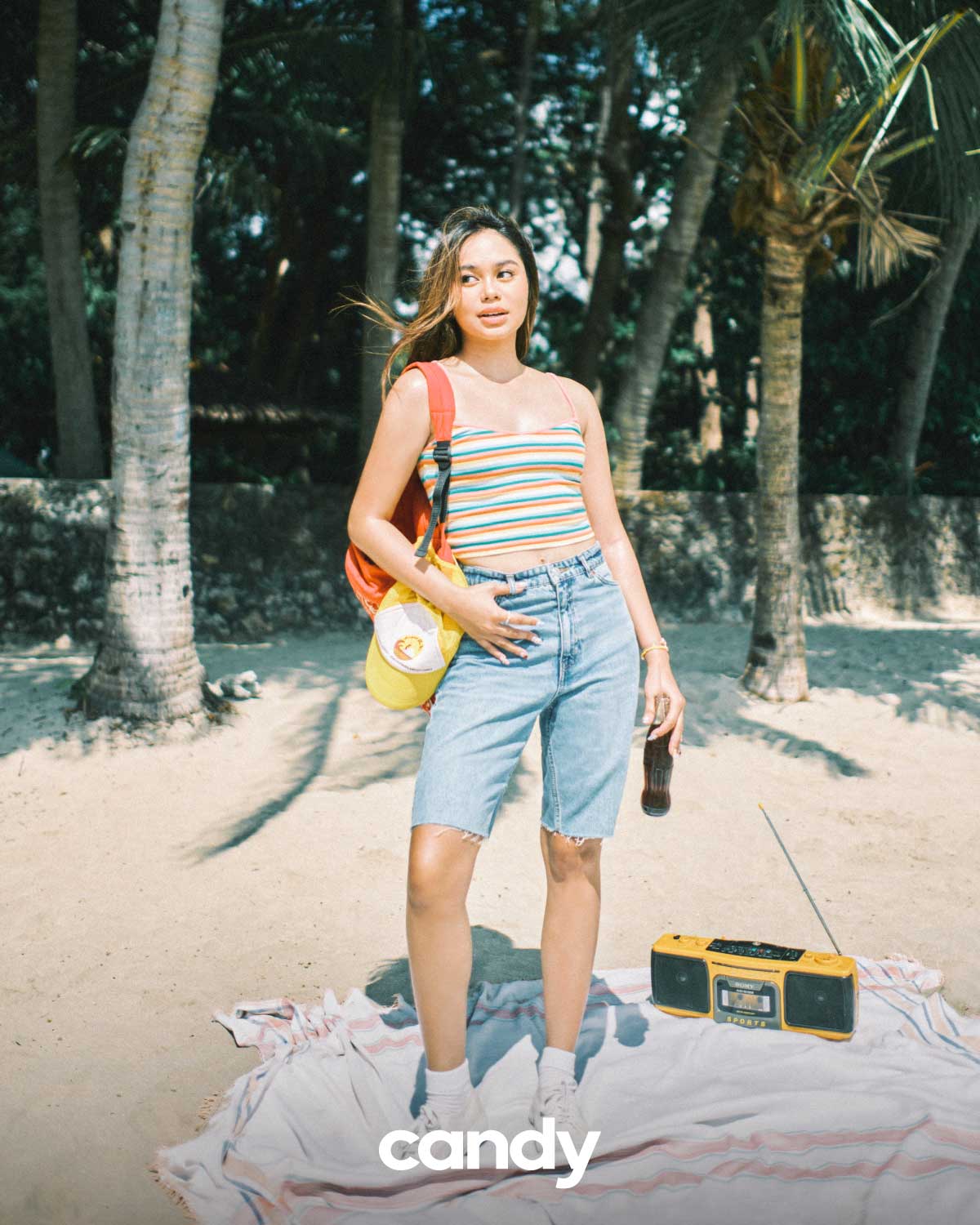 Pink Striped Crop Top, P500; Denim Bermuda Shorts, P1500, both MONKI, Mall of Asia. Heart Ring in Blue, P31; Darla Bracelet in Pink & Yellow, P80, both BEADSY, shopee.ph/__beadsy. Flower Bracelet in Pink, P365, THE CLAY PROJECT, Instagram/theclayproject.ph
At the Top of Her Game
Bella has been in the game for nearly seven years now, and many people have been inspired by her to pick up a camera and take on the same path she went. It's no doubt a lucrative career, but she has an important piece of advice for anyone who wants to become a vlogger like her.
"You have to really think about it because it's really important for you to enjoy the process," she stresses. "I hear stories [of people]... they try to be a vlogger but it didn't turn out well because they didn't enjoy the process and they really weren't passionate about what they were doing, so I think that's a really big rule for me."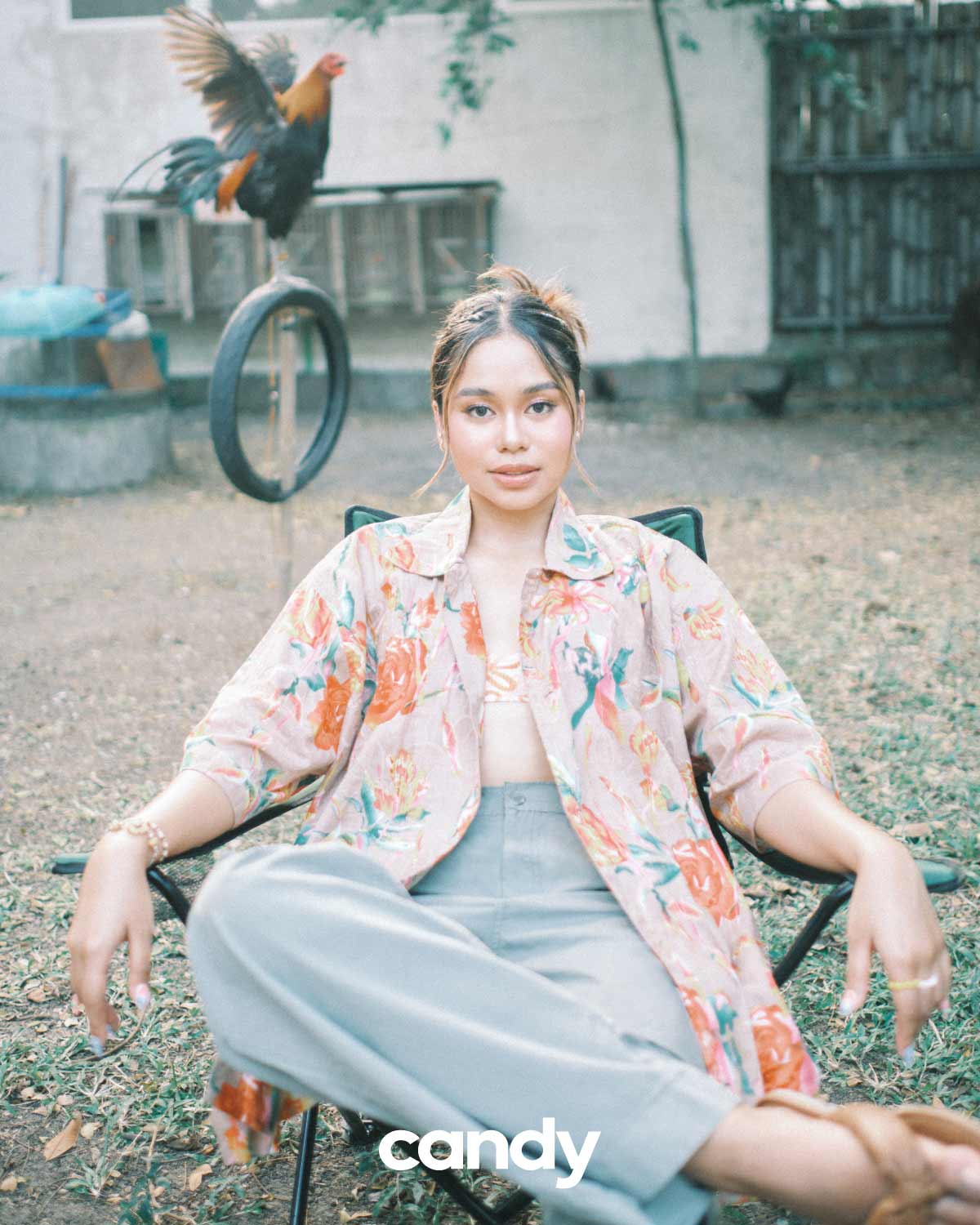 Diwa Flower Shirt in Beige and Flowers, P3900, LA PIRATA, lapiratastudio.com. Willow Underwire Top in Jungle Juice, P1600, BLACKBOUGHSWIM, blackboughswim.ph. Cargo Pants, P2300; Cream Claw Clip, P600, both MONKI, Mall of Asia. Tilda Slips in Tan, P1120, SEBASTIAN & SAVANNAH, sebastianandsavannah.com. Chunky Ring in Cream, P40; Chunky Ring in Mustard, P40; Palette Beaded Bracelet in Retro, P75; Kalei Necklace used as hair chain, P199, all BEADSY, shopee.ph/__beadsy. Flower Bracelet in Yellow, P365, THE CLAY PROJECT, Instagram/theclayproject.ph
Being a content creator can be very rewarding, but without the right support system, you can get lost in the system pretty quickly. For Bella, this happens to be her mom (aka her "momager"). "Since day one, [she] was always there to guide me in every decision I make in my career. Very stage mom vibes, but I'm grateful!"
ADVERTISEMENT - CONTINUE READING BELOW
"When I upload vlogs, pinapanood niya before I post it para if may corrections siya or may gusto siya ipatanggal, [I can work on them first]... Para siyang MTRCB!" she quips.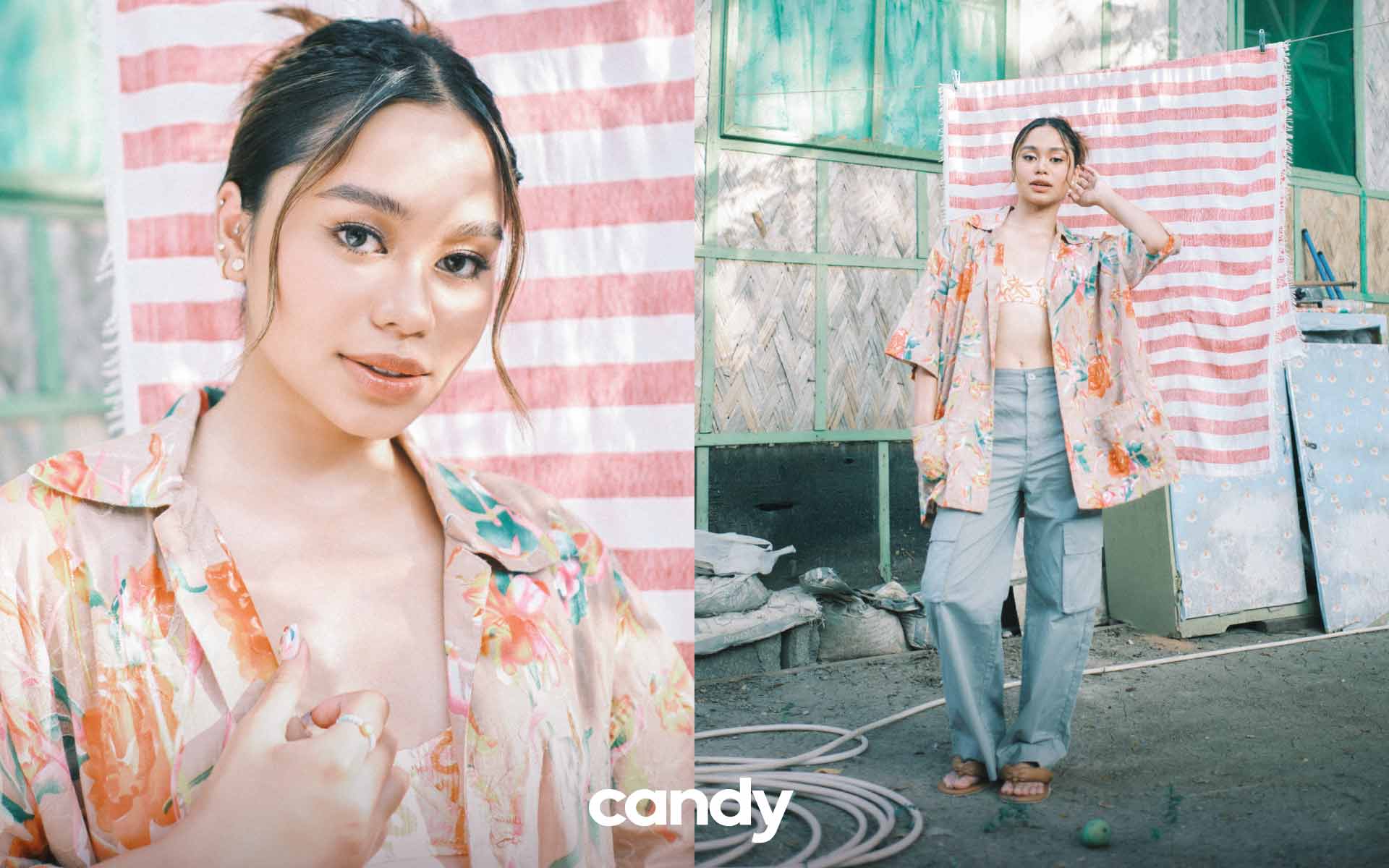 Tone turning serious, Bella explains that she relies on her mom to be her second set of eyes whenever she does her deliverables for the brands she works with. "When I show [her] the picture that I took with this product and di [siya] nagagandahan, she advises me na parang, 'You're working with this brand, they're paying you, you should put in the extra effort. They got you because they trust you, they know that you'll do better than that.' She guides me in everything and I'm very grateful for that," she notes.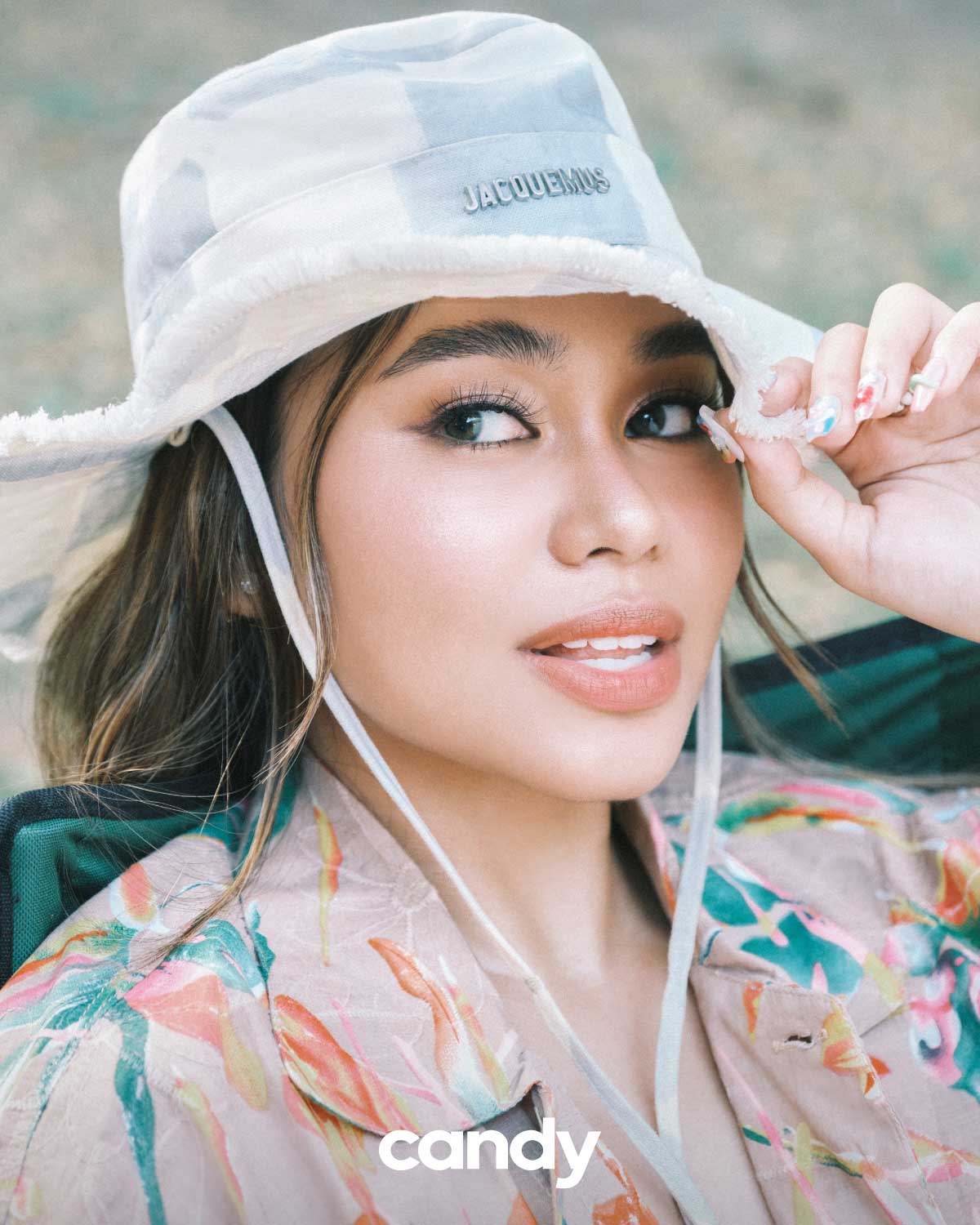 Le Bob Artichaut, $135 (approx. P7444), JACQUEMUS, jacquemus.com.
Being a successful content creator can undoubtedly open a lot of doors. Bella reveals that she has been invited to hosting opportunities on television, and has even been offered plenty of times to become an artista herself. This is no surprise, as the YouTuber-to-artista pipeline has become so common in the industry these past few years, though only a few were successfully able to cross over to the mainstream. 
For Bella, she says that she never really saw herself as being one. "I don't really see myself being an artista or entering showbiz because it's stressful… Ibang mundo talaga. For now, I'll stick to being a YouTuber," she decides. Will she completely close herself off from crossing over in the future? There was a beat of silence as she ponders my question. "Who knows? But I really love YouTube."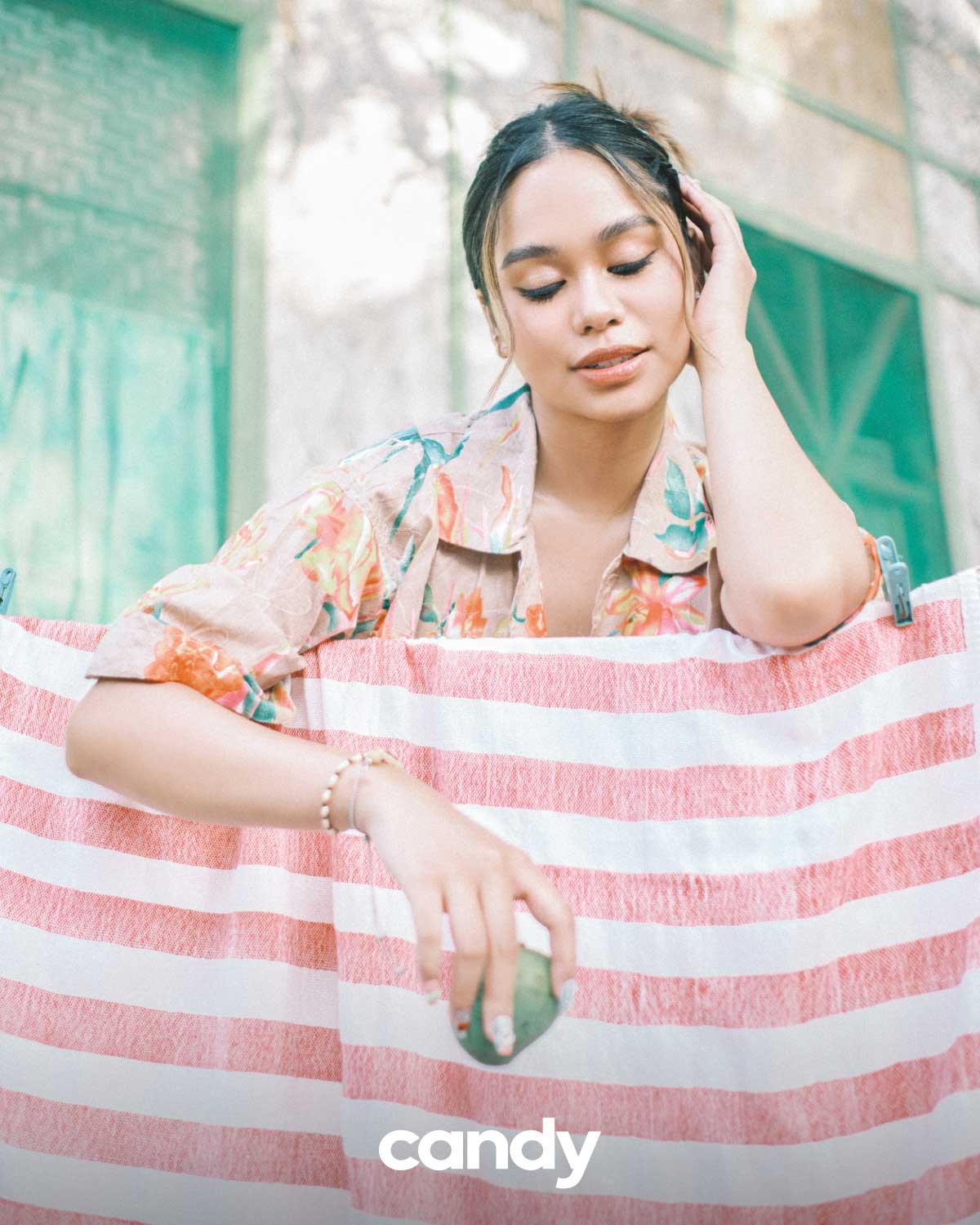 ADVERTISEMENT - CONTINUE READING BELOW
In fact, it seems like being an artista is not the definition of success for the 21-year-old. When I asked her about the exact moment she felt like she "made it," her answer was plain and simple. "Being one of the performers at YouTube Fan Fest. I think it's every YouTuber's dream to be a part of it," noting that being invited to be one of the main performers at the 2019 convention felt like such a full-circle moment for her. "It's really one of my fondest memories."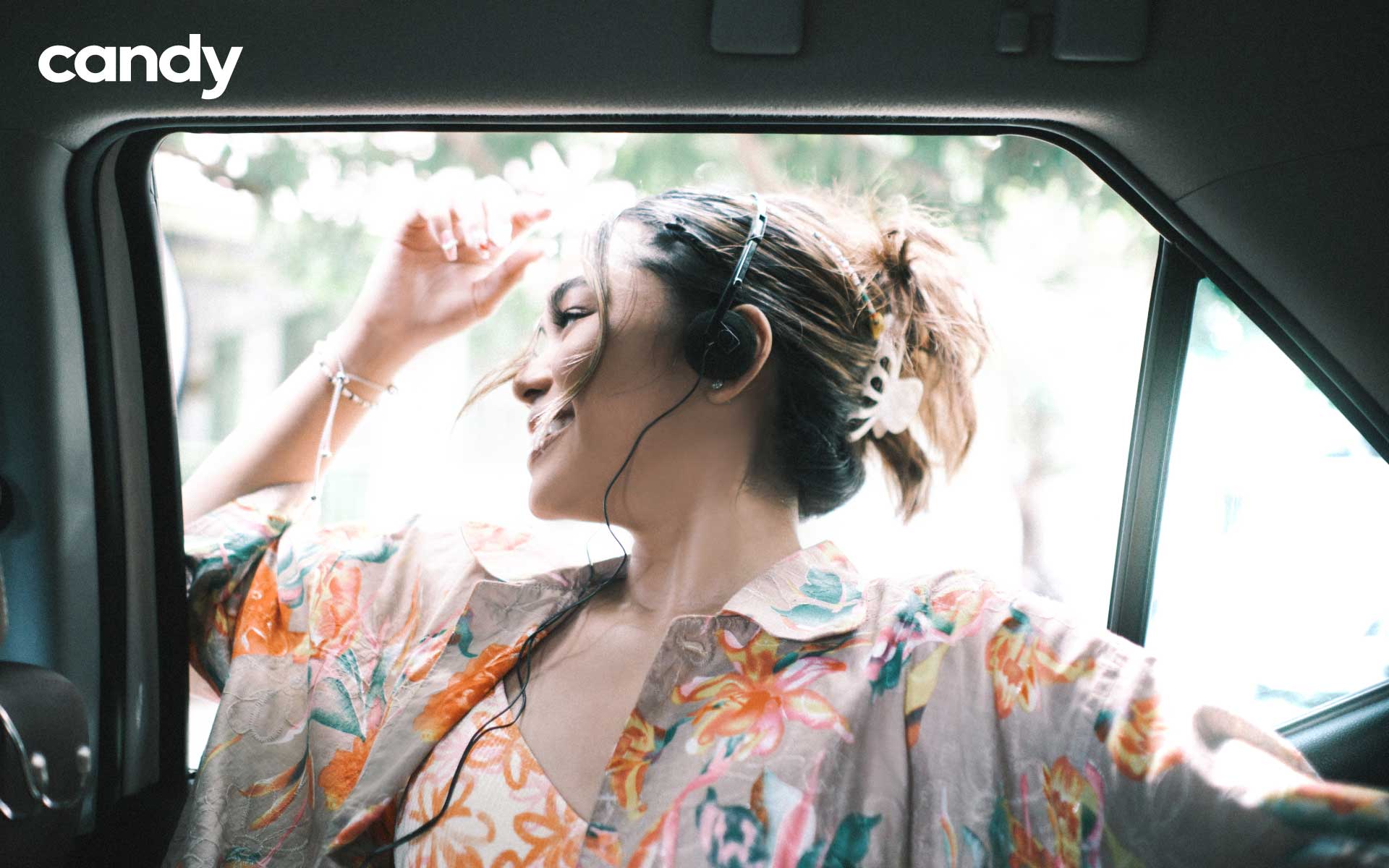 Standing Her Ground
When you share your life on the internet for all the people to see, it's an unspoken fact that you consent to having hundreds of thousands—in Bella's case, a million—eyes trained on you. Bella is aware of this and has been used to it for a few years now, and her BellaFam has been nothing but positive all throughout. Of course, she still isn't immune to the occasional hate comment or two—it comes with the job, after all.  
"There are still some instances where I read hate comments as in di ko na yun maiiwasan, I like to read [them]. But when I read hate comments, I feel bad after," she reveals. But for the most part, Bella employs a DGAF attitude when it comes to bashers. "Most of the time, I don't deal with them. I always like to remind myself that if it doesn't really give me good energy and vibes, why should I waste my time on dealing with difficult people?"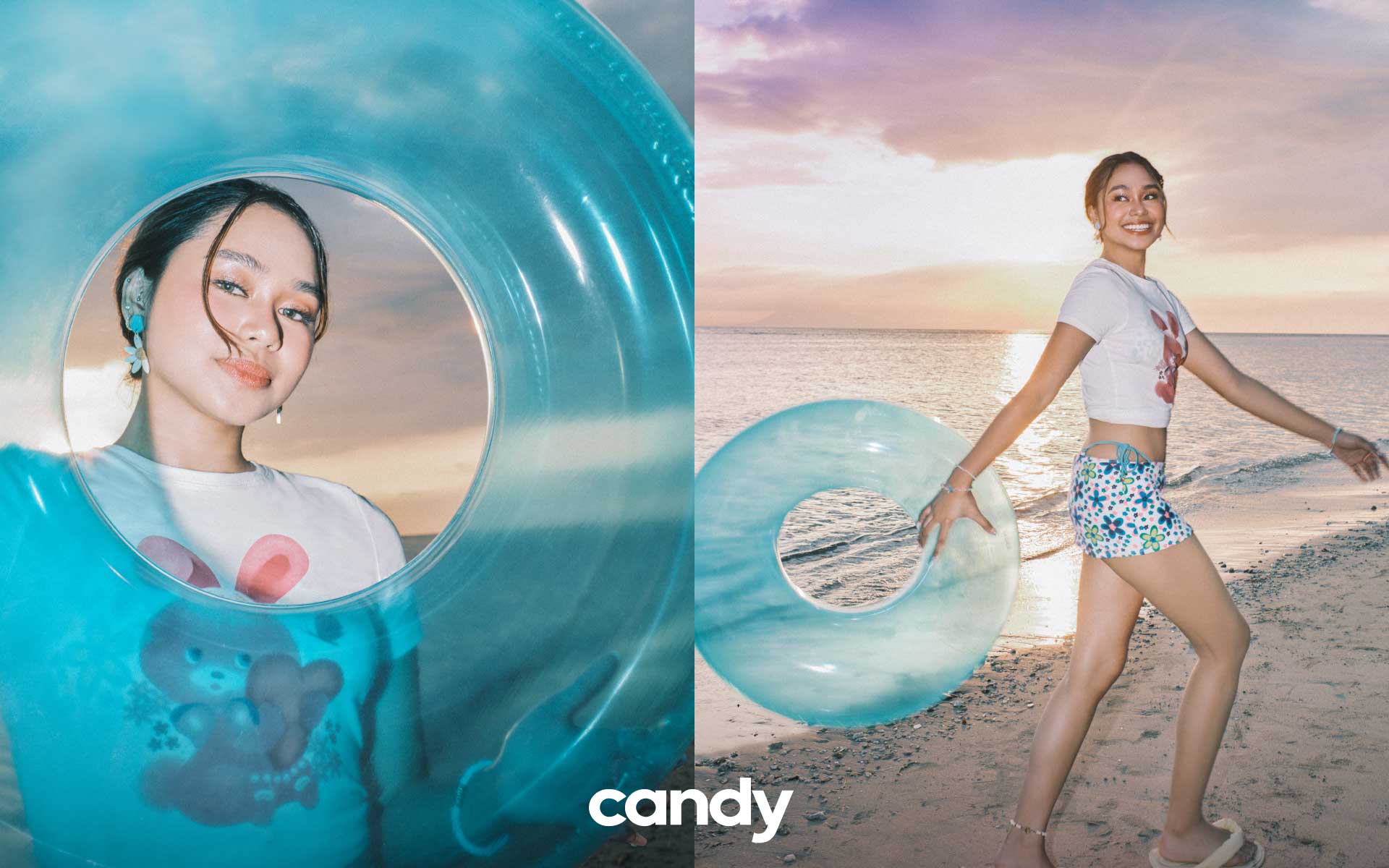 White Graphic Tee, P900, all MONKI, Mall of Asia. Liv Tie Front Triangle Top in Funky Town, P1600; Liv Ruched String Bottoms in Funky Town, P1400; Barbara Mini Skirt in Funky Town, P1300, all BLACKBOUGHSWIM, blackboughswim.ph. Tilda Slips in Butter, P1120, SEBASTIAN & SAVANNAH, sebastianandsavannah.com. Flower Earrings, P200; Blue Clay Chip Bracelet, P380; Shell Toggle Anklet, P420, all THE CLAY PROJECT, Instagram/theclayproject.ph. Nabi Ring in Nabi Blue, P30; Chunky Ring in Pink, P30; Bloom Bracelet in Blue, P175, all BEADSY, shopee.ph/__beadsy.
ADVERTISEMENT - CONTINUE READING BELOW
This sentiment rings true when I bring up the name of a certain heartthrob actor she was linked to last year. At the time, it was impossible to say his name without also dragging hers into the picture, and the mainstream public was harsh and unforgiving, a far cry from the safe YouTube bubble she was used to all these years. 
"Yun yung pinakamatinding time na super dumami yung haters," she reveals. She's mostly kept mum about the whole debacle ever since it surfaced, but she allows herself a few words. "I've learned to protect my peace, and I'd like to keep it that way this year and the following year."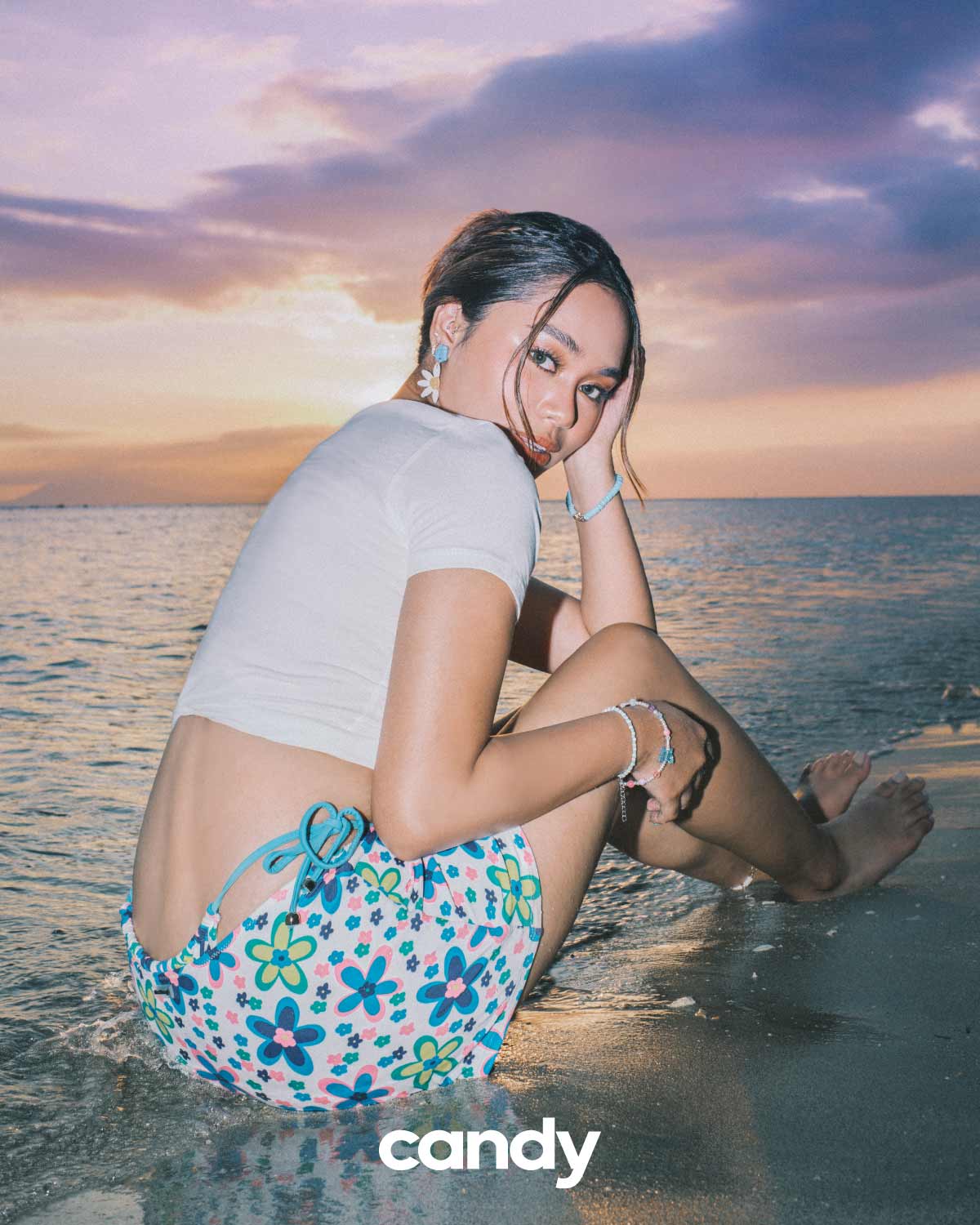 In the Pursuit of Happiness
Despite being a vlogger for nearly seven years now, our February cover star has never once thought about quitting, though there were times when she teetered close to the edge. "I wanted to pause muna sa pag-u-upload. I think napansin din yun ng viewers ko," she answers thoughtfully. "I really wanted to have that work-life balance for my own sanity and mental health. Dati kasi, I upload once a week, but now I do it twice a month. It's just more of giving myself a break because I don't wanna publish content I'm not really happy with."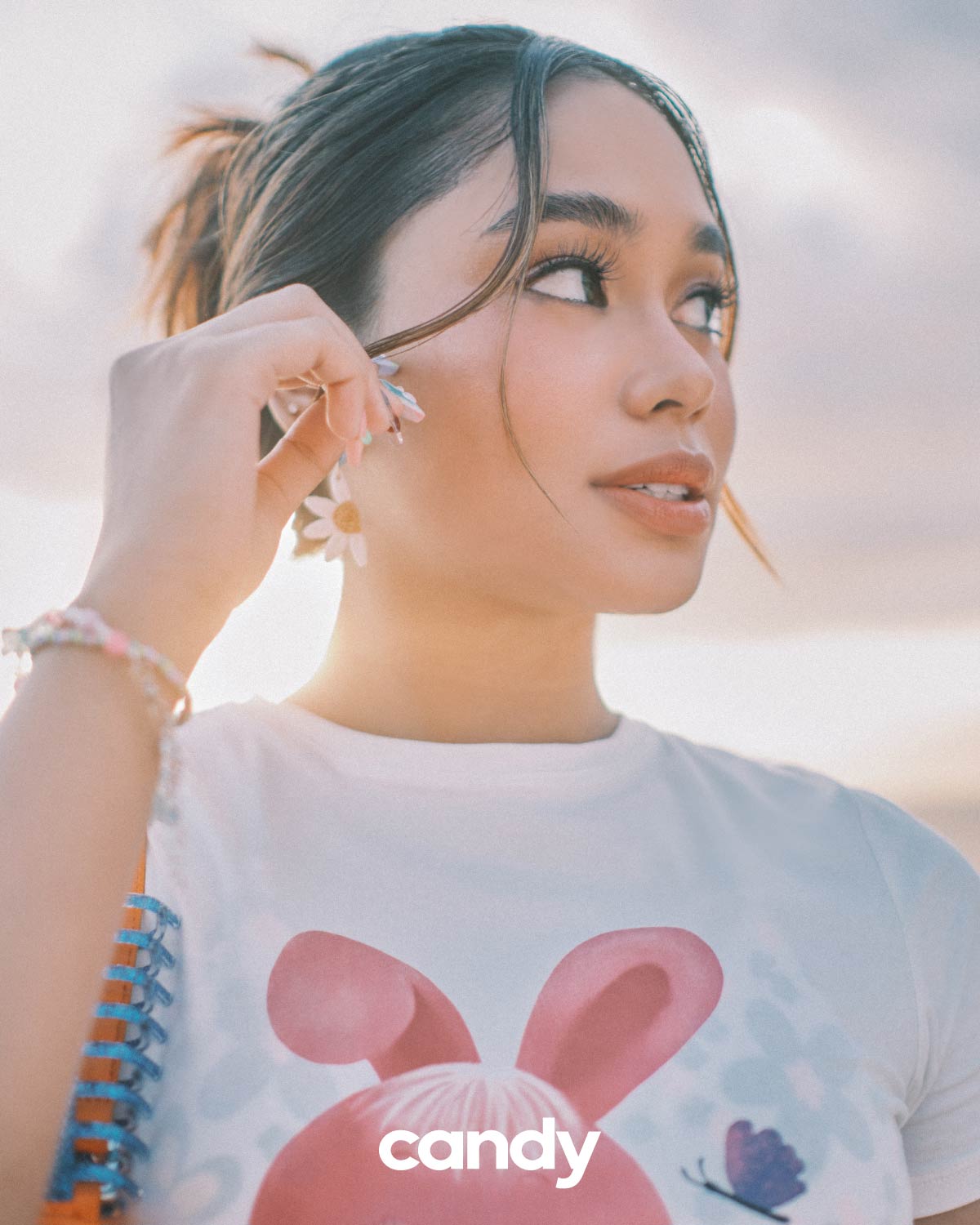 More than being a vlogger, Bella enjoys being a student. She's currently a junior at De La Salle University, and she relishes all the challenges it brings. "It's my thesis year, wish me luck!" she laughs. And despite spending more than half of her college life in an online setting, she shares that she's a big fan of the Taft life now that face-to-face classes have returned. "Malapit na rin kasi ako mag-graduate, so I don't wanna waste [anymore] time and I really wanna experience everything as a college student."
ADVERTISEMENT - CONTINUE READING BELOW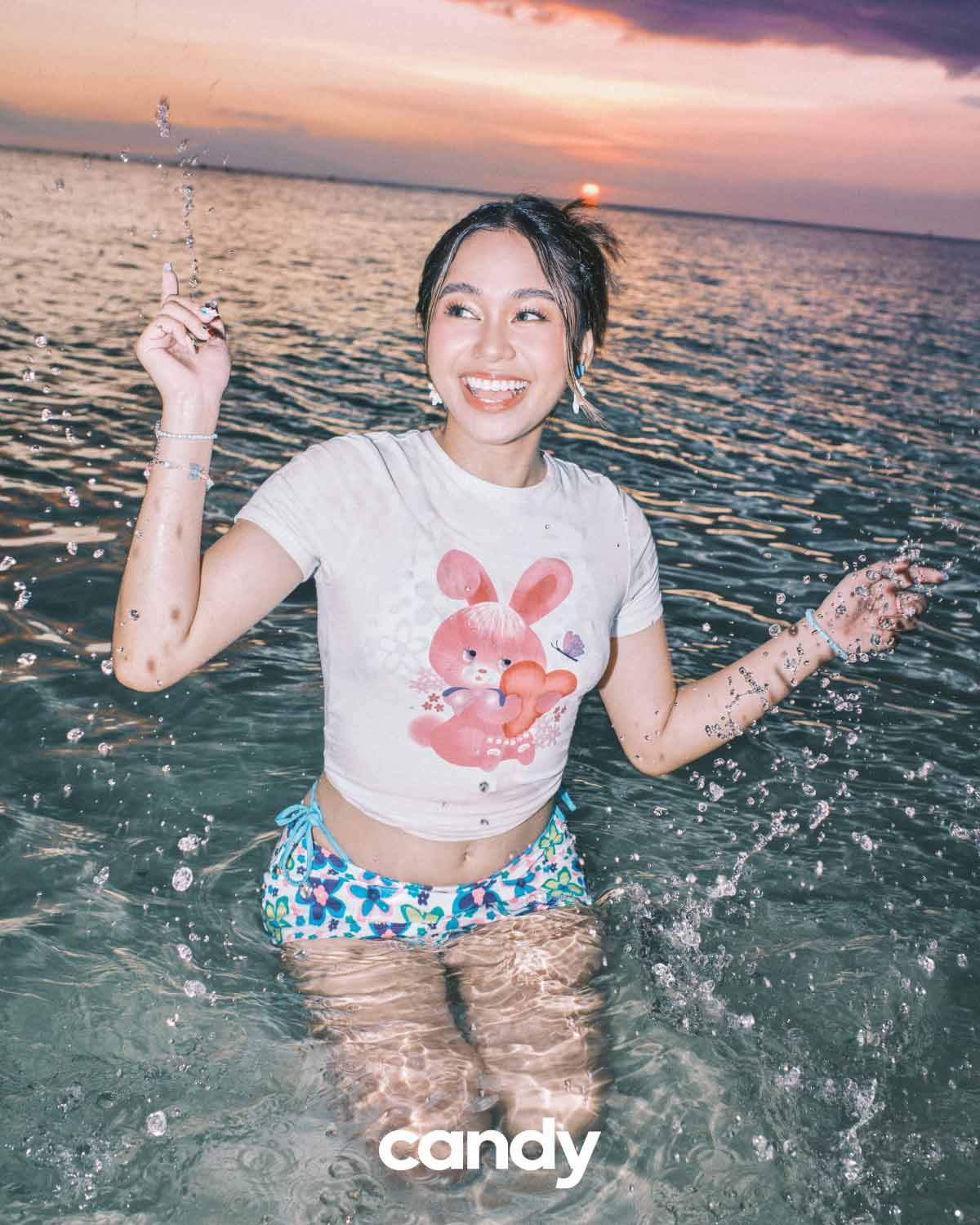 Bella only has a couple more hurdles to tackle before she dons her gown and graduation cap, after which she'll be able to do full-time what she does best: create content. And of course, being the goal-getter that she is, she also plans to open up her own business: a cafe, something that she's been wanting to do for the longest time.
It seems like everything is falling into place for the content creator, who recently turned 21 just a couple of days after our Candy shoot. Wherever her life takes her, one thing is for sure—we will definitely be subscribed and watching, just as we have all these years.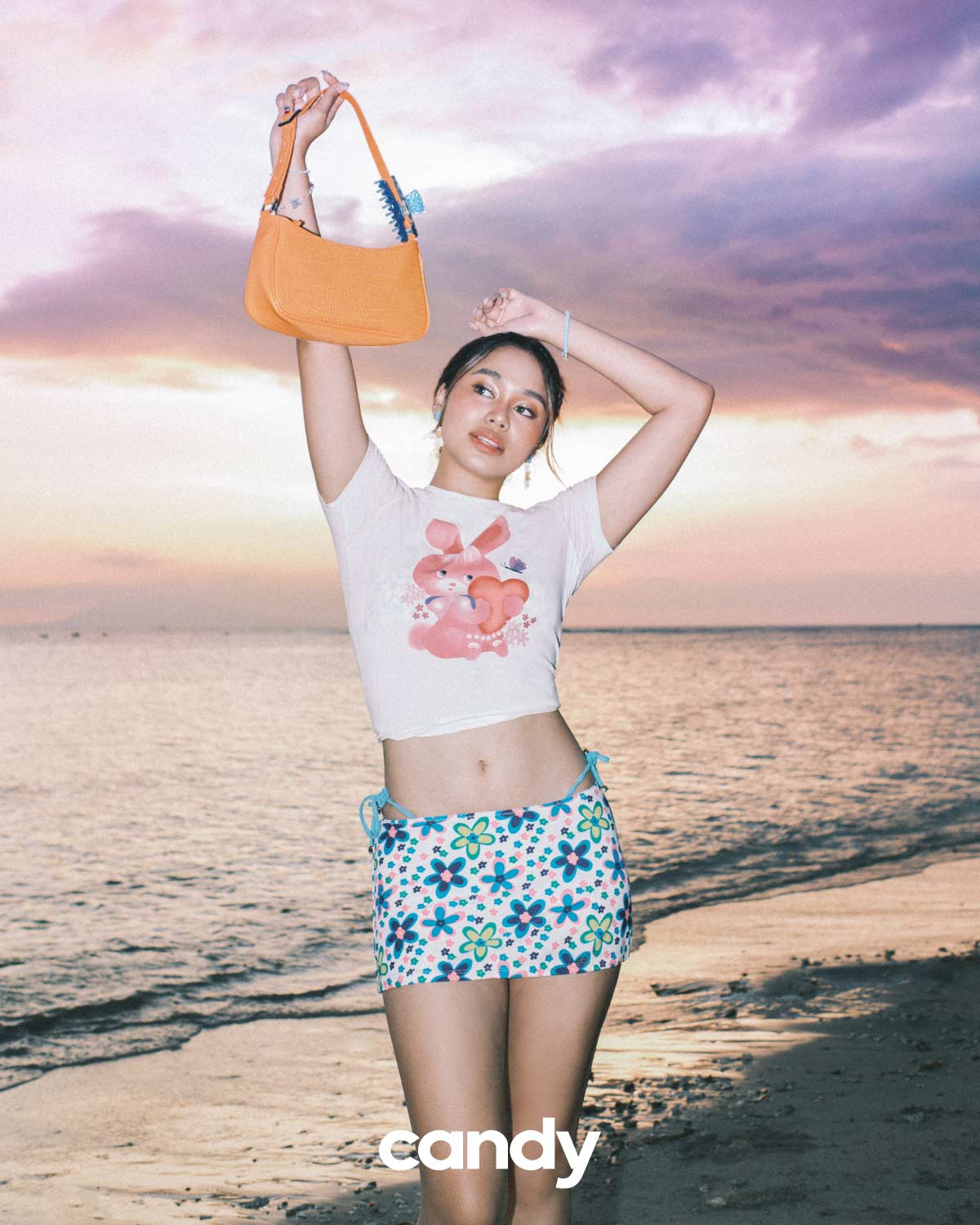 Orange Bag, P1200; Blue Claw Clip, P500, both MONKI, Mall of Asia.
Produced by: Leika Golez and Cheska Santiago
Assisted by: Cass Lazaro
Photographed by: Aya Cabauatan
Art Direction by: Bacs Arcebal and Pauline Moyano
Final Art by: Khalil Alcala
Sittings Editor: Marj Ramos-Clemente
Video by: Richford Unciano
Styling by: Leika Golez
Makeup by: Denise Ochoa
Hair by: Dale Mallari
Nails by: Extraordinail