Features
Before Booking, Ask These Debut Venue Qs!
Ask these questions before you finalize your booking for your debut venue!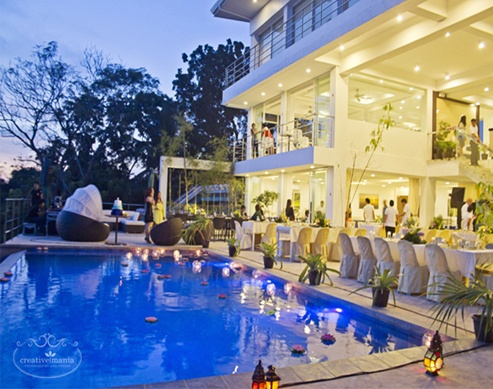 Photo by Creativemania Photography & Design
Not only will your chosen debut venue set the tone for your party, but it will take up most of your parents' budget for your debut. As you check out prospective spaces for your debut, don't hesitate to ask these questions.
How long can you honor your tentative booking?
Keep your options open by requesting the venue representative to pencil in a reservation for your debut date. Ask how long they can you hold the reservation, and if they'll call you before your tentative booking expires.

How much are the fees for...
a. Reservation?
Most establishments will ask for 50% downpayment to confirm the booking. The downpayment is usually non-refundable, so make sure you really like the venue before your folks shell out money.

b. Corkage?
Some venues won't allow you to book non-accredited suppliers, while other venues will charge you a corkage fee for bringing food and drinks from outside.

c. Program overtime?
Whether or not you intend to party hard, anticipate that there might be events that could compel you to extend the program. In case that happens, prepare to pay extra.

Are there restrictions for decorations or favors? How and when can we set up?
Can you light fireworks at the venue? Can you hang drapes from the ceiling? Ask what types of decorations and favors are allowed. Also, make sure your stylist has ample time to set up—the venue might have a booking before your event.

When can we test the audiovisual equipment?
Whether the venue has its own audio and video equipment or you need to bring in equipment from outside, schedule to test all electronics before the event. Coordinate with your DJ or host so that s/he can check the setup too.

Are there enough parking spaces?
This is especially critical if you're inviting many guests. You want them to spend hours at your reception—not driving around to find a secure parking spot.

(For outdoor receptions) Can you offer an alternative venue if it rains?
A garden can be a lovely setting for your party, but you want to have a contingency plan in case it rains on the day of your debut. Ask if the supplier can provide you with an alternative venue or tents so you can still push through with the party even in bad weather.
Are you ready to elect the next Philippine president?
A lot of them are apps we haven't heard of before.
We're sure you've seen portraits on your feed.
Some good news to start your day off!
It includes Lee Min-ho's TV comeback!
Meanwhile, the number of confirmed cases in the Philippines is at 2,633.
It's okay to admit if you're having a hard time doing the one thing you thought you were good at.
All the outfits and props were just things found around their house!
"You wish to know where my true loyalties lie? Not with any king or queen, but with the people."
Kayang-kaya niyo 'to gawin at home.
And it's all thanks to low air and light pollution.
It's part of a dashboard that helps you monitor all the confirmed cases in the country.