Features
Be Inspired!
Take your cue from these achievers and be all that you can be!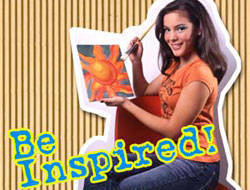 When Willy Wonka said, "Invention my dear friends is 93% perspiration, 6% electricity, 4% evaporation, and 2% butterscotch ripple," he forgot to include inspiration in his magic equation. The world's seen centuries' worth of great people—enough for you Candy girls to be inspired to make your way down the road to success.
Kofi Annan's Love for Peace (1938-present)
As Secretary General of the UN, Kofi Annan has made it his responsibility to make life better for all the citizens of the globe. In 2001, the African leader made it his priority to address the HIV/AIDS epidemic—setting up a global fund to help speed up the process of finding a cure for AIDS. Annan's dedication to making the world a better place earned him a Nobel Peace Prize.
Daw Aung San Suu Kyi's Dedication to Freedom (1945-present)
Burma-born Aung San Suu Kyi believes that non-violence can help solve any disagreement. She used this belief to battle the socialists and uphold the ideals of democracy in Burma. The political leaders put her under house arrest for her beliefs, and even if it separated her from her family, she decided to persevere and continue fighting for the rights of her countrymen.
ADVERTISEMENT - CONTINUE READING BELOW
CONTINUE READING BELOW
Recommended Videos
Marie Curie's Perseverance (1867-1934)
Polish Marie Curie wasn't allowed to enter university after graduating from high school because she was a woman. After a few years, she moved to Paris and began studying chemistry and physics, which she later on taught (she was the first woman in Sorbonne to teach!). Her studies led her and husband Pierre to discover polonium and radium, which are now being used to save lives.
.~'* GRAB THE MAG! *'~.

Read more of this article in Candy's October 2005 issue!

For back issues, call Loel/Vivian at Filbar's, Inc. 4162459/4139688/7262784
ADVERTISEMENT - CONTINUE READING BELOW
Most reported cases don't lead to prison sentences.
The Philippines is part of the list!
It's never too early to start being more concerned about finances.
Most of them stayed here for awhile to study English.
These legless seats make great accent pieces for small spaces.
Give these films a try as you move through this stage in your life.
Some had college majors totally far off from music.
The result is absolutely hilarious!
For that authentic overexposed + grainy effect!
From The Candy Bulletin Community