Features
Baby and the Bumps
Although the media makes it look cool, teenage pregnancy is never an easy journey.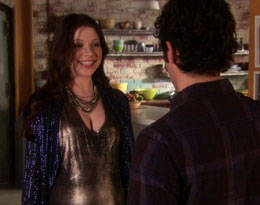 photo courtesy of WBEI/ETC (Gossip Girl)
It seems to be the hippest accessory in Hollywood: the Baby Bump. It doesn't matter if you're not married or if you're very young. Didn't everyone just adore Juno MacGuff? And while the world was shocked at first, isn't everyone curious about how Jamie Lynn Spears and her daughter Maddle are doing?
The media tends to condone early pregnancy, even glorify it. Hollywood makes it look cool —and easy. What they fail to tell us is that motherhood is no joke, especially when you're young and not ready.
I LEFT MY TEENAGE LIFE
Kimi was only 16 when she got pregnant. At the time, she had been with her 16-year-old boyfriend for a year and three months. Kimi first suspected she was pregnant a week after missing her period. She took an early detection pregnancy test, and the result was positive.
Kimi's mom was the first to find out. "She felt very sad because she never thought this would happen, but she was on my side." It was more difficult with Kimi's dad. "He didn't talk to me for three months. He felt bad that I didn't value how hard he's been working abroad for my studies." Eventually, her dad came around and showed full support. Her boyfriend, however, did not want anything to do with the baby. "He was really mad at me because I decided to keep the baby." Their relationship ended soon after.
ADVERTISEMENT - CONTINUE READING BELOW
Kimi experienced many difficulties because of her early pregnancy. "Physically, I was not ready. It was too risky for me to give birth at that age." Her weight gain made her feel fat and depressed. She was also battered emotionally. "I felt anxious and sad to leave my friends, my school, and essentially, my teenage life. I thought to myself, 'I haven't started living life to the fullest!' I couldn't sleep because I'd think, 'How can I take care of my baby? How can I be a good parent?' Just thinking about the responsibilities gave me chills."
It also hurt that people talked about her. "At the mall, people would openly stare at me and whisper," Kimi recalls. "When I would walk into a store, people would ask me how old I was, and say, 'Ang bata mo naman nag-asawa.'"
Now 18, Kimi thinks of her one-year old son as her inspiration. "He is the greatest gift I've ever received in my whole life. Still, I shouldn't have engaged in pre-marital sex," Kimi says in hindsight. "I should've listened to my parents and followed their advice." Though the ride has been far from smooth, her experience has been one of learning, of being molded into a better person.
ADVERTISEMENT - CONTINUE READING BELOW
Both the shop and its drinks are too pink and pretty!
There are also useful tips for showering your cat and cutting their nails. #NEED
Who else is excited for an all new season of "Kingdom"?
It's honestly a pretty decent amount for extra income!
Here's a little guide to get you ready for post-college life.
More Hyun Bin content coming our way!
Makati has plenty of heritage and culture.
These are the styling mistakes you're probably making.
It's the new takeover trend in food.
You might be rekindling an old relationship, but you also wouldn't want to cut ties with other people in the process.
Craving that crispy CLOY goodness?
One college student shares her experience of being a former working student.