It's not often as we'd like that we'll meet young girls who are aspiring scientists. In fact, according to UNESCO, women only account for less than 30 percent of science researchers worldwide. This is why Hillary Andales, an MIT scholar and astrophysicist-in-the-making, works against the odds to inspire her fellow youth to delve into the wonders of science.
Hillary might look like a typical university student, but at age 22, she boasts several global accolades under her belt. She is the recipient of the 2017 Breakthrough Junior Challenge for her video entry explaining Albert Einstein's theory of relativity, besting 11,000 other entries from 178 countries.
The award is known as one of the most prestigious science awards in the world and got her a shiny MIT scholarship worth $250,000. During the awards night, in which Hillary and her science high school teacher attended, she rubbed elbows with Hollywood A-listers Lily Collins, who presented her the award, and Morgan Freeman, the event's host. Yup, no biggie!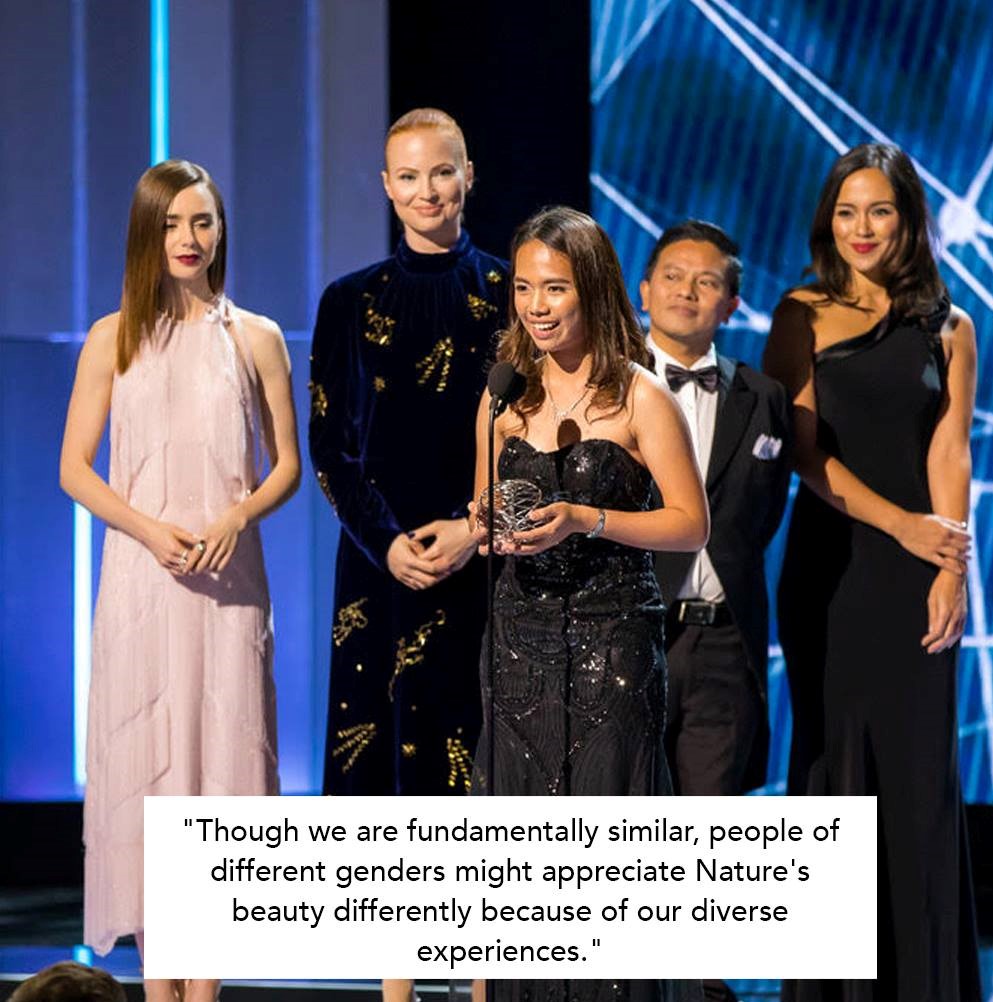 ADVERTISEMENT - CONTINUE READING BELOW
Joining the Breakthrough Challenge
Hillary credits her fondness for science to her parents, who taught her stories of Charles Darwin's adventures and Einstein's theories instead of fairy tales. Her unconventional upbringing led her to dream of a career in science at a young age, and first forayed into the idea of how knowledge in science can be instrumental in changing the world.
The opportunity to join the Breakthrough Challenge was chanced upon by her mom through a simple Facebook scroll. At first, Hillary was skeptical to try due to the high level of competition, but she decided to take the risk and pursue it anyway. And, boy, did she work hard to bag the prize.
In total, Hillary spent 200 hours learning and doing various animations to craft her winning entry. She showed a snippet of her journey by demonstrating it on her YouTube channel to inspire young scientists aspiring to make it big like her.
Her astonishing work got Hillary into places far beyond her childhood stories. Aside from being a sophomore at MIT, she has also conducted keynote speeches at various colleges and judged science competitions internationally. In 2018, she spoke in front of an esteemed science community at the United Nations Scientific Forum.
Despite her accomplishments, Hillary is one typical college student. She sometimes posts TikTok dances on her Instagram, aside from her ventures as an international science student.
Life as a Young Science Content Creator
She also produces content on YouTube, where she crafts videos to laymanize scientific topics to her fellow young students. In an interview, she talks about the value of dreaming big and reaching for the stars, not letting difficulties and societal norms dictate your path. She says, "All of those achievements seemed so impossible until I actually tried. But I never would've tried if I didn't have an ounce of belief in my capabilities.
"You don't have to be the chosen one or have superhuman skills. You only have to be an ordinary human – flaws, mistakes, and all – with a grand vision and an unwavering tenacity to make that vision a reality."