Features
Are You The Next Candymag.com Correspondent?
We're looking for talented girls and guys aged 15-19 years old to join the Candymag.com team!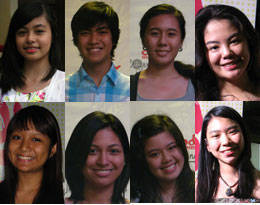 We can't believe it's been a year! But it's time for new stars to shine! Could you be the next Candymag.com Correspondent?
We're looking for Candy Girls and Boys, ages 15-19 years old, who write and speak well, know the latest trends—in fashion, TV, movies, music, and everything teens love, aren't afraid to speak up or stand out from the crowd.
If you're up for the challenge, head over to the Candy HQ at the 6F Robinsons Cybergate Tower 3, Robinsons Pioneer Complex, Pioneer Street, Mandaluyong City on Friday, April 1 from 2 to 6pm. Please be ready to write (we need to know if you're ready to be part of our team!) and speak in front of the camera. All you need to bring is a pen and yourself! :)
We can't wait to meet the future correspondents of Candymag.com! See you then! :D
The university was the first school to apply for the limited face-to-face classes in the country.
Why anyone would say something THIS HORRIBLE is beyond me.
Jeanette opened up about her experience as a young actress in Hollywood.
Screenshot your fave for future reference.
They will no longer consider the proposal after objections on social media.
Fare difference still applies.
Students from 21 different countries also participated.
From fashion designers to models
March isn't off to a great start for K-pop fans.
This meaningful and now-viral song has quite the story!
From The Candy Bulletin Community